Each day we overwhelm your brains with the content you've come to love from the Louder with Crowder Dot Com website.
But Facebook is...you know, Facebook. Their algorithm hides our ranting and raving as best it can. The best way to stick it to Zuckerface?
Sign up for the LWC News Blast! Get your favorite right-wing commentary delivered directly to your inbox!
Culture
Take Note, Leftists: Ellen's Point About 'Getting Along' is Right. So Play Nice!
October 08, 2019
Ellen DeGeneres caused a Twitter storm (that's what we call something that's not really a big deal except to whatever tiny percentage of America is constantly on the internet instead of leading these things we used to call "lives") because she sat next to George W. Bush and wasn't a miserable trash panda. If you're confused, staring at the computer with a not-so-bright look on your face, go WATCH: Ellen Responds to SJWs Whining that She Socialized George W. Bush. To make a short story even shorter, Ellen and Dubya had a good time together enjoying a football game. The left, which sells itself as a pillar of Tolerance, Acceptance and All That Which is Good (yes, capitalized) scolded Ellen for daring to associate with He Who is Not a Leftist. Think whatever you want of Ellen, she responded with a point so accurate I may have cried given the right string music played to manipulate my emotions.
Contrary to current internet decorum, Ellen didn't cave to the outrage mob. She didn't apologize for enjoying Bush's company. Instead, she told her mostly liberal audience that she associates with many people with whom she disagrees on many issues, but is still kind to all. Then encouraged everyone watching her to do the same. To applause.
Being polite and kind to all isn't a new concept, but it is one which has been recently entered into the book of banned things. By leftists, might I add. In 2019, it is unacceptable for a leftist to be anything other than see you in tea ish to he or she who:
Isn't encouraging of transgenderism
Believes in traditional marriage
Stands firm in the biological fact that life begins at conception
Sees border security as essential to a nation's sovereignty
Thinks free speech should have no exceptions
Voted for, or plans to vote for, El Trumpo
Whether or not Ellen would ever be seen out in public yucking it up with Trump, that's a topic for another time. Also, not everyone needs to like Trump to make a salient point about our current societal woes of banning, barring or otherwise canceling anyone who strays from whatever dogma is mandated on a given day.
This concept of actively hating someone while out in polite society is, in my opinion, a relatively new concept. Today, disagreement isn't acceptable. To be clear, it isn't acceptable mostly on the left. I sometimes see "but liberal" on the right, but not nearly to the degree as the left.
It is not usually right-leaning people who demand a leftist be de-platformed. It is not usually a right-leaning person who insists someone with a different religious or political opinion be forced to serve them. It is not usually a MAGA hat-wearer who demands everyone kowtow to his version of reality lest he burn the world to the ground.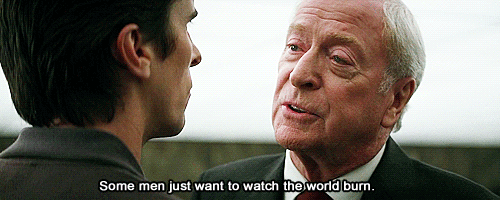 Or "men" who identify as ladies.
It is, by and large, the left who widens the schism between us. It is, by and large, leftists who make us a country "so divided" by insisting we must accept leftism wholesale... or else.
So Ellen is right, yes. And she is also right to address the issue with her audience. I make a point of illustrating which side is dividing us not to further divide us, but to diagnose the problem accurately. If we want more civility in how we conduct ourselves, then those who conduct themselves uncivilly, like Antifa or anyone who condones or even refuses to condemn Antifa, should hold themselves and their peers accountable.
So here's my personal message to leftists: you want us to get along? You want us to be kind to all? Fine, but help us help you. Stop acting like irrational, angry zoo animals every time you encounter someone with a different world view than you, flinging your poo like shit monkeys, insisting people lose their livelihoods because of old tweets. As a random example.
If you want civility, if you want kindness, meet us halfway. Be kind.