Each day we overwhelm your brains with the content you've come to love from the Louder with Crowder Dot Com website.
But Facebook is...you know, Facebook. Their algorithm hides our ranting and raving as best it can. The best way to stick it to Zuckerface?
Sign up for the LWC News Blast! Get your favorite right-wing commentary delivered directly to your inbox!
'Gay icon' Thor director under fire for anti-trans tweets, attacking Caitlyn Jenner when that was still bad
August 11, 2022
Taika Waititi, call your office. The self-professed "gay icon" might turn into a transphobic icon now that really old tweets have resurfaced. You know, as really old tweets have a habit of doing.
Waititi directed Thor: Love and Thunder, which has been branded the gayest Marvel movie ever by people who care about such things. Thor was so gay, that it caused people to cancel Chris Pratt again for the usual dumb reasons they cancel Chris Pratt. The director said it "feels really amazing" to be a gay icon now.
That was before tweets from nine years ago resurfaced. Waititi made the mistake so many have made before him and cracked a joke on Twitter: "No disrespect to men who want to be/dress as women. I should have just said their makeup looks manly. Also no disrespect to meth users."
This caused a random user to call him out on various -isms and -phobias in a series of tweets The Daily Mail has the screen captures for: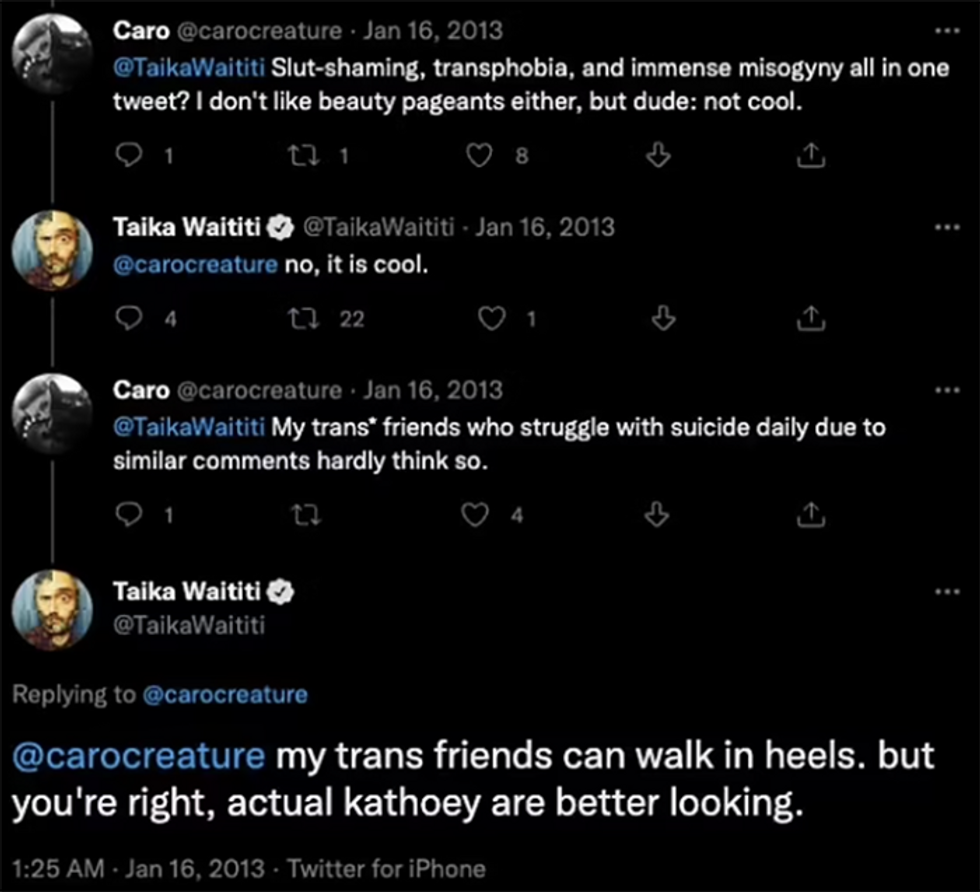 AND THEN, in 2015, shortly after Caitlyn Jenner transitioned, he deadnamed him in a tweet saying, "We'll all be wearing #JeSuisBruceJenner badges by Monday."
"Deadnaming" is when you call a trans person by the name their mother gave them based on the gender God gave them. Caitlyn used to be "Bruce," and a big brouhaha was made when he transitioned. When you hear people say "beautiful and brave" sarcastically, it started with Caitlyn.
Taika using what critics call "transphobic" tweets about Caitlyn Jenner is an interesting case. He made them in 2015 when Jenner was a little bit of a gay icon himself. Since then, Caitlyn has come out in favor of Donald Trump and against people who were born male stealing opportunities from high school and collegiate athletes who were born female. He has since been yeeted out of the LGBTQAIIP+ community.
It is unclear if Taika's "transphobic" tweets against Caitlyn are still within the statutes of limitations. But his 2013 tweets are problematic. He was trending on Twitter and everything. No doubt Taika's publicist is writing a statement about further educating himself as we speak.
Side note: I really enjoyed JoJo Rabbit.
The Louder with Crowder Dot Com Website is on Instagram now!Follow us at @lwcnewswire and tell a friend!
I ANNIHILATED Beto O'Rourke for LYING about AR-15's | Louder With Crowderyoutu.be