Each day we overwhelm your brains with the content you've come to love from the Louder with Crowder Dot Com website.
But Facebook is...you know, Facebook. Their algorithm hides our ranting and raving as best it can. The best way to stick it to Zuckerface?
Sign up for the LWC News Blast! Get your favorite right-wing commentary delivered directly to your inbox!
Big Tech
Elon Musk strips New York Times of its blue checkmark, rubs their face in it just because he can
April 03, 2023
Elon Musk's most "controversial" Twitter decision was charging people $8 for verification. Entities who got their blue checkmark the old-fashioned way -- bribing Twitter and/or having the same worldview as the people who worked for Twitter -- couldn't stand the thought to be aligned with those of us who felt the eight bucks was worth it for the edit feature. The New York Times declared they will NOT pay the money.
So Elon said "YEET!"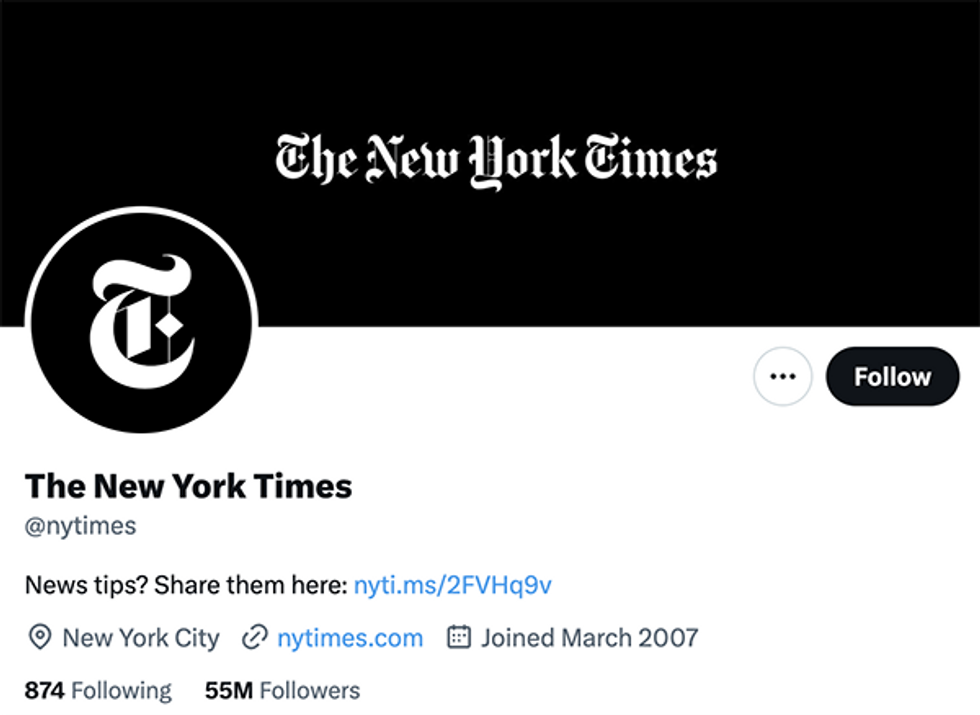 I think Elon was motivated by the New York Times being sanctimonious about it, declaring "The New York Times, which has nearly 55 million followers on Twitter, said on Thursday that it would not pay for the verified badge for its institutional accounts, including @nytimes. The Times also told its journalists that it would not reimburse them for a Twitter Blue subscription, except in rare cases when it was necessary for reporting."
Musk said the real tragedy is when it comes to NYT's propaganda. It's not that interesting.
I guess Elon doesn't feel The Times caping for pedophiles is all that interesting. Though his issue could be their Elon-specific hit pieces. Like when they called him a global chaos agent. Or was so desperate to stop him from buying Twitter, they attempted to tie him to apartheid.
The Head Twit In Charge also finds NYT's new anti-paying for subscriptions stance to be curious. It's not the propaganda as much as it is the hypocrisy.
NY Times is being incredible hypocritical here, as they are super aggressive about forcing everyone to pay *their* subscription
— Elon Musk (@elonmusk) April 2, 2023
The Times would pay $1000 as an organization and then $50 a month for every verified employee. It's more than the $7 a month. But they could easily redistribute $1 per Times subscriber to cover it.
At the end of the day, I hope Elon and the New York Times can work it out. Without their blue checkmark, we have no idea if a tweet from the Times is their usual bullshit, or someone satirizing their usual bullshit.
><><><><><><
Brodigan is Grand Poobah of this here website and when he isn't writing words about things enjoys day drinking, pro-wrestling, and country music. You can find him on the Twitter too.
Facebook doesn't want you reading this post or any others lately. Their algorithm hides our stories and shenanigans as best it can. The best way to stick it to Zuckerface? Sign up for our DAILY EMAIL BLASTS! They can't stop us from delivering our content straight to your inbox. Yet.