NBC News won't say WHY parents are upset over teacher pushing an  "LGBTQ-themed book" on preteens, so this mother will
May 17, 2023
NBC News shared a long sob story over a poor teacher who only wants to provide her middle-school students with diversity and inclusion with a popular "LGBTQ-themed book." They left out any examples of WHY parents were upset. Thankfully, we have a clip from last October that might provide some insight.
NBC News's first act of journalisming was with this thumbnail. Illinois middle school teacher Sarah Bonner had a police report filed against her over a book she shared in class. SPOILER: That is NOT the book parents are upset over.
An Illinois teacher offered her middle schoolers a bestselling LGBTQ-themed book.

Parents filed a police report over her book choice. https://t.co/oMmyUcGEdE
— NBC News (@NBCNews) May 16, 2023
Parents weren't upset over "Igniting Social Action in the ELA Classroom." They were upset over the book "This Book is Gay."
One of those books was Juno Dawson's "This Book is Gay." It's a bestselling nonfiction book that's billed by its publisher as an entertaining and informative "instruction manual" for anyone coming out as lesbian, gay, bisexual or trans.

"By Wednesday, I received notice that parents had gotten a hold of pictures from that book that their child had taken in class," Bonner says. "By Friday, I was told that parents had filed a police report against me for child endangerment."
One can argue if, mayhaps, a police report was overkill. Fair? Fair. But like most journalismers who carry on about "book bans" without providing any specific examples of what material parents think are inappropriate for students -- especially preteens in middle school -- at no point in this piece of journalisming content did NBC News provide any example of what parents might have an issue with.
Allow this parent from an October 2022 school board meeting to provide some insight. It's not the first time a parent has taken issue with a middle schooler having "This Book is Gay" thrust upon them by a teacher. Media outlets like NBC News want you to think it's about the word "gay." When in actuality, it's about the words "handjob," "c*m," and the illustrations that go with it. And that's just the start.
The woman chose to read the passage on giving a "handy." If you are unfamiliar with what a "handy" is, let her explain. In graphic detail. Reading from a book recommended to MIDDLE SCHOOLERS in case that point wasn't driven home.
Something they don't teach you in school is that in order to c*m at all...
Take a moment to let that sentence percolate.
...you or your partner may need to finish off with a handy. A lot of people find it hard to c*m throughout other types of sex. That is fine and not something you have to apologize for. A good handy is all about the wrist action. Rub the head of his c*ck back and forth with your hand. Try different speeds and pressures...
Okay, you get the point. Though if not, this is the page she is holding up.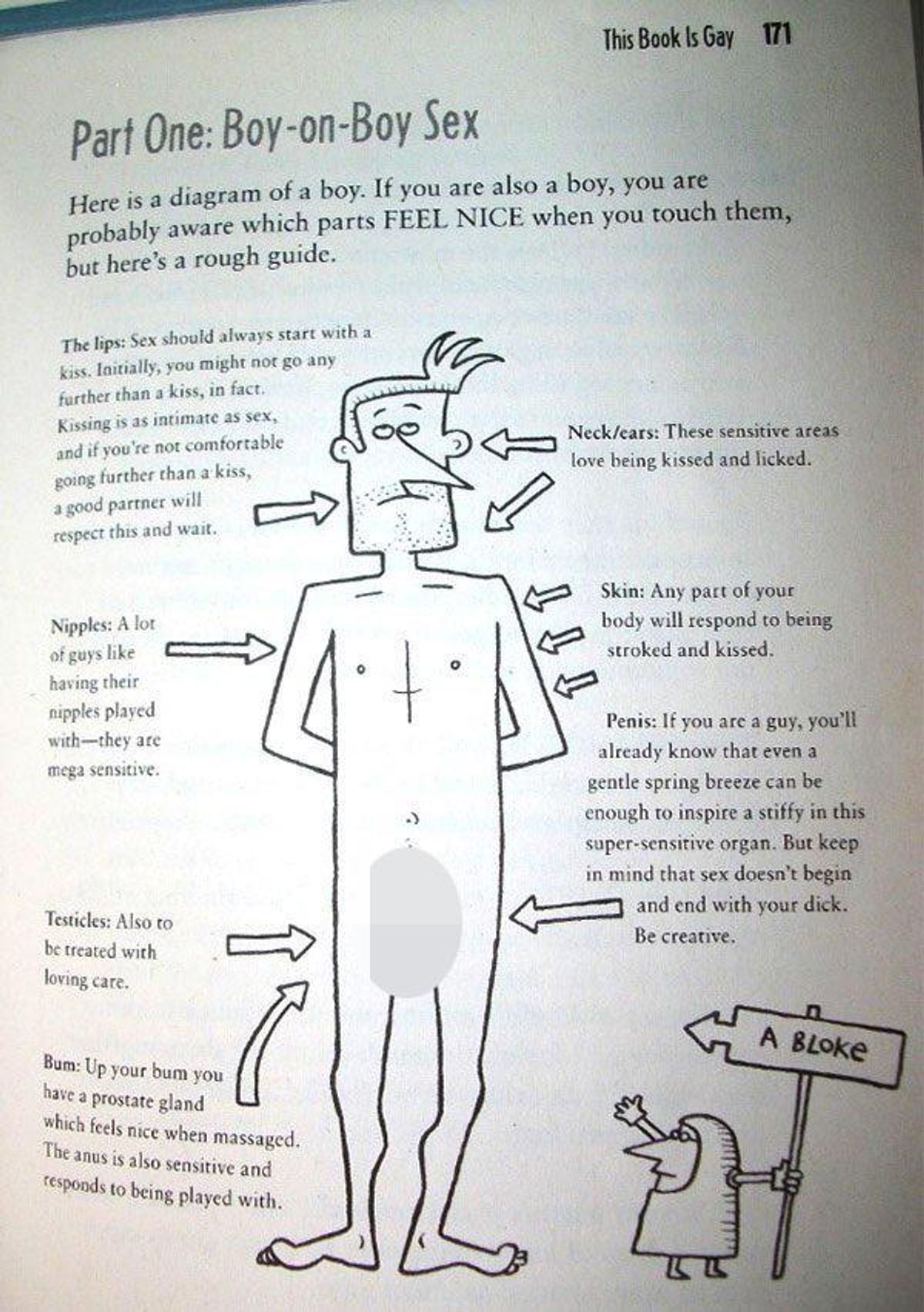 Where the oldhead in me gets confused in all of this is the extent WE were "taught" how to "have" heterosexual sex was a science lesson about how babies are made and a discussion about not making babies before you were married. We didn't have graphic lessons about doing it doggy-style or reverse cowgirl. Nor was sixty-nining pitched as a method of safe sex. Yet, in the name of "inclusion" and stuff like "equity," government-run schools have decided graphic sex is the only way to "teach" students to be tolerant of each other. It's ALMOST as if there is an anterior motive going on.

The word "gay" is why the school boards have this on recommended reading lists because that makes the book about tolerance. As opposed to, say, a book called This Book Fucks teaching hetero students how to use sex apps to hook up, or the proper technique in giving a proper handjob. That's just porn. Not unlike the difference between award-winning LGBTQAIIP+EIEIO literature and Penthouse Forum letters.
This parent in this video is from North Carolina, The parents from Illinois who filed a police report against Ms. Bonner might have different issues with the book. There's also a chance Bonner forgot to read the book before deciding it was proper to present to preteens. None of this information was made clear in NBC News's content.
><><><><><><
Brodigan is Grand Poobah of this here website and when he isn't writing words about things enjoys day drinking, pro-wrestling, and country music. You can find him on the Twitter too.
Facebook doesn't want you reading this post or any others lately. Their algorithm hides our stories and shenanigans as best it can. The best way to stick it to Zuckerface? Bookmark LouderWithCrowder.com and check us out throughout the day! Also, follow us on Instagram and Twitter.