Each day we overwhelm your brains with the content you've come to love from the Louder with Crowder Dot Com website.
But Facebook is...you know, Facebook. Their algorithm hides our ranting and raving as best it can. The best way to stick it to Zuckerface?
Sign up for the LWC News Blast! Get your favorite right-wing commentary delivered directly to your inbox!
Politics
Matt Taibbi ("Twitter Files") shuts down Democrat questioning his journalistic integrity so hard she won't look at him
March 10, 2023
On Thursday, the Committee on the Weaponization of the Federal Government held a congressional hearing. Shocking to no one, Democrats were on the side of weaponizing the federal government. It was clear by the disdain they had for "Twitter Files" journalists Matt Taibbi and Michael Shellenberger. Bari Weiss too, even though she wasn't there. Democrats are so used to having corporate media carry their water for them, they lash out like jilted lovers when a reporter dares go off script.
This was evident with Rep. Stacey Plaskett calling Taibbi a "so-called" journalist. Taibbi wasn't having it.
He said in response, "I've been a reporter for thirty years and a staunch advocate of the first amendment. Ranking Member Plaskett, I'm not a 'so-called' journalist. I won the National Magazine award. The I.F. Stone award for independent journalism. And I've written ten books, including four New York Times bestsellers."
Prior to the hearing, Taibbi dropped the latest installment of the "Twitter Files." The streets are calling it the most explosive one yet.
As for Plunkett's response to Tiabbi's defense of his credentials, meh. She wouldn't even make eye contact. The little people are so beneath her when they aren't following orders.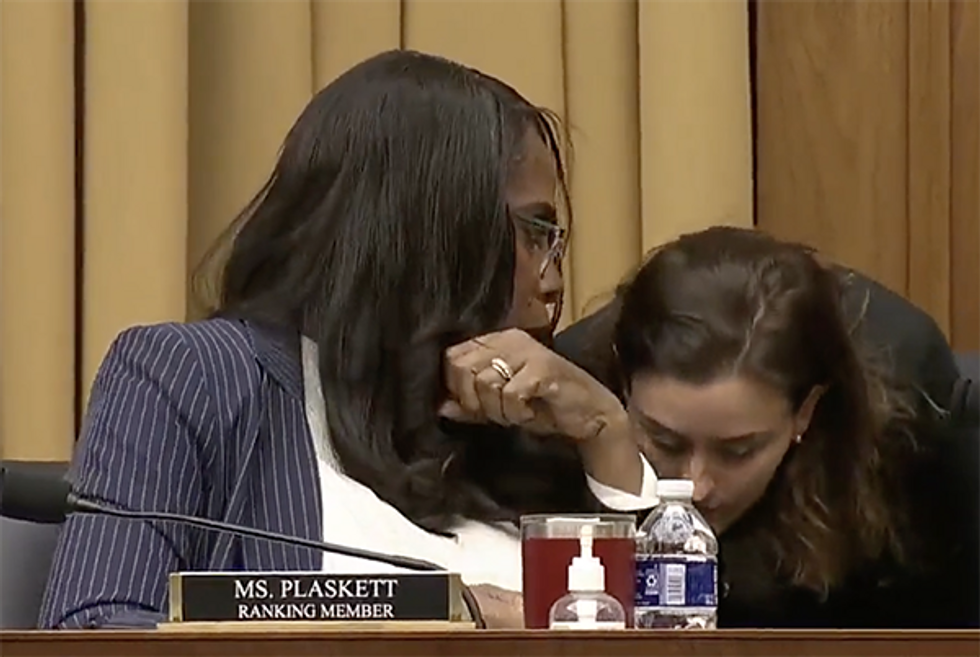 Are we surprised at the ranking Democrat's lack of respect for journalists? No. She's a Democrat. She only has time for journalismers. The leftists who went into "journalisming" out of a hatred towards the right and the belief that the media wasn't biased enough towards the left. Democrats used to at least pretend to deny the media was on their side. These days, Democrats like Rep. Plaskett demand it.
Keep in mind, neither Taibii nor Shellenberger nor Weiss is conservative in any way. They are all liberals. But they are liberals who believe in intellectual honesty and aren't afraid to call out "their" side. That's why the modern-day extremist democrat party considers them "so-called."
Editor's Note:
It's official. MugClub. Is. Back.
Everyone here at the team is thrilled to inform you that MugClub relaunches on March 20, 2023. It is bigger, it is better, it is more affordable, it will include MORE content than ever AND it's powered by Rumble!
Did I mention that the annual price has been lowered from $99 to $89?