Each day we overwhelm your brains with the content you've come to love from the Louder with Crowder Dot Com website.
But Facebook is...you know, Facebook. Their algorithm hides our ranting and raving as best it can. The best way to stick it to Zuckerface?
Sign up for the LWC News Blast! Get your favorite right-wing commentary delivered directly to your inbox!
joe biden
Joe Biden Gets Busted Lying About Baseball Glory to the Los Angeles Dodgers
July 06, 2021
If I could think of one word to describe Joe Biden, "cognitive" would not be it. The most popular president ever gets confused whenever he's in front of a microphone. He starts telling stories that may or may not have happened. Whether or not he's knowingly spinning a tall tale or he thinks these things actually happened to him, to quote Biden himself, "We choose truth over facts." Our president wanted to look like a big shot in front of the Los Angeles Dodgers. He had a tale of that one time he hit a baseball. Whether you think he's lying, stretching the truth, or really thinks this story happened depends on how charitable you choose to be.
I choose to be as charitable as the mainstream media would be if this were Donald Trump saying it.
Biden welcomes World Champion Dodgers to White House | ABC7youtu.be
I just want you to know that we have a congressional baseball game every year. In the very beginning ... I played in the second Congressional baseball game at the old stadium, in the old Washington stadium. And I hit one off the right-center field wall, bounced off the wall. I think it's 368, or I don't know what it is exactly now, but off the wall ... I thought, What could have been. What could have been.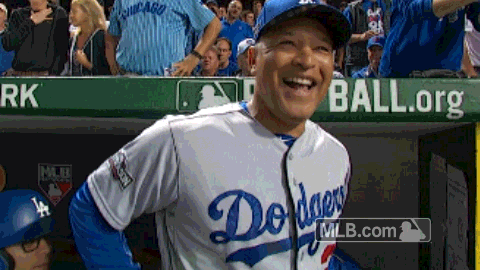 If that sounds far-fetched, like his story about an Amtrak conductor that never happened, it's because Biden's big baseball moment never happened.
In 1975, Biden was so good he "got stuck in traffic" and didn't start

But he did make sure his press team reached out to Delaware's Morning News to issue a correction so everyone knew he actually "played" in the game pic.twitter.com/rSJ8drCWlm
— Zach Parkinson (@AZachParkinson) July 2, 2021
I see. If you aren't familiar with baseball jargon, going 0-2 means you didn't hit the ball at all. Let alone hit it so hard it bounced off the wall. Another tweet in the thread says that in the 1973 game, Biden went 1-2 with a single. Could he have confused what game he was talking about? Sure, I guess. You're free to believe he actually crushed the ball in the game. I'm still going with the MSM Trump standard.
Biden then shared a story about when, as a boy, he used to pal around with Benny, Squints, and Smalls. They hit a ball into mean Mr. Mertle's house. Benny, Squints, and Smalls were afraid to get it. Biden asked, "What would Corn Pop do?" and snuck into Mr. Mertle's yard. Then Ham said Biden played ball like a girl. It hurt Joe's feelings and was the moment he decided he was a feminist. Or, something like that.
We're just lucky Biden didn't tell the story about how he scored four touchdowns in a single game of high school football. It must have taken his staff months to explain that the World Series wasn't the Super Bowl.
Get your content free from Big Tech's filter. Bookmark this website and sign up for our newsletter!
A Biden Tic That NO ONE Notices... | Good Morning #MugClubyoutu.be