Trans Author Threatens to Slit JK Rowling's Throat After Killing Her Off in Their Gruesome Anti-Woman Novel
February 19, 2023
We're all familiar with the very transphobic and anti-woman author, J.K. Rowling. Some of her most misogynistic actions include opening a female-only rape clinic and helping Afghanistan women escape the Taliban. The nerve on this broad.
Due to Rowling's extremely transphobic and hateful ideas, a transgender horror author threatened to slit her throat. Because that's definitely a proportional response.
In a now-deleted tweet, Gretchen Felker-Martin wrote, "Blood on Jesse Singal's hands, blood on Helen Joyce's, Rowling's, every just-asking-questions journalist and fear-mongering TERFs. You're scared for our children? They're killing ours."

Felker-Martin was responding to the murder of a British transgender teenager. She followed this tweet up with, "If they all had one throat, man."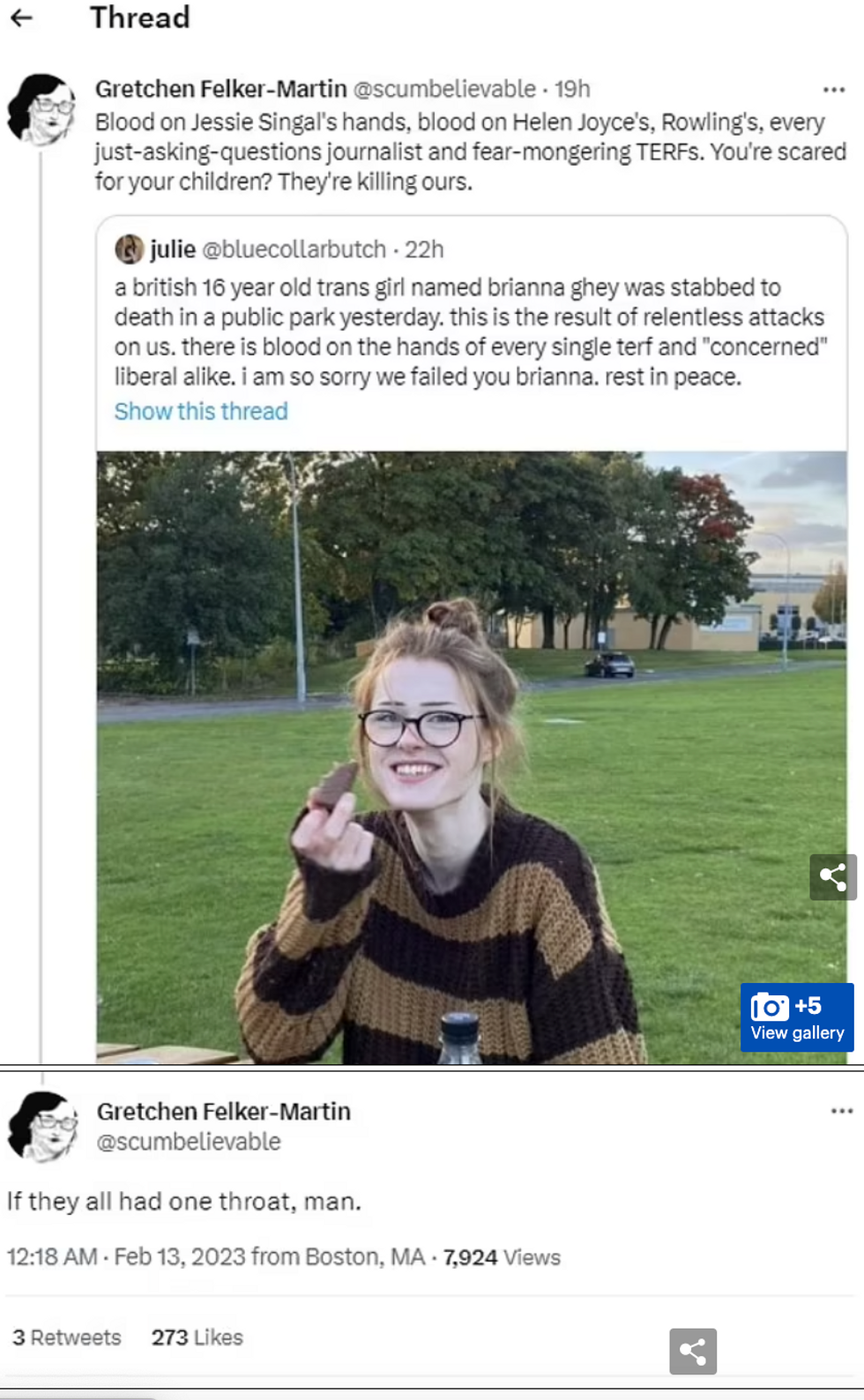 Felker-Martin just published a book in 2022 titled "Manhunt," in which a transgender - ahem- woman searches for estrogen and "hunts feral men and harvests their organs" in a post-apocalyptic world. According to the reviews, it also depicts gruesome scenes of rape and one instance where a character eats an uncooked testicle. Seems perfectly normal to me. Nothing mentally unstable about that. Not one bit.
Oh, and in the novel, J.K. Rowling actually makes an appearance! Before she is burned alive. Which, given the recent threat, could be a slight cause for concern.
Jesse Singal condemned the threat from Felker-Martin and revealed that he and this author actually go wayyy back. Felker-Martin has been tweeting disturbing things about Singal since at least 2019, when they wrote, "*Bing Jesse Singal with strong rope and bring him to the quarry at the edge of town. Give him to us alive and unspoiled. Leave, and no matter what sounds you hear, don't look back."
Felker-Martin also wrote several sexual fantasies about Singal, which I won't detail here, for the sake of everyone's mental and physical well-being. Just assume the worst.