Each day we overwhelm your brains with the content you've come to love from the Louder with Crowder Dot Com website.
But Facebook is...you know, Facebook. Their algorithm hides our ranting and raving as best it can. The best way to stick it to Zuckerface?
Sign up for the LWC News Blast! Get your favorite right-wing commentary delivered directly to your inbox!
Elon Musk Announced as SNL Host and Some Cast Members Are PISSED
April 27, 2021
Elon Musk was announced as an upcoming host of Saturday Night Live. Yes, THAT Elon Musk! The former green energy ICON on the left who got based in 2020. Now he's anti-fascist, anti-lockdown, anti-crippling taxes, and pro-FREEDOM! Everything you and I know to be awesome makes him persona non grata with progressive douchelords. Including, allegedly, with current SNL cast members.
I say allegedly for two reasons. This is based on another angry leftist sharing screen captures of social media posts and assigning her anti-Musk agenda to them. Also, I'm counting on the New York Post's reporting to be accurate that these are in fact cast members on SNL. I've never heard of these people.
Aidy Bryant and Bowen Yang's posts on their instagram stories after Elon Musk was announced as the next SNL host!!! Even the show's cast hates him!!!!! Why didn't they just give Miley Cyrus double duty as she deserves!!!!!!! pic.twitter.com/0Ivu8BUwX6
— Georgia👑 (@Georgia39410) April 25, 2021
"Saturday Night Live" quipster Bowen Yang seemed to have hoped that Musk's social-media memo was nothing more than a bad joke. "What the f – – k does this even mean," Yang, 30, questioned in an Instagram Story post attached to a screenshot of the SpaceX pioneer's tweet.

Fellow "SNL" jokester Aidy Bryant echoed Yang's concerns about Musk — the third-richest person in the world, according to Forbes' real-time billionaire billboard — and his forthcoming term as master of ceremonies.Bryant, 33, reposted a tweet from Sen. Bernie Sanders as a thinly veiled dart aimed at Musk that read: "The 50 wealthiest people in America today own more wealth than the bottom half of our people."
Asphncter says what?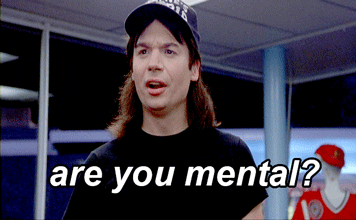 Elon Musk is excellent at owning the libs and being an eccentric billionaire. Both are valuable skills in today's society. But he never struck me as someone who has much of a sense of humor. Musk seems like the type of person who would over-explain knock-knock jokes. A guy who would explain all the ways, physically, being a ten-inch pianist would be impossible, let alone sit on a bar. Or someone who if you performed your Amaterial would react with awkward science before saying, "Yes, I see humor in that." The existence of Musk's funny bone aside, he'll still be more hilarious than anything SNL has done all year.
Not funny enough to watch live, because it's still SNL. But if the internet tells me the next morning "this clip was funny" 'll look forward to seeing if it was.
Get your content free from Big Tech's filter. Bookmark this website and sign up for our newsletter!
Crowder REACTS to Latest 'Fat Pride' TikTok Video! | Louder With Crowderyoutu.be