Coal miners push electric vehicle that broke down outside of a coal plant in world's most ironic viral post
September 05, 2022
Warning: your brain may have trouble processing so much irony. Not unlike electric vehicles having trouble processing getting from point A to point B. A guy from Washington, DC, decided to take his electric vehicle out for a weekend getaway. It made it to West Virginia... where it broke down outside of a COAL PLANT. Five coal miners had to push the electric vehicle to a charging station.
West Virginia state senator Randy Smith, who is also a coal miner, enjoyed the visual. "So here are 5 coal miners pushing a battery car to the coal mine to charge up."
The driver, let's call them Skylar, hopped into their electric vehicle (Skylar is big on pronouns) to leave their progressive enclave in Washington, DC. Skylar's electric vehicle broke down, though I'm sure "independent" "fact" checkers will call that false because the electric vehicle didn't "break." It merely ran out of electricity amidst the backdrop of a coal stockpile.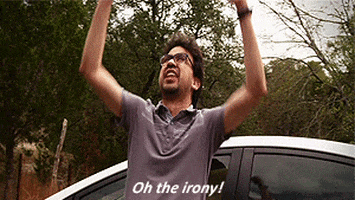 It took five coal miners to push the electric vehicle to the nearest charging station. They could have towed the electric vehicle with their more reliable gas-powered trucks, except the EV "was all plastic underneath and nothing to hook up to."
You wonder what they talked about while this was happening. "Hey, how about that Joe Manchin," could've been one topic of conversation. The WV senator recently voted to sell out his constituents but made it so Democrats couldn't sell out his constituents as much as the left would've liked. Skylar and the coal miners could have a connection there. Also, I saw Skylar and the Coal Miners open for Southside Johnny and the Asbury Jukes in 1994.
Most likely, Skylar sat in the car while the five cole minders pushed, texting their DC friends about what a nightmare the whole ordeal is for them. Not as much of a nightmare as taking a road trip in an electric vehicle or living in California. But Skylar was most inconvenienced.
The coal miners are better men than me. I'd grab a lawn chair and watch Skylar try to figure it out for themself.
The Louder with Crowder Dot Com Website is on Instagram now!Follow us at @lwcnewswire and tell a friend!
The Lying Media Babies Biden | Louder With Crowderyoutu.be