Each day we overwhelm your brains with the content you've come to love from the Louder with Crowder Dot Com website.
But Facebook is...you know, Facebook. Their algorithm hides our ranting and raving as best it can. The best way to stick it to Zuckerface?
Sign up for the LWC News Blast! Get your favorite right-wing commentary delivered directly to your inbox!
Posts
Dear Hillary Clinton: Yes, You Should Totally Run Again
November 13, 2019
Dear Madam Not-President:
Rumors are swirling you're considering tossing your black pointy hat into the presidential pentagram. Two words for you, your darkness: DOOOO EEET!
As the saying goes, if at first you don't succeed, try, try a third time. Because yes, this would be your third college try to launch yourself into the highest office on this mortal plane. The first time didn't really count, did it? It was brave, sure, to put your angry eyes, cackling voice, and penchant for pantsuits that look much more like tarps, against a young, suave, charismatic half-black man who sounded fantastic reading from a TelePrompter. That loss was really the Democrats' fault. They should've understood it was just your time, not the time for a junior senator who made people feel warm tingles down their pant legs.
Lesson learned.
So you waited patiently for 2016 when you wouldn't have to run against a person everyone liked better than you, even people who couldn't stand the mere sight of Obama or the sound of his stuttering stumbles. Off TelePrompter, Obama sounds like an engine that refuses to turn over.
2016 was supposed to be your time. The Republicans didn't go with a seasoned politician, but a billionaire tycoon reality television star who, to this day, doesn't understand what words should be capitalized. Should've been a shoo-in. A cakewalk. The presidency was yours, all yours, just add a few drops of the blood of young virgins to your spirit cookout, and abracadabra, President Hillary Clinton.
Except those stupid deplorables grabbed the Trump lever by the p*ssy and denied you, once more, your Satan-given re-birthright.
2008 wasn't your year. 2016 wasn't your year. But 2020? It's all you, boo.
Think about it, Hillary. You've got four more years of hard living with Bill etched into your cantankerous skin mask you call a face. If there's one thing America loves more than a president riding a good economy, it's an aging angry woman who doesn't know how to human.
The authenticity there is just mind-blowing. How DO you do it?
You've had four years of practicing how to emulate human emotions. Don't let that precious time go to waste, babe. Meanwhile, as you've been studying the ways of mortals, Trump's been sneaking in some Twitter time and making up words. Just ignore his moments of brilliance like the Photograph tweet or the constant nailing of Jim Acosta. Whatever you do, don't read about the economy's successes. Small potatoes. What Americans want is to look into the cold eyes of a woman repeatedly scorned, cheated on by her husband, overlooked for a stylish black man who can't curl a 20-pound dumbbell, and giver of the Russian reset red button. Hell, San Francisco is spray-painting a mural of the scowly Greta Thunberg. So see, there really is a niche liberal market for miserable coots.
Also, my constant comparisons of you to a witch, that's not sexism. No, I'm merely acknowledging how your evil ways are simply misperceived by Americans too stupid to know what's good for them. The witch comparisons have nothing to do with the constant coverups of your husband's rapes, nor the alleged Clinton body count which surely doesn't include Epstein who totally killed himself. They're an acknowledgment of your unappreciated power, my queen, nothing more.
Have you seen everyone else running for president? Joe Biden? That old codger can barely keep his teeth in his mouth and his hands to himself. He sees an underage girl and all of a sudden he's a blind man in search of his cane. Then we have senior flyaway hairs, Bernie Sanders, who may or may not have a heart condition, but for sure has a bumbling moron affliction. Elizabeth Warren? What do you think Trump will do to her when they're one-on-one? The native American indigenous people of color jokes write themselves. As for Buttgig, that dude is so gay even your girlfriend Huma would make eyes at him. As for the Tulsi Gabbard chick, don't you worry one little gray frizzy hair about her. Sure she's hot. Sure she's not crazy. Sure she could out debate you, but you know what? You have something she doesn't: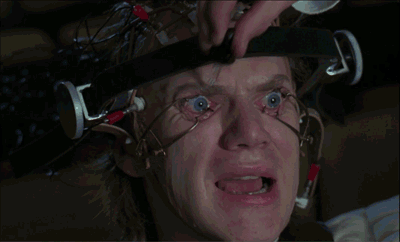 So Hillary, now is your time. Don't listen to the haters. You charge into that race like it's an early bird special at Denny's. If not you, who will topple the Trump? Go get it, old girl.