Each day we overwhelm your brains with the content you've come to love from the Louder with Crowder Dot Com website.
But Facebook is...you know, Facebook. Their algorithm hides our ranting and raving as best it can. The best way to stick it to Zuckerface?
Sign up for the LWC News Blast! Get your favorite right-wing commentary delivered directly to your inbox!
crime
CVS So Desperate To Fight  Shoplifting They're Forced To Replace Merch On The Shelves With Pictures. Of The Merch.
October 30, 2023
Our nation's capital is suffering from a crime wave that appears to only be getting worse by the day. This has subsequently shown that the criminal justice system in the District of Columbia isn't working, at least not how it's supposed to.
This should not surprise anyone since the left-wing City Council has enacted pro-criminal policies that have caused crime to skyrocket.
Compared to this time last year, homicides are up 37 percent. Robberies are up 66 percent. Auto thefts are up 106 percent with 5,343 year-to-date, and carjackings are just as bad, being up 108 percent with 745 year-to-date.
In what appears to be taken right out of a dystopian novel, a CVS pharmacy in Washington DC has placed framed photographs on its shelves showing a range of items they have available. Images of kitchen towels and toilet paper stand in place of the items instead.
This is truly what a culture of lawfulness looks like, in case you were wondering.
According to the Daily Mail, this location has been forced to replace almost all its stock with photographs in an attempt to battle rampant theft.
In picture frames.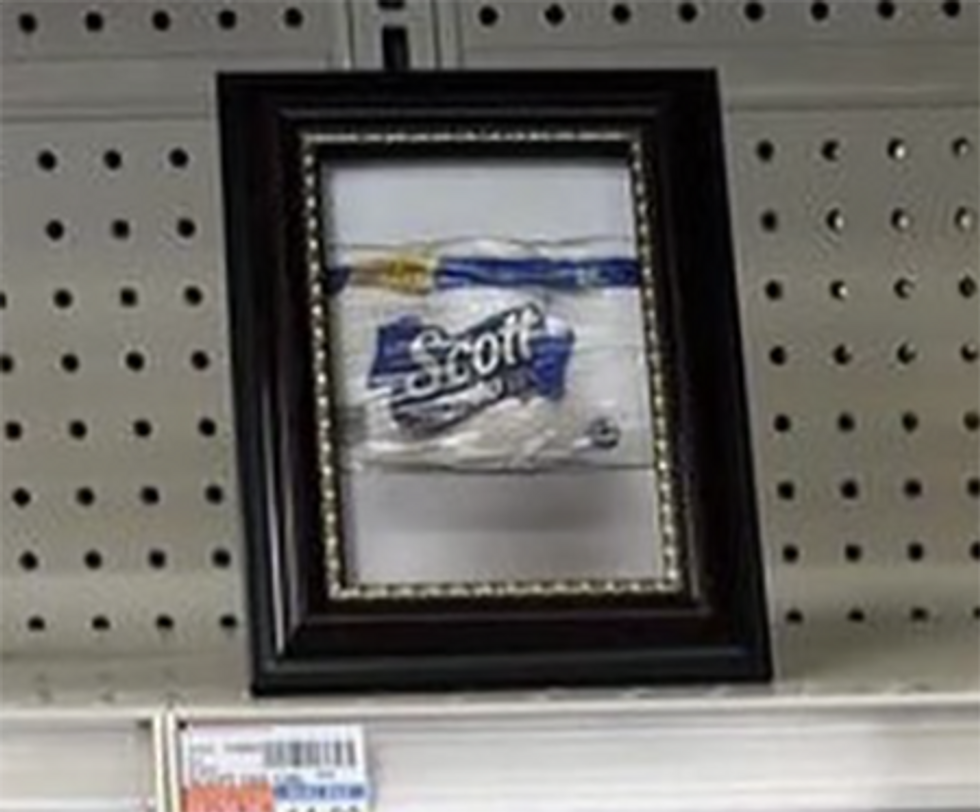 Photos circulating social media of the store show a sign which says "press button". Customers are asked to press the button for assistance where a worker can then retrieve the product.
"This is how we live in America now?" questioned conservative commentator Joey Mannarino, who shared the images. "This is the third world!"
CVS has announced that it is shuttering 900 stores due to the shoplifting crime wave, which the National Retail Federation says is costing the industry $112 billion a year.
Comparing the empty shelves, Mannarino said: "I was in Barcelona, Spain a few months ago and saw Mac laptops sitting out in the middle of the store."
He also shared an image of a display in Spain filled with MacBooks, asking: "Where has America gone wrong?"
CVS said its decision to close nearly 10 percent of all its stores is part of its strategy to move a chunk of its business online to prevent losses from organized theft.
The news comes just several weeks after a CVS store in DC was ransacked by dozens of teenage looters. The store on 14th Street in Columbia Heights, DC is so subject to constant theft that there is literally nothing on the shelves anymore.
"When you walk into this CVS, you'd think the store is closing because there's barely anything on the shelves," Fox 5 reporter Sierra Fox told viewers. "I did ask an employee what gets stolen the most, and they just laughed and said 'everything'."
"A big group of kids, like 45 or more, walk in before school, after school, and late at night to steal chips and drinks. "They even throw the food and beverages on the ground and stomp on them, leaving behind a big mess."
Juvenile thugs know they can get away with just about anything as many people have argued that the DC justice system fails to combat the ongoing juvenile crime surge, as the city outright refuses to even take it seriously. More than 63 percent of carjacking in the city this year have involved the arrest of juveniles, according to the Washington Free Beacon.
What's the approach DC takes in regard to juveniles?
Well, if someone is under 18, they cannot be held in jail beyond their 21st birthday. Subsequently, even juvenile murderers have avoided significant jail time in DC, according to the Washington Free Beacon.
But what did DC Attorney General Brian say amid this youth crime wave? Oh you know, just that 'kids are kids'.
"When you're talking about teenagers in particular . . . they're biologically prone to make mistakes—that's what we've all done as we've grown up," Schwalb said.
I am not sure what Schwalb's teenage years looked like, but I definitely did not know too many kids who committed carjackings.
It is quite clear that our nation's capital is not being run by people who take public safety seriously. Rather than pass laws that keep residents and tourists safe, policies have been implemented that have subsequently created a culture of lawlessness.