NFL star collapses after life-threatening on-field collision, so fans flood his children's charity with over $3 million
January 03, 2023
What was supposed to be the first meeting between two of the top quarterback in the NFL turned tragic on Monday night. Buffalo Bills safety Damar Hamlin collapsed after blocking Cincinnati Bengals wide-receiver Tee Higgins. Hamlin was administered CPR on the field, and the game was postponed.
The injury happened after Hamlin tackled Higgins following the wide receiver's reception. Higgins, who is 6'4" and 215 pounds, led with his right shoulder and hit Hamlin in the chest. Various "medical" "experts" took to Twitter to "just ask questions" that something else had happened. I'm not a doctor or a scientist. And while I admit it is rare for a twenty-three-year-old to go into cardiac arrest, it is less rare when a grown adult who is 6'4" and 215 pounds hits him (inadvertently) dead center in the chest. I also know that you can always NOT tweet your hot take.
What fans did next is where the story gets incredible. Hamlin has a charity where he collects toys for underprivileged kids in his community. He had started it in 2020 during his final college year. A GoFundMe was set up for this year with a goal of $2500.
Donations were around $4000 when the game started. They are over $3 million as of this writing.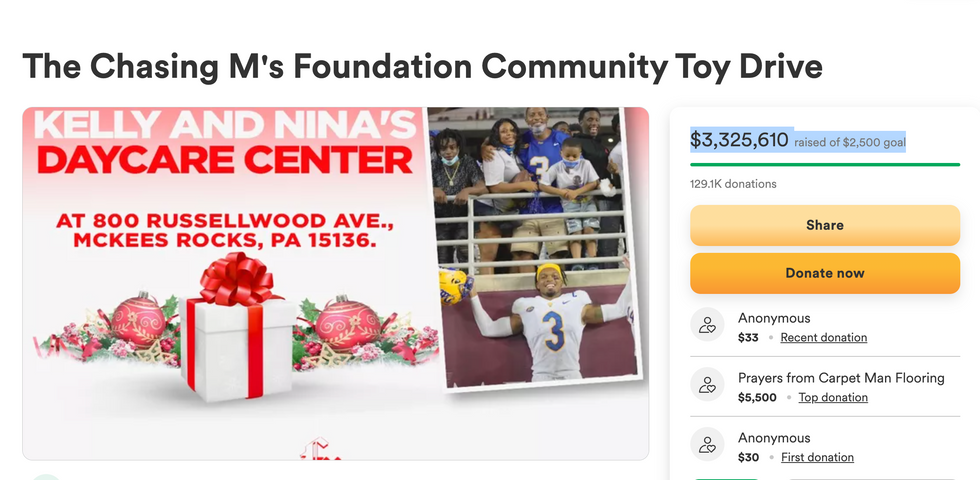 And apropos of nothing, here Damar is with his mama. Us mama's boys need to stick together.
Damar Hamlin remains in critical condition. All of us at the Louder with Crowder Dot Com website will be keeping him in our prayers. Also, Go Bills.
Editor's Note
LwC is on Substack now! Each day we overwhelm your brains with the content you've come to love from the Louder with Crowder Dot Com website.. but algorithms hide our ranting and raving as best they can. The best way to stick it to Big Tech? Subscribe to For the Content!
EXCLUSIVE: Crowder Saves Christmas from Woke Santa Who Made Boy CRY! | Louder With Crowderyoutu.be