Each day we overwhelm your brains with the content you've come to love from the Louder with Crowder Dot Com website.
But Facebook is...you know, Facebook. Their algorithm hides our ranting and raving as best it can. The best way to stick it to Zuckerface?
Sign up for the LWC News Blast! Get your favorite right-wing commentary delivered directly to your inbox!
Culture Wars
Bud Light waves the white flag, admits their customers aren't coming back after disastrous Dylan Mulvaney stunt
August 01, 2023
We are now on month five since the Death Star known as TikTok ingénue Dylan Mulvaney blew Bud Light out of the beer-flavored water. Ok, so it wasn't Dylan's fault as much as it was the globally elite executives AT Bud Light who signed the deal. Dylan just got paid, and I would never fault a man OR woman for getting that bag. Wherever the blame lies, Bud Light distributors have come to the conclusion that their lost customers are never coming back. Now what?
After four months of hiring freezes, layoffs, Bud Light falling out of the #1 spot on an assortment of metrics, and an over 25% drop in sales, distributors are resigned to the fact it's never going to get better and, according to the New York Post, the beer needs to find some new customers to market to
"Consumers have made a choice," said an executive at a Texas-based beer distributor who did not want to be identified. "They have left [Bud Light] and that's how it's going to be. I don't envision a big percentage of them coming back."

"There is an increasing feeling that this [Bud Light] decline rate could last for a while and the distributors are worried about losing those drinkers to other similar brands," David Steinmann, executive editor of Beer Marketer's Insights, told The New York Post.
As surprising as it may sound, this is the first time we've used this .gif in a Bud Light post.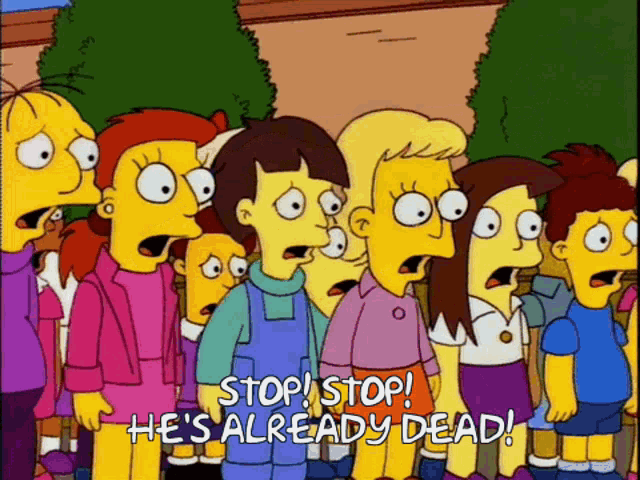 To be clear, it's the Bud Light DISTRIBUTORS who are saying this. Bud Light themselves haven't surrendered (yet) and global corporation Anheuser-Busch only cares about the global markets. But it was a distributor who first rang the alarm bells BACK IN APRIL where things were heading: "I've never seen such little sales in these past few days on these products. It's sad because if people don't buy this beer, I don't make money and I can't feed my family. It's kinda heartbreaking that Annheuiser Busch did what they did. They don't know their clientele."
It's been a long five months. Let's recap how we got here.
Bud Light's Keys to DERPtory
1. Controversial titface performer Dylan Mulvaney announced he and/or she was a new brand ambassador for Bud Light as part of their March Madness campaign. An odd choice since in Dylan's portrayal of a woman he presented as someone too ditzy and basic to know what March Madness was, as opposed to any of the thousands of real girls who love college basketball.
2. A podcast appearance of now-former Bud Light VP Alissa Heinersceid came to light. The now disgraced marketing elitist lashed out at Bud Light customers as "fratty" and "out of touch. It was important to her to have another approach that included a San Francisco-based "influencer" marketing firm setting her up with Mulvaney. There is a trend with progressives where the only way to be "inclusive" and "for everyone" is to sh*t on the people who currently enjoy a product. It's called the Kathleen Kennedy method.
3. No one at any level of AB, ABInBev, or Bud Light thought to utter four simple words: "Sorry, we f*cked up."
After Bud Light's role as the #1 beer in America was sabotaged by people who don't drink Bud Light and hate people who do drink Bud Light because they want their customers to be someone else entirely, the company is in a position where they "need to focus on a new crop of drinkers." People who enjoy the taste of a glass of water if you swished around dirty pennies in it have Coors Light and Miller Lite to choose from. Others are hopefully turning local and checking out any of the local breweries in their neighborhood.
I say Bud Light owns it and goes hard in the other direction. Make Dylan Mulvaney the official Queen of Beers. Bring back former VP Melissa Weinerchild to say "You're goddamned right I think you rubes are fratty and out of touch." And target a niche audience of upper-class elitists and gender identity-obsessed progressive zoomers who demand their political worldview be validated by everything and everyone. Give people a beer that can truly and without shame signal their virtue with.

The company will never admit it made a mistake. Double down on that mistake then.
><><><><><><
Brodigan is Grand Poobah of this here website and when he isn't writing words about things enjoys day drinking, pro-wrestling, and country music. You can find him on the Twitter too.
Facebook doesn't want you reading this post or any others lately. Their algorithm hides our stories and shenanigans as best it can. The best way to stick it to Zuckerface? Sign up for our DAILY EMAIL BLASTS! They can't stop us from delivering our content straight to your inbox. Yet.