Each day we overwhelm your brains with the content you've come to love from the Louder with Crowder Dot Com website.
But Facebook is...you know, Facebook. Their algorithm hides our ranting and raving as best it can. The best way to stick it to Zuckerface?
Sign up for the LWC News Blast! Get your favorite right-wing commentary delivered directly to your inbox!
'The Republic Got Dumber Because of That Tweet': Senator Destroys Dem Colleague Over Ukraine Virtue Signaling
March 20, 2022
It's the little things in life. Cold beer. Sad country songs. And watching your political opponent get destroyed for being a sanctimonious, virtue signaling, little douche on the floor of the Senate. It happened to Connecticut Senator Chris Murphy at the hands of Nebraska Senator Ben Sasse.
At issue were Republican Senators who feel Joe Biden's response to helping Ukraine is less than competent. Biden has already proven to be less than competent in global affairs, and other world leaders are taking notice. Murphy tweeted that the GOPers were hypocrites. They had a chance to vote for Ukraine aid and didn't.
Of the Republican Senators who attended this weeks "Biden isn't doing enough for Ukraine" press conference…

2/3 of them:

Risch
Sasse
Kennedy
Cruz
Marshall
Fischer
Lankford
Hoeven
Sullivan

voted AGAINST the bipartisan $12B Ukraine aid package. https://t.co/LLArQKh74m
— Chris Murphy (@ChrisMurphyCT) March 17, 2022
Murphy's tweet made it sound like Republicans voted against said bill as they are attacking Biden for not providing enough aid. Murphy's tweet was meant for other liberals and blue checkmark reporters (but I repeat myself) to retweet it uncritically. Remember, retweets "don't equal endorsement."
Sasse called Murphy out because there was a key point left out of Murphy's tweet. Republicans didn't vote against $12 billion in Ukraine aid. They voted against $1.5 TRILLION in insane Joe Biden government spending. Of which Ukraine "aid" was less than 1%.
Sen. @BenSasse absolutely wrecks @ChrisMurphyCT after the Democrat senator claims Sasse voted against an omnibus bill over aid to Ukraine. The vote on aid was eight-tenths of 1% of a $1.5 trillion omnibus spending bill. Murphy is just humiliated here. pic.twitter.com/6AP04J5wM4
— Jason Rantz on KTTH Radio (@jasonrantz) March 18, 2022
Here's the key part:
BEN SASSE: Do you believe that the people that voted against it voted against it because they were against Ukrainian aid?
CHRIS MURPHY: So, every one of us approaches ...
BEN SASSE: I'm asking a really simple question. Do you think a single person voted against [the omnibus bill] because they were against Ukrainian aid?
CHRIS MURPHY: Absolutely not.
BEN SASSE: So then what's the point of the tweet?
Then Murphy tried muttering something about "compromise" until Sasse bodied him by saying: "There's not an uninformed American who became informed, but there is a subset of the people who already like you that you got to grandstand for. That's all that happened with that tweet. The republic got dumber because of that tweet."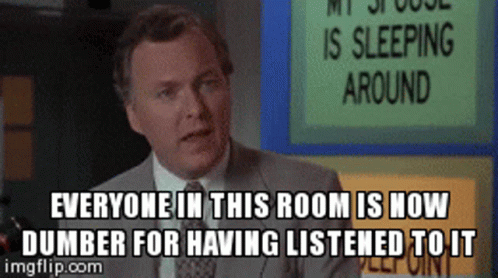 Murphy yields the floor while Ben Sasse yielded his foot up his ass. Honestly, I'd like to see more people get called out for tweets they know are bullsh*t when they send them out. You could say that it gets in the way of our elected officials doing real work for the American people. But whenever the Senate or Congress does any "work," it's more often than not bad for all of us.
The Louder with Crowder Dot Com Website is on Instagram now!Follow us at @lwcnewswire and tell a friend!
American Policy Is Bringing Russia & China Together! | Louder With Crowderyoutu.be