Fed up with animal rights wackadoodles blocking traffic, a hero emerges to drag protestors across the pavement
February 18, 2023
It will never not be funny to me how progressive slacktivists think blocking traffic helps their causes. Maybe if they ate more meat and less soy, their brains could better focus. Instead of thinking "if we inconvenience thousands of people they will support our cause" is a smart tactic. Though if they ever did, we wouldn't get content of vegans being dragged across the pavement. Or ripped from it.
Our story today is about one hero who had enough. We go now to jolly ol' England and Animal Rebellion, an offshoot of Extinction Rebellion. To protest...some dumb thing, they blocked traffic on Westminster Bridge. It was Valentine's Day. One guy wore a mask of England's Prime Minster to symbolize him having a romantic relationship with the agricultural industry.
Sent to cover the story for The Guardian is a guy who claims to be an "environment correspondent, reporting on a world on fire." They sent an activist to cover a protest, which tells you all you need to know about modern-day journalisming.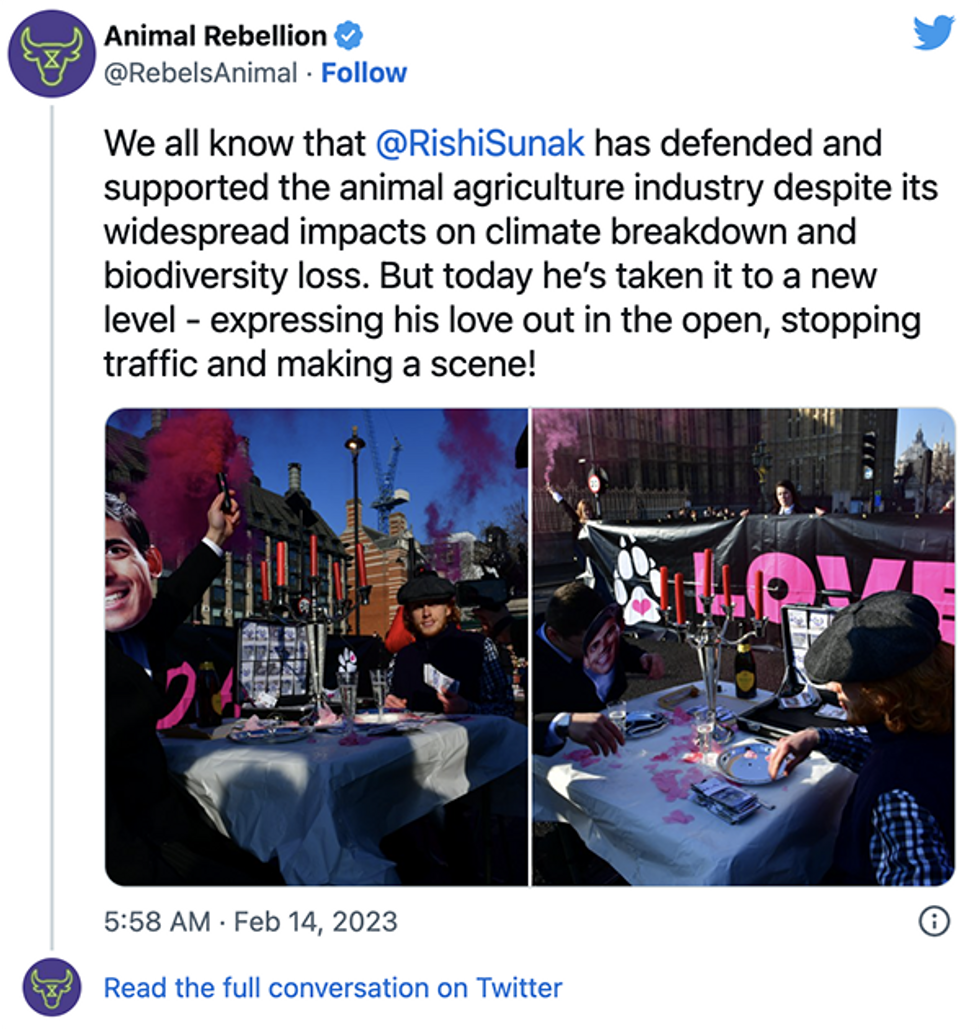 One hero had enough. While gawkers and lookyloos stood around without the courage to act, our man chucked the table. Then he dragged the two loser protesters to the side of the road so the rest of England could carry on with their lives. Another epic fail for Animal Rebellion.
Though in defense of the "aggro," it's not like cops were doing much. Other than harassing other heroes doing their job for them.
We here at the Louder with Crowder Dot Com website love ourselves a good [Solve for X] Rebellion. We've seen Animal Rebellion spill milk in the grocery store (which only requires more cows to make more milk) and get owned by Piers Morgan. Extinction Rebellion gets dragged across the pavement and yeeted off the roof of the Metro. Though our favorite is when they tried spraying fake blood on a government building and lost control of the hose. Their vegan diet left them without any upper body strength.

Editor's Note
LwC is on Substack now! Each day we overwhelm your brains with the content you've come to love from the Louder with Crowder Dot Com website.. but algorithms hide our ranting and raving as best they can. The best way to stick it to Big Tech? Subscribe to For the Content!
A VERY SERIOUS Climate PSA | Climate Change Changes Us Allyoutu.be