Amber Heard's Proof Johnny Depp Lied Is *Checks Notes* He Once "Convinced World He Had Scissors for Fingers"
June 14, 2022
Amber Heard was found to be a domestic abuser by a jury of her peers. One who falsely accused her ex-husband Johnny Depp of being the abusive one. At one point in the trial, Heard fired her PR team when all anyone wanted to talk about was her pooping in Depp's bed (which she denies doing). She needs to fire her new PR team for suggesting this Today's interview.
She still swears she is telling the truth and that Johnny Depp is the lying liar. Why? He once lied about having scissors for hands.
GUTHERIE: The Depp lawyer called your testimony "the performance of a lifetime" and said you were acting.
AMBER TURD: Says the lawyer for the man who convinced the world he had scissors for fingers?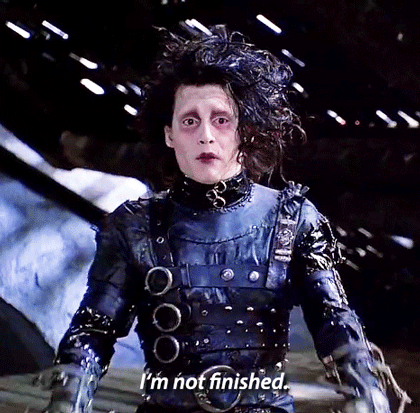 To you youngbloods who may not know, Johnny Depp once played a character called Edward Scissorhands. His name was Edward. And... he had scissors for hands.
Edward Scissorhands (1990) - A Thrilling Experience Scene (2/5) | Movieclipsyoutu.be
I'm going to be real with you. There was a time when Johnny Depp was my favorite actor. Edward Scissorhands was one of my favorite movies in high school. At no point did he ever convince me that he had scissors for hands.
While we are at it, he never convinced me that he burned his house down because it was easier than getting his fat dead mom out. I never believed he was the world's greatest lover until Marlon Brando gave him drugs. And I never fell for it when he and Peter Deluise would sneak into high schools in their late twenties and convince teenagers to sell him drugs.*** I mean, c'mon. The McQuade Brothers were the original "how do you do fellow kids."
I get where Ms. Turd thought she was going with this. But this is like critics saying her story was unbelievable because she once convinced people she was shagging Aquaman. Or that she was... honestly, I don't know anything else she's done other than Elon Musk.
She and Depp both play dress-up and make-believe for a living. The jury listened to the evidence and found it went against Heard's story. If she wants to blame anyone's acting, she should blame her lawyers.
***"What's Eating Gilbert Grape," "Don Juan Demarco," and the "21 Jump Street" tv series. All quality 90s entertainment. The 21 Jump Street reboot movie wasn't terrible either.
The Louder with Crowder Dot Com Website is on Instagram now!Follow us at @lwcnewswire and tell a friend!
Edward Scissorhands (Parody) | Louder With Crowderyoutu.be