Each day we overwhelm your brains with the content you've come to love from the Louder with Crowder Dot Com website.
But Facebook is...you know, Facebook. Their algorithm hides our ranting and raving as best it can. The best way to stick it to Zuckerface?
Sign up for the LWC News Blast! Get your favorite right-wing commentary delivered directly to your inbox!
WATCH: Don Lemon Berates Pastor About Trump's Racism. Despite Pastor's Obvious Irritation.
August 02, 2019
Donald Trump lives rent-free in CNN's collective tiny minds. They are obsessed with Trump and the silly idea Trump may be a racist. As I've maintained since forever, Donald Trump is kind of an ass remove the kind of. But he's equal-opportunity about it, opting to insult anyone who doesn't like him. Mature? No. Racist or sexist? Not even close. With that in mind, watch this completely cringeworthy interview between Don Lemon and Reverend Bill Owens, a pastor in Baltimore.
As soon as Owens said Trump insulted everyone, not just black people, Don Lemon pivoted to try to discredit Owens for disagreeing with Prophet Obama. It's clear from this entire segment Don Lemon was only interested in TRUMP IS A RACIST. But because Owens wasn't playing along, because Owens had the exact opposite experience with Donald Trump: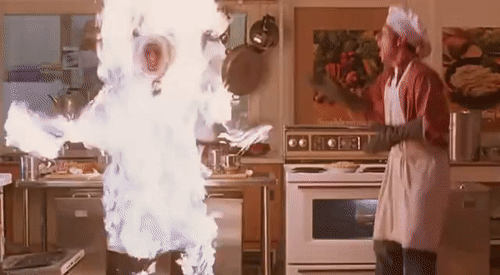 Meanwhile, this pastor seems only to want to help his flock. Which greatly displeased Don Lemon who was determined to stay on target. By the looks of this interview, and in my opinion, Don Lemon wants to take Trump down based on TRUMP HATES BLACKS. That's the tactic now since the Russia plot imploded like Tess Holliday's folding beach chair. Stand back, small children. Anyone who detracts from the "Trump is a super-racist" narrative can have an on-air rectal exam about what they've previously said about previous presidents who may have been the fantasy Don Lemon used while playing with his bits. Which isn't a racist joke, it's a joke about men's not-secret hobbies. It's not even a gay joke, calm down.
Is there really any doubt CNN has nothing else on their mind other than taking Trump down? Would it be fair, based on the segment with Don Lemon you just watched, to call CNN fake news?
NOT SUBSCRIBED TO THE PODCAST? FIX THAT! IT'S COMPLETELY FREE ON BOTH ITUNES HERE AND SOUNDCLOUD HERE.