Each day we overwhelm your brains with the content you've come to love from the Louder with Crowder Dot Com website.
But Facebook is...you know, Facebook. Their algorithm hides our ranting and raving as best it can. The best way to stick it to Zuckerface?
Sign up for the LWC News Blast! Get your favorite right-wing commentary delivered directly to your inbox!
Comedy
WaPo Reporter Publicly Shames Coworker for Retweeting Joke, Because Comedy Dies in the Darkness
June 03, 2022
There are more important stories happening in America today than an internal matter at the Washington Post, but it's Friday, it happened publicly on Twitter, and it draws a nifty contrast between left and right. Because we here at the Louder with Crowder Dot Com website enjoy ourselves some comedy, especially that of the irreverent kind. Deep down, Dave Weigel from Washington Post does, too. He retweeted this joke.
Please note the word "retweeted." He didn't tweet it himself. This was someone else's joke that he found funny. On Twitter. And not at the WaPo water cooler.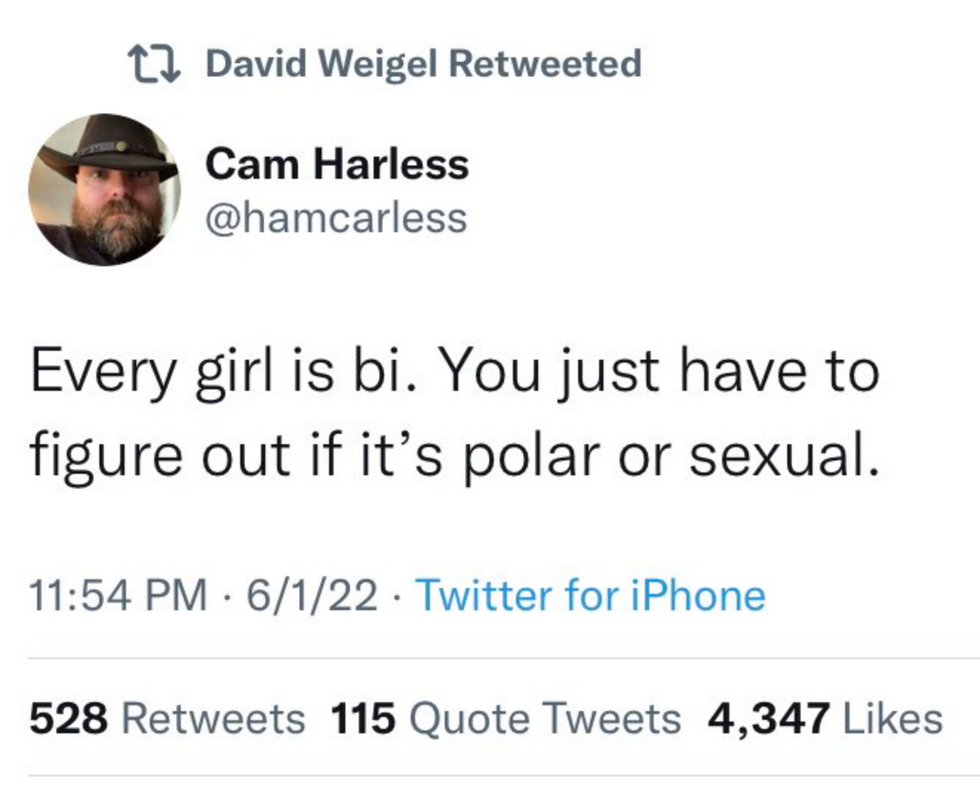 "Every girl is bi. You just have to figure out if it's polar or sexual.

There are people better trained than me to explain how jokes work. I thought it was funny. You thought it was funny. But you can imagine how people at the ultra-leftist content site The Washington Post would take offense. A coworker COULD take up the matter with Dave directly. Or she could snitch to HR. Felicia Sonmez took a third route and decided to publicly shame him instead.
So, of course.
Again, this is a WaPo matter, and I don't really care outside of for snark's sake. Plus, it's Friday and I'm five minutes from happy hour. But it's an interesting contrast between how the left handles matters, and how people who identify as female do on the right where we still have funny bones.
One side has a sense of humor. The other side will probably have Dave Weigel taking a sensitivity seminar by end of business today to exorcise the -ists and -isms out of his soul.
It's good to have a sense of humor. Walking around uptight about everything all the time isn't healthy for anyone. Also, if you have a problem with a coworker, take it up with them directly and NOT in a way that creates content for your ideological adversaries.

The Louder with Crowder Dot Com Website is on Instagram now!Follow us at @lwcnewswire and tell a friend!
TOP GUN: MAVERICK Crowder and Crew Review | Louder With Crowderyoutu.be