US Navy thought this seaman turned drag queen was their answer to record low military recruitment
May 03, 2023
Our US military is facing a crisis with record-low recruitment in the armed forces. And while we're told by the media not to blame wokeness, the Navy has... yeah, I got nothing.
Remember, whatever you do, we're begging you... don't blame wokeness for the record-low military recruitment. If you are blaming wokeness, stop doing that thing.
The Daily Caller has the scoop here. The seaman in question is Yeoman 2nd Class Joshua Kelley on the deck, "Harpy Daniels" below the deck. Harpy was brought on as the first "Navy Digital Ambassador" last November. The Navy is facing a historic recruiting crisis and is attempting different ways to reach younger recruits.
"An effort is, indeed, being made to connect recruiting to the interests and concerns of Gen-Z," Lt. Ian Clark and PO Third Class Kyle Atkinson, U.S. Navy wrote for the USNI journal in January 2023, citing a prominent Diversity and Inclusion section that appeared on the Navy recruiting website's front page at the time.
This pilot program concluded last month. Presumably, smart people in their administration are now evaluating the initiative before deciding to go further.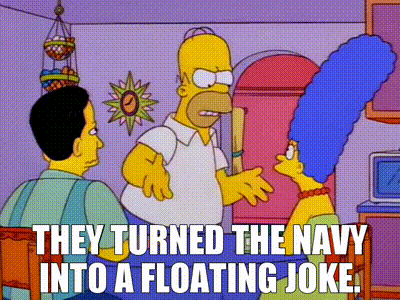 You have to question who the audience is for this, and there is a degree of "how do you do fellow kids" to it. Someone saw on the news that drag queens are popular with the youths and believed by highlighting that the Navy hearts queens too, Zoomers will come a-runnin' to the nearest recruitment office. Even though if you drew a Venn diagram of the 25% of Zoomers who claim they are LGBTQAIIP+EIEIO now vs people who hate the military-industrial complex, you'd have most of a circle.
Rumors of the Department of Defense sending Dylan Mulvaney on a USO tour with Hologram Bob Hope saying "a reminder of what you boys are fighting for" could not be confirmed at this time. Though I'm sure Dylan would slay in whatever Dylan was wearing.
><><><><><><
Brodigan is Grand Poobah of this here website and when he isn't writing words about things enjoys day drinking, pro-wrestling, and country music. You can find him on the Twitter too.
Facebook doesn't want you reading this post or any others lately. Their algorithm hides our stories and shenanigans as best it can. The best way to stick it to Zuckerface? Bookmark LouderWithCrowder.com and check us out throughout the day! Also, follow us on Instagram and Twitter.