Each day we overwhelm your brains with the content you've come to love from the Louder with Crowder Dot Com website.
But Facebook is...you know, Facebook. Their algorithm hides our ranting and raving as best it can. The best way to stick it to Zuckerface?
Sign up for the LWC News Blast! Get your favorite right-wing commentary delivered directly to your inbox!
CAUGHT: Teachers' Union Lawyer Tells Teachers How to Lie About Abusing Children. It Gets Worse...
March 21, 2017
Public school teacher unions have often been cloaked in righteousness while dripping with corruption. But the leftists won't let go of their rabid pet unions. Maybe because Democrat unions are veritable money-laundering schemes. A bit hard to let that cash flow go, even when those unions are protecting child-punching teachers.
This thin-lipped harpy of a union worker, Antonio Mankini, should crawl into a hole. But only if that hole is home to Hillary Clinton, Lena Dunham, and Amy Schumer. You know what they say about women who hang together all the time, right?
Mankini then told the Project Veritas journalist that he knew the "right" way to hit a child:

"I spent 17 years working with law enforcement so I know ways to…It's like I told them, I could hurt you and never leave a mark.
"Elbows are awesome weapons too. They are harder than a fist and yeah it's intense stuff so…"
Finally, Mankini detailed his own experience with hitting a student:
"I clotheslined a kid in a class one time, you know and of course I was pretending, I was pointing at the kids and the kids saw the kid went down.
"I mean, he ran into my arm. He wasn't supposed to be in my class and of course I caught him here and he went down backwards.
"And that one still bothered me. That one, yeah, because I crossed the line. I know, I mean, I made it look like an accident and all the witnesses would have said no he ran into my arm because he ran into me. I didn't reach over to knock him down you know. He ran into me."
Coaching teachers on how to hurt students isn't what comes to mind when brainstorming ways to improve America's public schools. Maybe I missed the memo that day. What with thinking we had to teach them science, technology, engineering and math. Pretty sure there's an acronym for that. According to the video above, there's a different acronym: HECK. For "Hit, Elbows, Clothesline and Kick." I could be a teacher.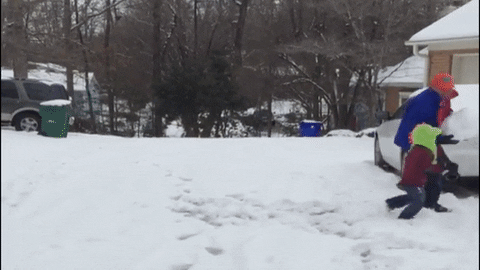 This is how blizzards work, kid.
Sidenote: yes, as O'Keefe points out in the video everyone deserves a fair trial and legal representation. That's not the issue here, so please don't hang yourself by the tree. You'll miss the forrest. See what I did there?
My issue and your issue here should be the false narrative Democrats and Teachers Unions live by: "We do it for the children," and "Children come first" with all facsimiles thereof squashed in between like two feminists sharing one bus bench. Wear deodorant. Meanwhile, while you're shuffling little John John out to school, where they'll lecture him about having ADD, ADHD and making gun shapes from pop tarts, unions are legally protecting teachers who're smacking Jim, Jane, Jamal and Ahmed (I don't know an Islamic name that starts with a "J" so sue me) from pillar to chalkboard. #ForTheChildren
But hey, maybe he misgendered a fellow tot. Smack the little snot.
Take note, feminists, this is what actual assault looks like. Yet I'm not hearing much outrage from the Democrats or larger left, who claim to possess all the feels for our impish kidlets. Maybe they're preoccupied with ensuring puberty aged trannys get access to their bathroom of choice. #Priorities.
The score so far: leftists support unions. The unions protect cowardly kid smackers. The cowardly kid smackers remain teachers. The school system goes to hell in a Prada clutch. The unions and Democrats demand more funding. Lather, rinse, smack the kid with an elbow, won't show as much.
Heal your eyes, watch this cute puppy who thinks he's a kitty.
JOIN THE MUG CLUB AND GET ACCESS TO NEW CONSERVATIVE MEDIA VIA CRTV! ORDER YOUR MUG CLUB MEMBERSHIP NOW!