Each day we overwhelm your brains with the content you've come to love from the Louder with Crowder Dot Com website.
But Facebook is...you know, Facebook. Their algorithm hides our ranting and raving as best it can. The best way to stick it to Zuckerface?
Sign up for the LWC News Blast! Get your favorite right-wing commentary delivered directly to your inbox!
Culture
Parents Call Cops When 18-Year-Old Arrives With Flowers for 11-Year-Old Girl After Snapchat Relationship
July 09, 2022
Every parent should be cognizant of everything their child is doing online because you never know what kind of stupid stuff they're getting into, to whom they're talking, or what stuff they're watching. In the case of an 11-year-old girl from Big Lake, Minnesota, it was an 18-year-old man from Chicago.
The two had been talking via the social media app Snapchat for a year, and the 18-year-old thought it would be a good idea to utilize the app's location services to track down where the young girl lived. He arrived to the house with flowers and gifts in hand, reports The Blaze.
Now, one immediately thinks this is another weirdo out there preying on small children--God knows we already have too many cases of that this year. But in truth, it was the man who had been deceived by the 11-year-old. Apparently, she had told the man that she was 17 years old and never let him in on the truth. The police were called when the man showed up but wasn't arrested after it came to light that he had been duped.
The Blaze reports that no charges were filed.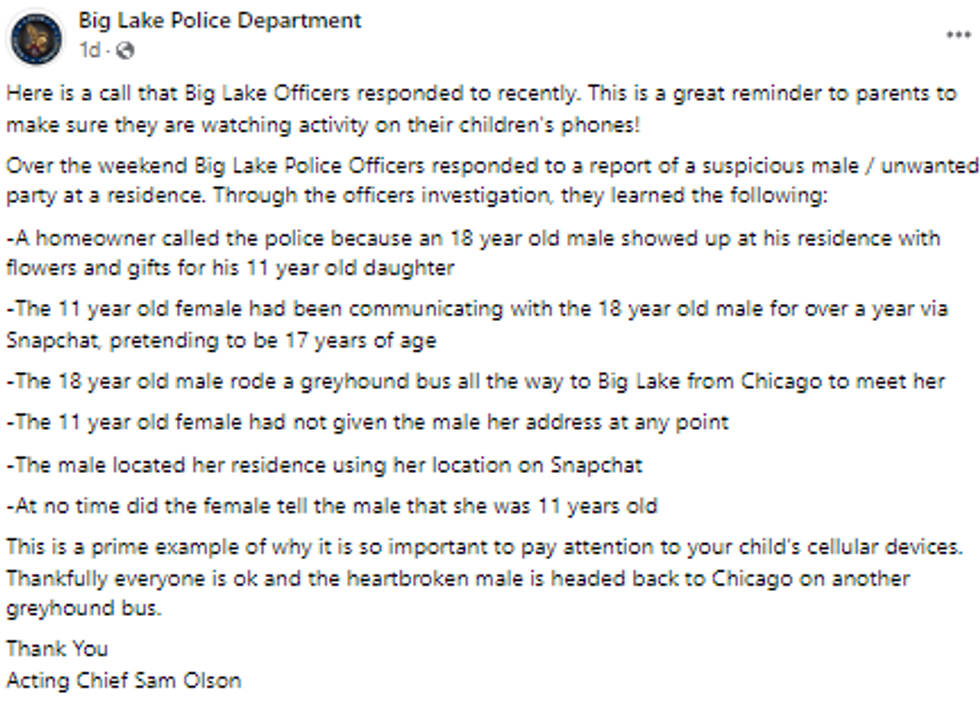 "This is a prime example of why it is so important to pay attention to your child's cellular devices. Thankfully everyone is OK, and the heartbroken male is headed back to Chicago on another greyhound bus."
While this incident didn't end tragically--except for the confused and heartbroken 18-year-old--it could have been far worse. Social media allows anyone to act like someone they're not, and if this had involved a different kind of person other than the young man from Chicago, it could have ended terribly.
Why does an 11-year-old girl have a cell phone anyway?
The Louder with Crowder Dot Com Website is on Instagram now!Follow us at @lwcnewswire and tell a friend!
The DUMBEST THINGS AOC Has Said (so far) This Year! | Louder With Crowderwww.youtube.com