Each day we overwhelm your brains with the content you've come to love from the Louder with Crowder Dot Com website.
But Facebook is...you know, Facebook. Their algorithm hides our ranting and raving as best it can. The best way to stick it to Zuckerface?
Sign up for the LWC News Blast! Get your favorite right-wing commentary delivered directly to your inbox!
Featured
SHOW NOTES: Was Trump ACTUALLY Divisive? How Mainstream Media Shills for Biden
June 23, 2021
EDIT: A segment about David Chipman's donations was deleted from these notes because the segment was cut from the show. On top of that, sourcing for the segment was inadvertently left out. It was based on this Mom-at-Arms.com exclusive .
Who is dividing America more: Trump or Biden? The truth will … most likely not surprise you, because we all know Joe Biden sucks at life. Also, IKEA's Juneteeth celebration is offending certain people, and a pop star wants the American flag to be more woke.
Was Trump ACTUALLY Divisive? How Mainstream Media Shills for Biden | Louder with Crowder youtu.be
WHO IS MORE "DIVISIVE," TRUMP OR BIDEN?

Trump vs. Biden's most "divisive" policies:

Joe Biden SOURCES: Time , CNN , AmericanMilitaryNews , RealClearPolitics , NBC

Biden sent tax dollars to fund abortion overseas when he revoked the Mexico City policy.
Biden wanted to spy on "domestic terrorists" on the internet.
Biden supports BLM.
Said Antifa is an idea.
Supports biological males in girls' sports.

Donald Trump SOURCES: WhiteHouseArchive , ABC , CBS , CNBC , ABC

Trump forced Canada and European nations to pay their fair share in NATO.
Trump left the Paris climate agreement.
Trump left the WHO.
His tough-on-China stance and tariffs brought jobs back.
Forced Mexico to stop migrants coming to the border by levying a tariff.

Who was tougher on Russia?

Trump SOURCES: ABC , New York Times , Brookings , TheHill

Armed Ukraine.
Shuttered all consulates in Russia.
Sanctioned Russia over human rights abuses, cyber-attacks, 2018 election interference, and the occupation of the Crimea.
MACY GRAY SAID WE NEED A NEW FLAG
Over the weekend, singer Macy Gray wrote an op-ed advocating for a new national flag in honor of Juneteenth. SOURCE: MSN
CLAIM: The flag has been redesigned before! We have dozens of designs of flags at the Philadelphia museum! Why not now? SOURCES: Twitter , Twitter , Snopes

The early flag changed to include newly recognized states and incorporated them into the existing aesthetic and rigid representation.

These weren't arbitrary changes, and the colors and symbols remain the same. Only their numbers or placement have changed. Meaning they didn't just add a green square because they felt like it. They went from 13 to 15 stars because of Vermont and Kentucky, for example.
As there came to be many officially recognized states, the star pattern needed to change to avoid clutter. The current iteration is also the longest-standing American flag in history. SOURCE: Usflag.com
This is preceded only by the previous flag, whose only difference was 48 stars, which lasted 47 years, while the 50-star flag has been the national flag for 61 years. SOURCE: Smithsonian

Macy Gray and liberals want to change the colors, the reasoning, and the symbolism for the flag simply based on their current feelings, which is entirely unprecedented. The general design of the flag has been the same since 1818, with 13 stripes and stars organized in a grid, only being changed when more states were admitted into the union. SOURCE: Smithsonian

CLAIM: "Oh yeah, well you guys fly the thin blue line and MAGA flags, so I don't want to hear from you." SOURCE: Twitter , Twitter , Twitter

TRUTH: Those aren't American flags and were never meant to be. Contrasting with MOST rainbow flags (which are often seen without an American flag nearby at all), these flags are consistently represented alongside American flags.
For example at Trump rallies, the American flag is always prominent, and the Trump "flag" is simply a separate symbol of support for his presidency.
The same with the "thin blue line" flag. There has never been a (real) push to make either of these the national flag of the United States, nor were they ever intended to be.
THE WHO/CDC CHANGED THEIR VACCINE GUIDANCE AFTER OUR SHOW
Yesterday on the show, we covered the WHO's vaccine guidance.
After our show, the guidance changed to read: SOURCE: WHO

"Children and adolescents tend to have milder disease compared to adults, so unless they are part of a group at higher risk of severe COVID-19, it is less urgent to vaccinate them than older people, those with chronic health conditions and health workers."
"More evidence is needed on the use of the different COVID-19 vaccines in children to be able to make general recommendations on vaccinating children against COVID-19."

The CDC did the same thing with children and COVID.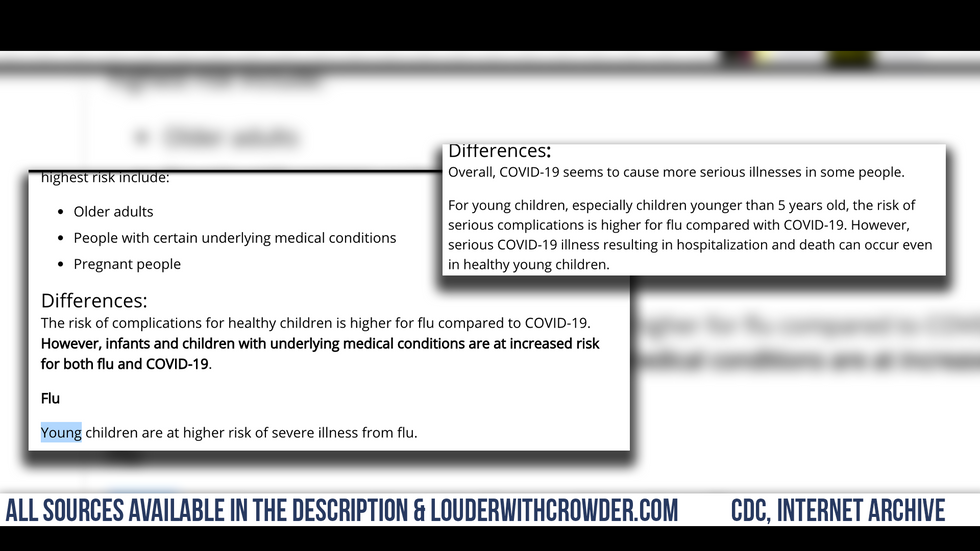 Looking for a fashionable way to support Louder with Crowder? Get your swag at Crowdershop today !