Each day we overwhelm your brains with the content you've come to love from the Louder with Crowder Dot Com website.
But Facebook is...you know, Facebook. Their algorithm hides our ranting and raving as best it can. The best way to stick it to Zuckerface?
Sign up for the LWC News Blast! Get your favorite right-wing commentary delivered directly to your inbox!
Democrat makes official change to Senate dress code to accommodate John Fetterman being a fat slob
September 18, 2023
Senate Majority Leader Chuck Schumer changed the Senate dress code to where Senators can vote on important issues wearing a bathrobe if they so desired. People assume the decision was made to accommodate John Fetterman, who views dressing like a fat slob as crucial to his mental health.
Not that there is anything wrong with being a fat slob. We can smell our own. But some of us can put on a suit when they tell us to without being a big baby about it.
According to the DailyMail, the previous rules required business attire on the Senate floor, meaning a suit and tie for men. Now senators can wear anything. But rest assured, Chuck Schumer will still be wearing a suit.
Fetterman is beside himself with excitement.
Let's all be honest with ourselves. We saw this coming. Ever since Fetterman's handlers convinced the Associated Press to sacrifice what little dignity it had left and write about how John Fetterman is redefining Senate fashion, you knew this was the direction Washington DC was heading in.
AP Journalismers: OH MY GOD, FETTERMAN! WHO ARE YOU WEARING?
Fetterman: One plus one equals potato.
It would be nice if we were looking up to someone like Rep. Wesley Hunt, whose suit game is always fresh to death, as the gold standard of DC fashion. But he's a Republican.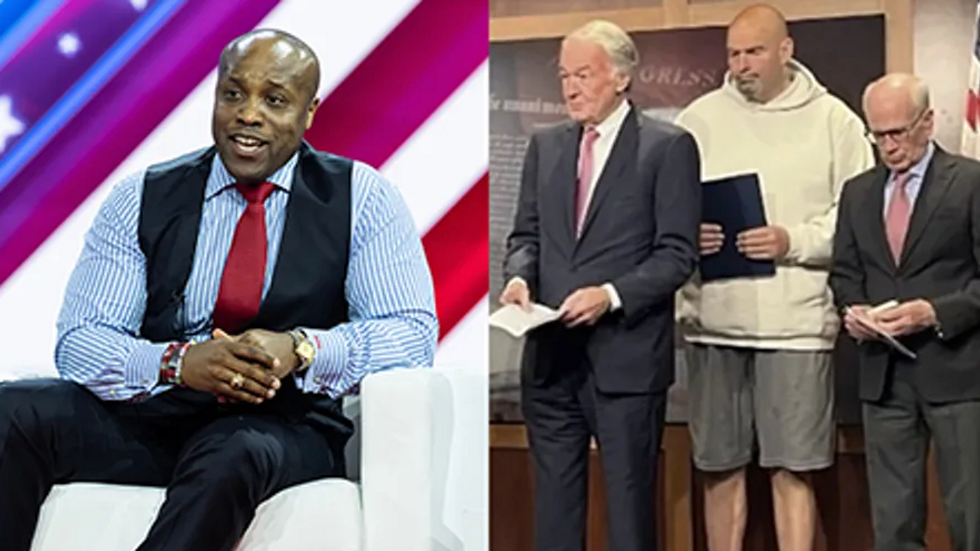 When I was in college, a friend of mine wanted to cut a hole in the front and back of a t-shirt and wear it sideways. He wanted to see if it would trend. I want someone to dress Fetterman up like that. Tell him it's how the unhoused homeless people in Philadelphia (of which there are many) are dressing and say it would stand in solidarity.
Post a video on TikTok. Not only would the media call it the latest fashion trend, but they would also call you raaaaacist for making fun of it. It doesn't matter that Fetterman looks like a giant pile of mayonnaise. Journalismers would make up a reason.
Though while I have you here, can we dial back on this jive that Fetterman died and has been replaced by a body double? Besides making you sound like a lunatic, it doesn't make any sense. Had Fetterman died a Democrat Governor would appoint at Democrat Senator to fill the role. Nothing would change, other than the new senator wouldn't act like a six-year-old whose mommy told him to put on a shirt and tie.
><><><><><><
Brodigan is Grand Poobah of this here website and when he isn't writing words about things enjoys day drinking, pro-wrestling, and country music. You can find him on the Twitter too.
Facebook doesn't want you reading this post or any others lately. Their algorithm hides our stories and shenanigans as best it can. The best way to stick it to Zuckerface? Sign up for our DAILY EMAIL BLASTS! They can't stop us from delivering our content straight to your inbox. Yet.