Each day we overwhelm your brains with the content you've come to love from the Louder with Crowder Dot Com website.
But Facebook is...you know, Facebook. Their algorithm hides our ranting and raving as best it can. The best way to stick it to Zuckerface?
Sign up for the LWC News Blast! Get your favorite right-wing commentary delivered directly to your inbox!
For the Content
Watch: Naked man tries touching kids at mall... until their dads start touching him with their fists
October 10, 2023
Here is a palate cleanser. After the past few days of tragedy and graphic X's on what used to be called Twitter, we could also use some positive imagery in our timeline. Like a naked pervert getting the crap kicked out of him by angry fathers.
According to the @DubSeaTV account, billed #1 in Seattle entertainment, the incident takes place at JC Penny's in the South Center Mall. The naked man was, allegedly, trying to touch children. As is usually the case with naked man videos (yes, we've had multiple examples over the years), it is unclear how long the man was allowed to walk around in public with his dingly dangly out. You would think someone would call security.
Though this is Seattle. If he is an unhoused homeless man, they get rights that people who are assets to society don't.
The video picks up after the naked man allegedly tried touching children and one of the dads caught him. And the race was on.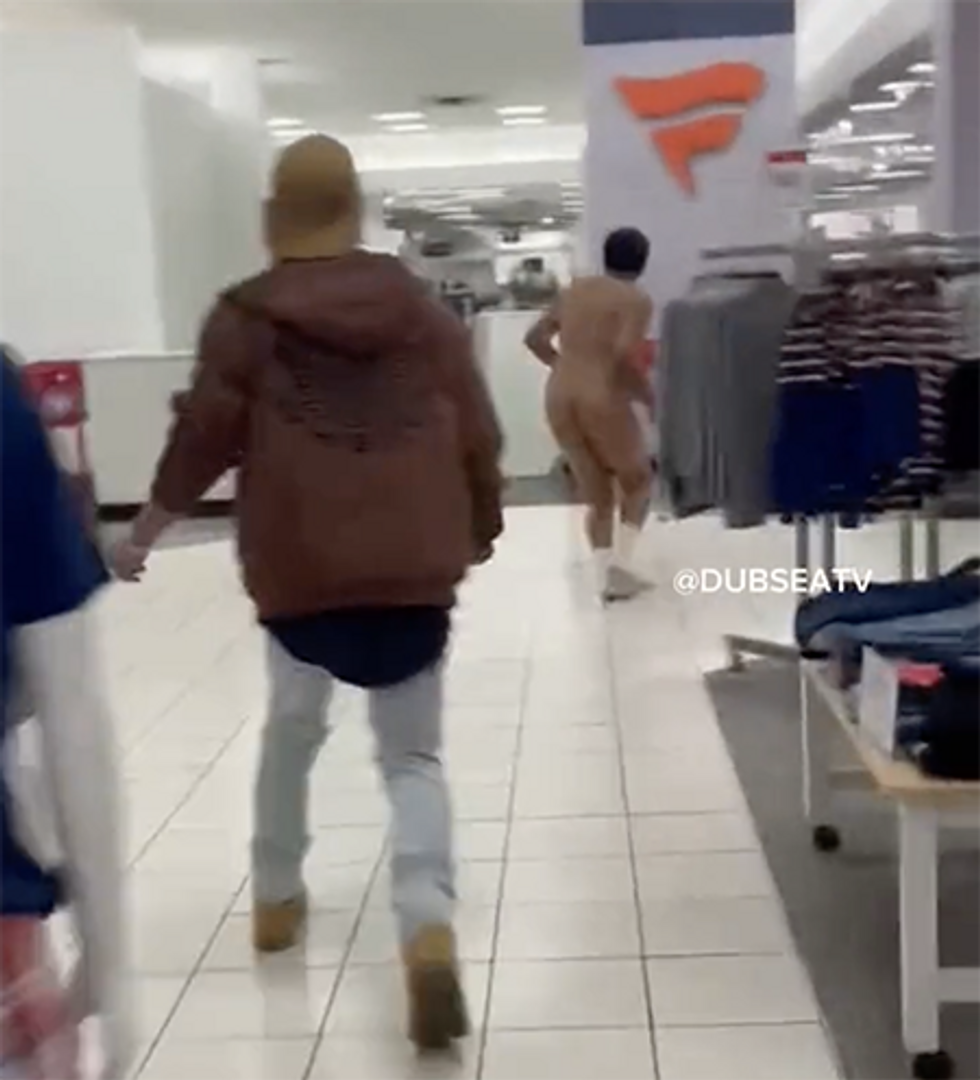 The irony of a naked man being chased around a clothing store is not lost. Also, the clean white socks are distracting. Either way, the dads finally caught up to him by the cargo shorts and it was time to do some touching of their own.
Shout out to the cameraman who remembered to do it for the content. It would have been nice to have seen the punches and kicks land on the pervert. But our guy did the best he could. I've worked in department stores before. It's hard enough to maneuver around clothing racks even when you aren't filming a beatdown.
Every so often, the best justice is street justice. Or, in this case, to be more specific, tacky floor title justice.
No one is sure what happened to the naked pervert. If I were to guess he was arrested. And then because this is Seattle, he was released the next day.
><><><><><><
Brodigan is Grand Poobah of this here website and when he isn't writing words about things enjoys day drinking, pro-wrestling, and country music. You can find him on the Twitter too.
Facebook doesn't want you reading this post or any others lately. Their algorithm hides our stories and shenanigans as best it can. The best way to stick it to Zuckerface? Sign up for our DAILY EMAIL BLASTS! They can't stop us from delivering our content straight to your inbox. Yet.