Each day we overwhelm your brains with the content you've come to love from the Louder with Crowder Dot Com website.
But Facebook is...you know, Facebook. Their algorithm hides our ranting and raving as best it can. The best way to stick it to Zuckerface?
Sign up for the LWC News Blast! Get your favorite right-wing commentary delivered directly to your inbox!
Articles
Poop-Tracking Website Proves San Francisco is a Literal Sh*thole...
January 17, 2018
The left seems to have lost its collective pea brain over Trump's sh*thole remarks. Excremental caverns have clogged up the news cycle for the past week. Trump mentioned other places being doo-doo caves. But unfortunately, parts of America aren't immune from sh*thole status, either. Just ask San Francisco.
There is an ongoing debate currently going on in the country about what locations can be classified as shitholes. The debate sprung from a report that Donald Trump referred to some third world countries as "shitholes" in a meeting with lawmakers last week.While the debate might rage on as to what constitutes a "shithole" of a country, one thing is not up for debate: the American city of San Francisco is a shithole.
We know this thanks to an interactive map created in 2014 called Human Wasteland.
The map charts all of the locations for human excrement "incidents" reported to the San Francisco police during a given month. The interactive map shows precise locations of the incidents by marking them with poop emojis

Here's the map: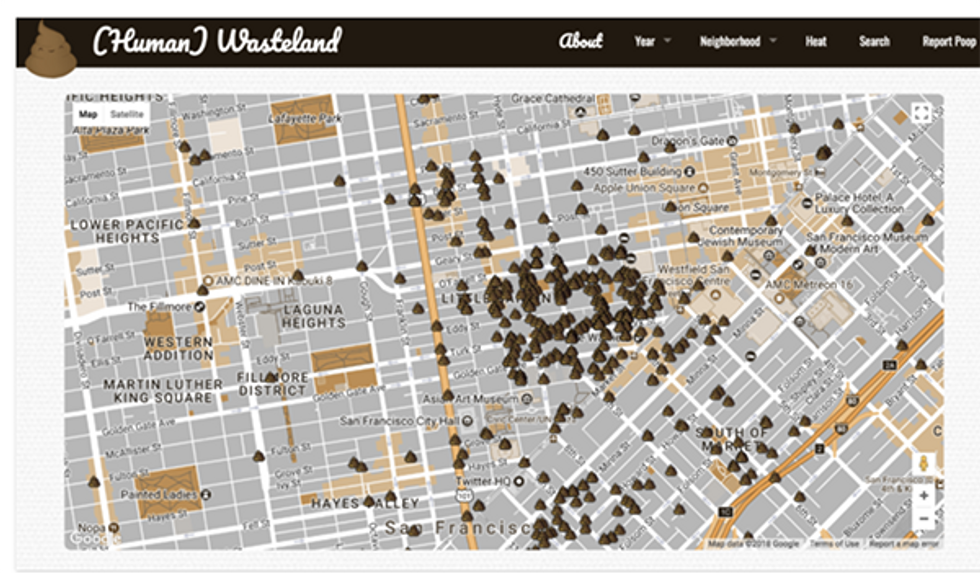 Dear God, that's a lot of brown!
San Francisco prides itself on being a "progressive" city. But, I guess indoor plumbing isn't included in that progress. Judging from this map, I'd say the City by the Bay is less futuristic metropolis, more third world country. Or, in this case, "turd" world.
Isn't it funny how leftist-run places have problems the rest of us solved in the late 18th century? Peeps in the socialist utopia of Venezuela are going Lord of the Flies on unsuspecting cows just to stay alive. Barbarians are raping and pillaging Europe. Now, progressive in San Fransh*thole do their business in the street, as if toilets have yet to be pioneered.
But remember guys, we're the ones who want to turn the clock back.