Each day we overwhelm your brains with the content you've come to love from the Louder with Crowder Dot Com website.
But Facebook is...you know, Facebook. Their algorithm hides our ranting and raving as best it can. The best way to stick it to Zuckerface?
Sign up for the LWC News Blast! Get your favorite right-wing commentary delivered directly to your inbox!
Politics
Vile Emails Sent to Rittenhouse Trial Judge Call Him 'Skinhead,' Threaten His Children
November 15, 2021
Closing arguments start in the Kyle Rittenhouse trial on Monday. A decision, I would assume, will be rendered by the end of the week. Kyle Rittenhouse SHOULD be acquitted. But the left and the media (I repeat myself) have been working overtime threatening the jury with what happens if they contradict the narrative (hint: riots and violence). Until a decision is made, the left is directing their anger towards Judge Bruce Schroeder.
Maybe liberals don't like the way Schroeder had to explain how the law works to the prosecution, over and over again. Maybe they feel Schroeder being pro-America and pro-military implies that he votes for different people than your typical leftist twat. Whatever their reason, they've been sending the judge nasty and threatening emails that the Daily Mail uncovered. Like this gem:
"Wow way to name a white skinhead hot head to be a judge. No wonder they burn down your city."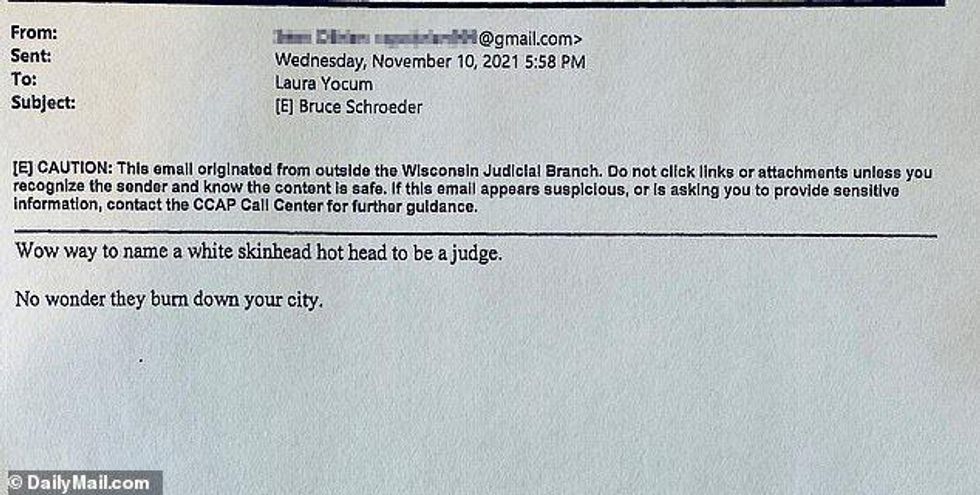 By "burn down your city" I think the person meant "peacefully protest." I was informed by CNN that the riots we saw happening on CNN weren't happening.
Here's another winner going after his family. Verbatim, because not being able to spell out "your," "you," and "and" implies the intelligence level.
"So I can't call the wounded men victims, says ur judge one day hope his kids become victims to the most heinous homicide known to man so he feels the pain an we will call his kids not victims but bastards an descendent of c*nt family an father figure. Racist bastard god will pay u back for ur statement."

The true stupidity of this and the other threats is that they were sent to a government website. But if you're already getting your news from CNN and the Occupy Democrats Facebook page, you're not exactly our best and brightest.
It's going to be a long week, folks. And if true justice is served---meant Rittenhouse walks---the left is going to make sure it's a long month.
Get your content free from Big Tech's filter. Bookmark this website and sign up for our newsletter!
Kyle Rittenhouse vs The ENTIRE SYSTEM: What Would You Do? | Louder With Crowderyoutu.be