Each day we overwhelm your brains with the content you've come to love from the Louder with Crowder Dot Com website.
But Facebook is...you know, Facebook. Their algorithm hides our ranting and raving as best it can. The best way to stick it to Zuckerface?
Sign up for the LWC News Blast! Get your favorite right-wing commentary delivered directly to your inbox!
Articles
LGBTQ Magazine Miffed that Killer Angry Clown from "It" Isn't a Gay Ally
September 09, 2019
Dwight Schrute was right: we need a new plague. In fact, everyone who's secretly hoping for the end of the world so they can live out their survival fantasies, if not rub people's noses in their cache of canned food, may have a point. In a twist of what has come to be completely believable, the LGBTQAAIP magazine "Out" is bemoaning that Pennywise, Stephen King's killer clown intent on scaring every last smidgen of poo from your bowels, isn't pro-gay.
In the aftermath of 2017's 

It

, Bill Skarsgård's Pennywise the Dancing Clown became something of a gay icon. Between memes and makeup tutorials, Pennywise was everywhere — he and another monstrous LGBTQ+ favorite, the Babadook, were seen as #couplegoals. But after seeing I

t Chapter Two

, I'm sad to announce that Pennywise is not gay, or even an ally. In fact, Pennywise is surprisingly anti-queer.
Getting pissy about a killer clown not being on YOUR SIDE of anything strikes me as a little queer. I'm going with the traditional definition of "queer" here, not the one applied to people who can't decide what they are other than boring. Related: WATCH: These Lesbians Are Also Non-Binary and Desperately Need You to Care.
Here's how Rose Dommu ends her bizarre article:
So Pennywise isn't just the physical manifestation of what is revealed to be some kind of cosmic entity that feeds off fear and human flesh, he's a homophobe. Trump's America strikes again!
It's bad for a killer clown to eat people. But it's even WORSE if he eats gay people? Eating gay people is somehow Trump's fault?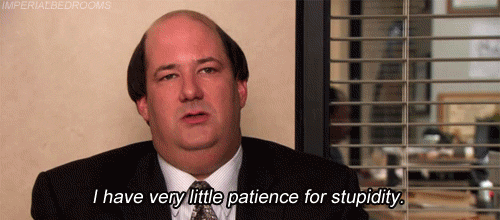 Here I thought the left would be all upset their tenets are being used to make notorious villains. Thanos the rabid environmentalist anyone? But now at least one member of the LGBTQAAIP crowd is bitching about a killer clown not living up to her gay expectations. Perhaps Out wouldn't feel so threatened if Pennywise had simply baked a cake shaped like two penises crossed in love. Brave and beautiful love. Maybe if Pennywise had bludgeoned a straight couple using nothing but a dildo borrowed from a consenting lesbian, Out would've given It two penises up.
Obviously Pennywise needs to do better. Nextime, Pennywise should eat Dave Chappelle.
More to the macro point, doesn't this article hint that some in the gay community wish for special treatment, even from fictional villains? Related: Dear Trans People: If You Want to be Treated Normally, Stop Demanding Special Rights.
NOT SUBSCRIBED TO THE PODCAST? FIX THAT! IT'S COMPLETELY FREE ON BOTH ITUNES HERE AND SOUNDCLOUD HERE.