Each day we overwhelm your brains with the content you've come to love from the Louder with Crowder Dot Com website.
But Facebook is...you know, Facebook. Their algorithm hides our ranting and raving as best it can. The best way to stick it to Zuckerface?
Sign up for the LWC News Blast! Get your favorite right-wing commentary delivered directly to your inbox!
Kansas City Chiefs player trolls Joe Biden with pro-life message during White House ceremony
June 07, 2023
Part of me doesn't want to write this. Resident LWC Kansas City Chiefs fan Lane the Brain is always so mean to me about my Buffalo Bills. But a member of the Super Bowl-winning team trolled the pro-abortion Joe Biden with his tie. So, game respect game I guess.
Kicker Harrison Butker met the president while wearing a tie that said "Vulnerari Praesidio" on it. It's Latin for "Protect the vulnerable." He also wore a gold pin of baby's feet that allegedly represented the size of a 10-week-old aborted baby.
\u201cFollowing their victory at #SuperBowlLVII, Chiefs kicker Harrison Butker (@Buttkicker7) stood behind President Joe Biden with a simple pro-life message... \n\n'Vulnerari Praesidio,' Latin for 'Protect the vulnerable.'\u201d

— IHE Voices (@IHE Voices) 1686077127
The Daily Signal reports the tie was designed by pro-life organization Live Action.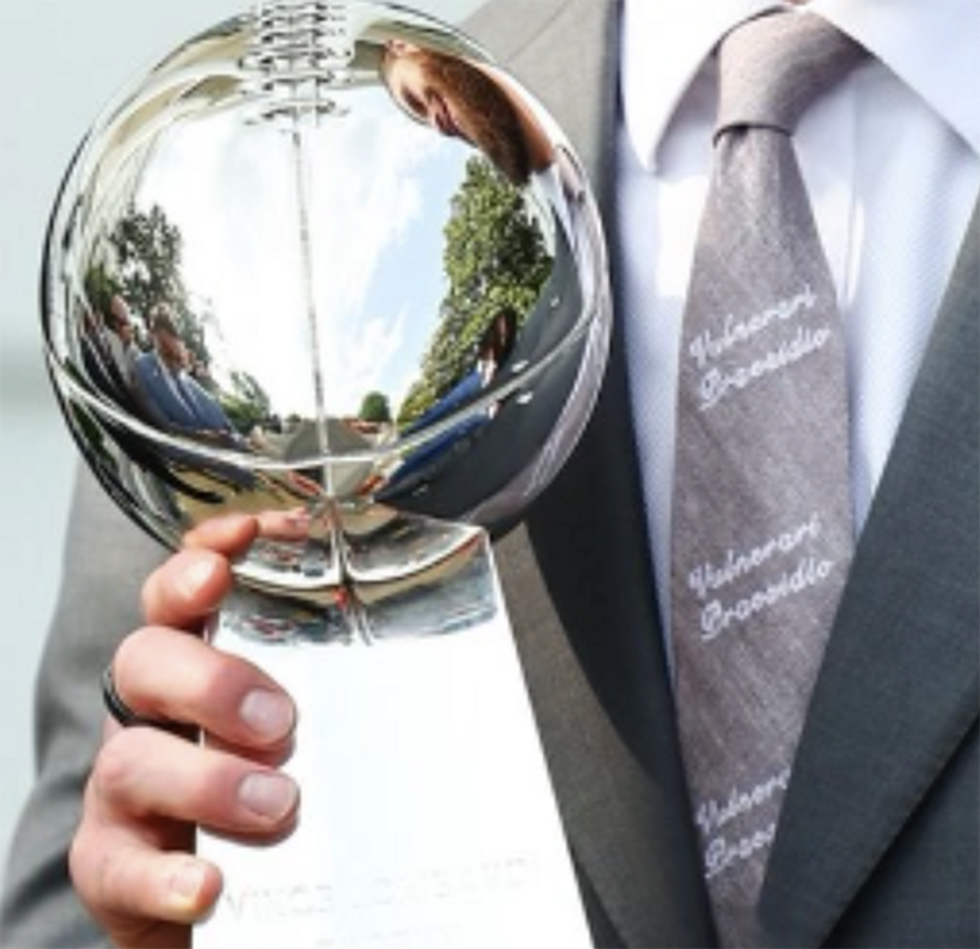 Butker said in a statement that he wants "to give the most vulnerable, the unborn, a place where every effort has been made to allow and normalize the tragic termination of their lives." Adding, "As a father who has experienced three miscarriages, my wife and I understand the hardships that come with losing a child. Every life is precious and should be valued whether outside or inside the womb."
The Super Bowl champion didn't explicitly address Joe Biden as the most pro-abortion president we've had. But he and Kamala Harris both are, a point Nikki Haley attempted to make at a CNN Town Hall. Where exactly is Biden's cut-off date for aborting a child? 37 weeks? 40 weeks? Just before the birthing person starts crowning? Do they support Cartman's mom wanting to abort her child in the fortieth trimester?
The White House got the question again, but they have been avoiding a straight answer this entire time so why change now?
\u201cJACQUI TIME: @NikkiHaley said the WH "has not...outlined their position on whether they would sign bills allowing abortions at 37, 38, 39 wks. Could you give us the...position...of what...if any...restrictions [you] support?"\n\nKJP says Biden wants Roe v. Wade "restore[d]"\u201d

— Curtis Houck (@Curtis Houck) 1685997248
Respect to Harrison Butker for having the fortitude to make a statement, even one as subtle as it was. It would be nice if other professional athletes had a modicum of courage to speak out.
><><><><><><
Brodigan is Grand Poobah of this here website and when he isn't writing words about things enjoys day drinking, pro-wrestling, and country music. You can find him on the Twitter too.
Facebook doesn't want you reading this post or any others lately. Their algorithm hides our stories and shenanigans as best it can. The best way to stick it to Zuckerface? Sign up for our DAILY EMAIL BLASTS! They can't stop us from delivering our content straight to your inbox. Yet.