Each day we overwhelm your brains with the content you've come to love from the Louder with Crowder Dot Com website.
But Facebook is...you know, Facebook. Their algorithm hides our ranting and raving as best it can. The best way to stick it to Zuckerface?
Sign up for the LWC News Blast! Get your favorite right-wing commentary delivered directly to your inbox!
Watch: 'Just Stop Oil' slacktivists finally get taste of their own medicine, trolled with balloons and rape whistles
July 25, 2023
We here at the Louder with Crowder Dot Com website have become connoisseurs of European eco-zealotry and schlimate slacktivism. It hasn't popped off at the Waffle House lately, so watching what happens to idiots blocking traffic is the content we both need and deserve. While entertaining to us, people in the UK are sick and tired of "Just Stop Oil." They're the people causing chaos as assets to society attempt to commute to work and be useful members of their community. So two YouTubers decided to give JSO a taste of their own medicine.
This was more of a carefully planned operation than the one viral clip is letting on. They sent someone DEEP uncover on a recognizance mission.
It turns out, [JSO meets] at Pret a Manager. Where they drink coffee flown in from Peru in single-use cups. We discovered that before ruining everyone's day, the privately educated protestors stand in a circle and teach each one another how to breathe... before deciding who amongst them will be arrested that day.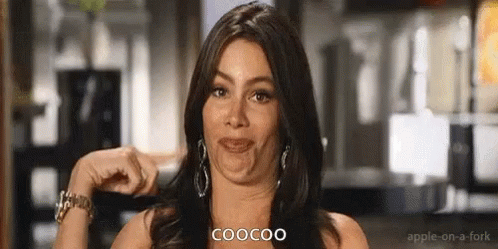 During this undercover recognizance mission, it was discovered the JSO annual banquet was coming up. JSO's "Beyond F*cked Banquet." Get it? Because the planet is beyond f*cked or something.
The taste of comeuppance has never been so succulent.
The pranksters attached rape whistles to helium balloons and let the balloons loose in the cathedral ceilings. The ear-piercing alarms went off disrupting the fancy banquet and ruining the speeches. Not unlike how the slacktivists disrupt the daily lives of normal people.
The brilliance of using balloons is that they couldn't be reached once they hit the top of the vaulted ceilings. Hence the unintentionally hilarious scene of JSOers trying to figure out how ladders work.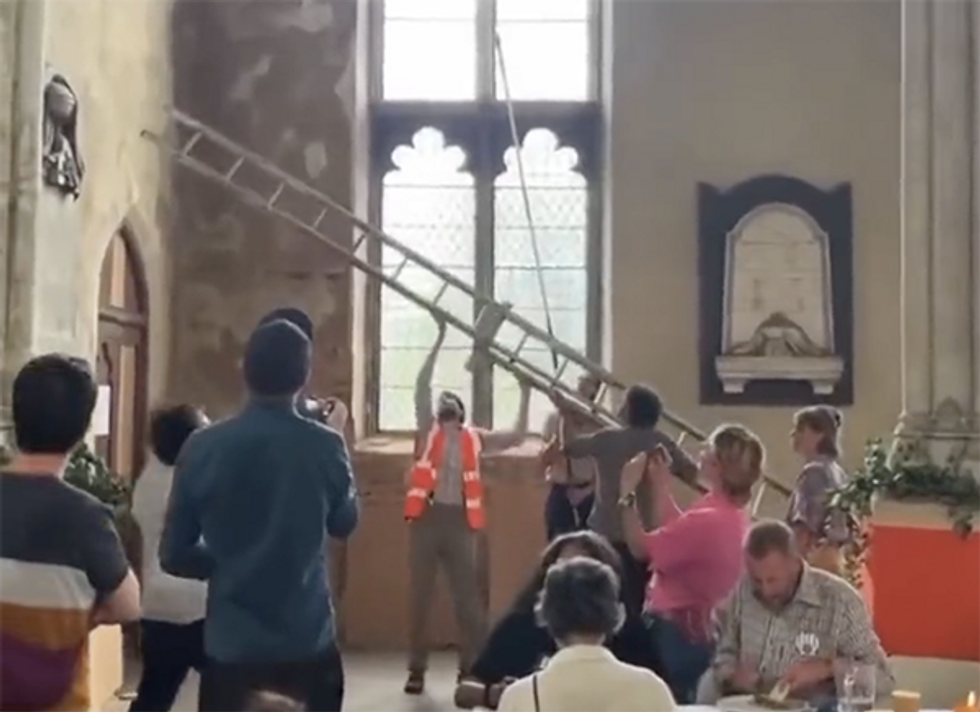 Sadly, like most left-wing performative slacktivists, the point will go over their head along with the rape whistles. JSO will continue its misguided crusade to convince people the planet is on fire by pissing off everyone around them to the point they hate JSO and everything the organization stands for. Case in point, Josh & Archie? They sound a lot more sympathetic to "the cause" than most of us reading this and reveling in the content.
The greatest disappointment is how low-energy eco-wackadoodles are in America. Are they useless sacks of soy? No doubt. But they're 'Merican useless sacks of the soy so you still want to see them kick ass as the best useless sacks of soy. Compared to their UK counterparts, I don't believe any of them in this country are committed or all that concerned about the schlimate this week.
><><><><><><
Brodigan is Grand Poobah of this here website and when he isn't writing words about things enjoys day drinking, pro-wrestling, and country music. You can find him on the Twitter too.
Facebook doesn't want you reading this post or any others lately. Their algorithm hides our stories and shenanigans as best it can. The best way to stick it to Zuckerface? Sign up for our DAILY EMAIL BLASTS! They can't stop us from delivering our content straight to your inbox. Yet.