Each day we overwhelm your brains with the content you've come to love from the Louder with Crowder Dot Com website.
But Facebook is...you know, Facebook. Their algorithm hides our ranting and raving as best it can. The best way to stick it to Zuckerface?
Sign up for the LWC News Blast! Get your favorite right-wing commentary delivered directly to your inbox!
Watch: Leggy blonde emerges to save the day, drags eco-lunatics by the hair to stop them blocking traffic
July 18, 2023
When I was a boy, and I would see scary things in the news, Mr. Rogers would say to me, 'Look for the helpers. You will always find people who are helping." I did this week, and a hero emerged. Contrary to what the fake news might tell you, not all heroes wear capes. Some of them wear hoodies and yoga pants. They emerge out of nowhere to drag useless sacks of soy blocking the road by the hair so that normies can go about their business.
We shall call her Fiona. She's blonde. She's pissed. And her gams go all the way from her ass to the ground.
All of Europe appears infested with eco-zealots who think by blocking trafficking, the people they are inconveniencing will stop driving and "just stop oil." Instead of what tends to happen. The protesters get yeeted off the road as if shot-putting vegans were an Olympic sport.
Last week, two dingbats cemented their hands to a runway and may need to have their hands amputated. What did I tell you about laughing? It's not funny. (Ok, it's a little funny).
Fiona was NOT in the mood to deal with such nonsense. Our Seductress in Stretchy Pants didn't ask before grabbing the protester by the hair. She only told the woman, if the English translation is accurate, that she would... "see you next Tuesday." I DON'T think that is a term of endearment like it is in England.
Fiona looks like she works out. I would have liked to have seen her swing the girl around by the pony like she was doing the hammer throw.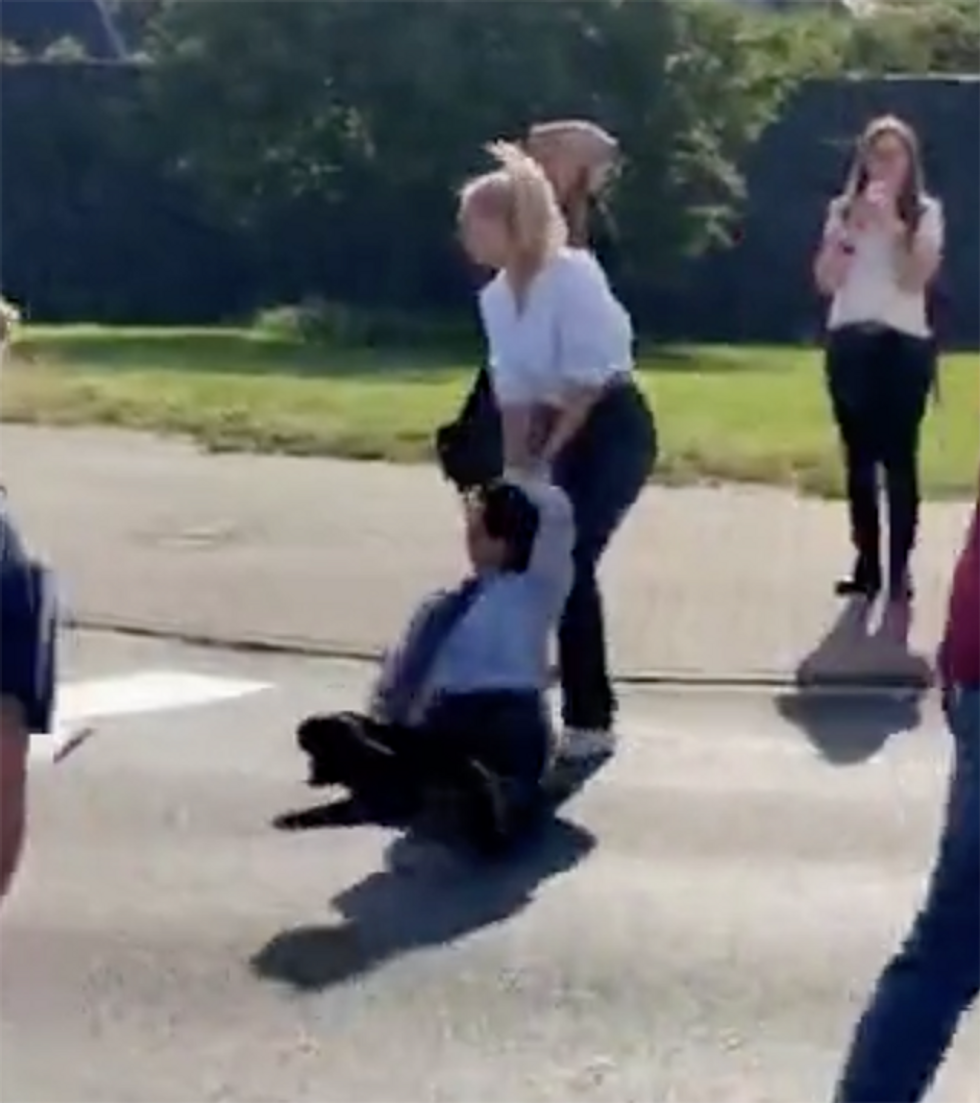 Do you know what I need? For all of these videos to be a part of the same cinematic universe. Image Fiona teaming up with the Stag Party Dude Bros who stole a "Just Stop Oil" banner and took it on a drunken tour of Izbia! Now THAT is the content We the Content deserve.
Also, stop blocking traffic you daft wankers. No one likes you and you make me want to use twice as much oil in everything just to be spiteful.
><><><><><><
Brodigan is Grand Poobah of this here website and when he isn't writing words about things enjoys day drinking, pro-wrestling, and country music. You can find him on the Twitter too.
Facebook doesn't want you reading this post or any others lately. Their algorithm hides our stories and shenanigans as best it can. The best way to stick it to Zuckerface? Sign up for our DAILY EMAIL BLASTS! They can't stop us from delivering our content straight to your inbox. Yet.