Each day we overwhelm your brains with the content you've come to love from the Louder with Crowder Dot Com website.
But Facebook is...you know, Facebook. Their algorithm hides our ranting and raving as best it can. The best way to stick it to Zuckerface?
Sign up for the LWC News Blast! Get your favorite right-wing commentary delivered directly to your inbox!
Politics
Joe Biden's Job Approval Numbers are Sinking like the Titanic
September 15, 2021
Former Vice President Joe Biden will need another ice cream cone after he's informed of his pathetic job approval numbers. According to the Real Clear Politics polling average, more people disapprove of Joe Biden than approve of Joe Biden. Interestingly to me, a person who didn't vote for Joe Biden largely because I have at least two working brain cells to rub together — unlike Joe Biden — Joe's approval has steadily declined since he took office. Much like his mental acuity. Check it out: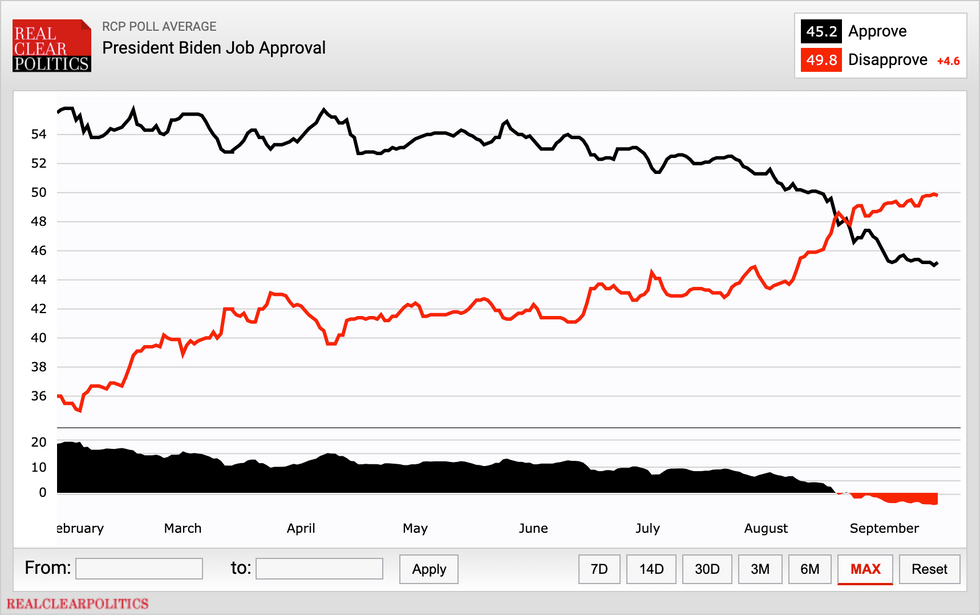 But at least Biden's numbers are better than Kamala Harris and Nancy Pelosi, the respective second and third "leaders" in line for the presidency should Biden choke on his dentures. So Sleepy Joe has that going for him.
You'll notice the most consistent slip in approval and rise in disapproval toward the end of August. That's likely due to the abject failure that was the Afghanistan pull out. The administration was hoping everyone would forget Afghanistan by now, since Biden moved onto turning the Constitution into confetti so he could cope with his frustration by throwing it at the "unvaccinated" causing the pandemic. Doesn't look like the strategy has worked.
Does the administration care about the numbers, though? I have to wonder. It doesn't seem like anyone in the White House cares whether or not we approve of what they're doing. To them, the ends justify the means. My guess is more polls will continue showing Biden's sinking approval numbers, but that won't stop Biden from shoving even more tyrannical edicts through.
Looking for a fashionable way to support Louder with Crowder? Get your swag at Crowdershop today!