Each day we overwhelm your brains with the content you've come to love from the Louder with Crowder Dot Com website.
But Facebook is...you know, Facebook. Their algorithm hides our ranting and raving as best it can. The best way to stick it to Zuckerface?
Sign up for the LWC News Blast! Get your favorite right-wing commentary delivered directly to your inbox!
joe biden
SHOCK POLL: Majority of Americans Say 'F*** Joe Biden,' Claim He's Not Competent in Running the Government
October 07, 2021
It's not just drunk college students who share the sentiment about Joe Biden fornicating himself. The movement of patriotic decent has extended to average Americans answering their phones when pollsters call. The latest Quinnipiac poll will cause many aides to call out sick for work. Otherwise, they risk having to be the one to change Biden's old man diaper. How bad was the Q-poll? It was so bad, even CNN had to admit it stunk.
As you read this post, I suggest having the acoustic piano version of 'F*ck Joe Biden' playing in the background. For ambiance.
CNN: New Poll Numbers "Brutal" For Joe Bidenyoutu.be
Some highlights. Highlights for us, at least. Lowlights if you're one of the people who control Joe Biden.
Joe Biden job approval: 38/53
Joe Biden's handling of the economy: 39/55
Is Joe Biden honest?: 44 say yes/50 say NO
Independent voters really think Joe Biden is horrendous. If I were to guess, most indy voters represent the "lesser of two evil, Biden is moderate, Orange Man Bad" 2020 voters who look stupid in 2021.
Quick 🧵

1) Biden #s w/Indies in new Q poll are really awful:

overall approval -28 (net)
covid -14
economy -28
foreign policy -33
taxes -30
immigration -48
mexico border -55
honesty -20
strong leader -29
cares about avg person -13
admin competent -27https://t.co/X6yLpAJlyb
— Tom Bevan (@TomBevanRCP) October 6, 2021
Then there's my favorite part of the poll. I took a screen capture to highlight this result.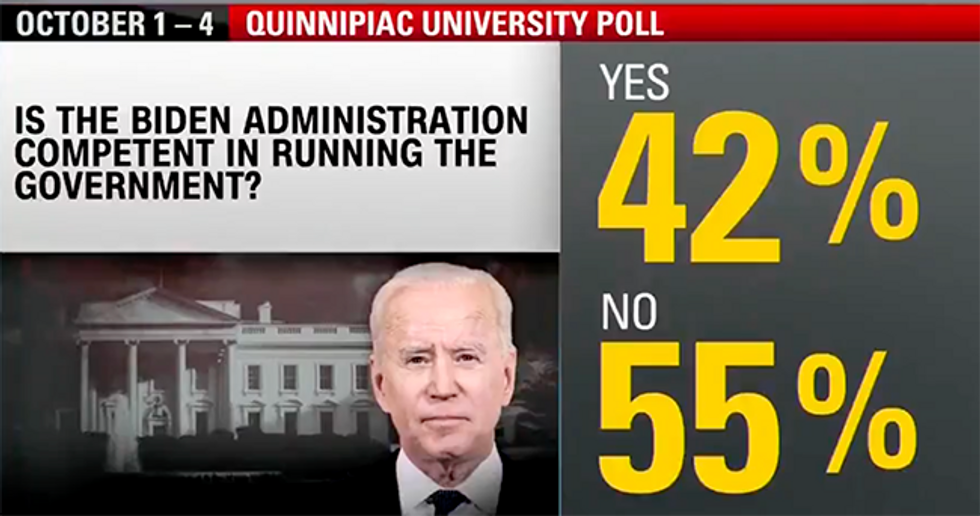 I can't imagine why people think Biden is incompetent. Other than the border, Afghanistan, anti-science school mask mandates, having had more people died from the 'rona than Trump, wanting a socialist expansion of government, and paying people not work. Outside of all those things, Joe Biden was still never competent. He's been in government for 217 years. People should have known this already.
Better late than never, I guess.
Get your content free from Big Tech's filter. Bookmark this website and sign up for our newsletter!
China THREATENING To Nuke Japan? What's Their END GAME? | Louder With Crowderyoutu.be