Each day we overwhelm your brains with the content you've come to love from the Louder with Crowder Dot Com website.
But Facebook is...you know, Facebook. Their algorithm hides our ranting and raving as best it can. The best way to stick it to Zuckerface?
Sign up for the LWC News Blast! Get your favorite right-wing commentary delivered directly to your inbox!
joe biden
Joe Biden's Easter: Needs Wife to Treat Him Like a Child, Needs Easter Bunny to Protect Him From Reporters
April 18, 2022
The senior abuse of Joe Bide is getting so bad that I'm starting to feel guilty writing posts making fun of him. Not guilty enough to stop. When the gods of content deliver, it's sacrilegious not to pay tribute. But c'mon, man. Will Smith has a better home life than this. And I know the "independent" "fact" checkers are going to circle the wagons and cry "missing context." Just pretend Joey is Trump, Jill is Melania, and this website is either SNL or CNN.
It's not the first time Joe Biden has needed to be saved by his wife or have her talk to him like a child. But for someone who is supposed to be a doctor, Jill Biden never seems to know what a live mic is. One would think Joe Biden would remember all about waving from his time as vice-president. But that was a decade's worth of his brain turning into tapioca ago.
Jill Biden Has To Remind Joe Biden: "Wave.... Wave"youtu.be
Then after a reading of "Brown Bear, Brown Bear"--before which Joey complained they wouldn't let him read--the president of the United States and the leader of the free world needed to be told to "stay," as if he was one of his dogs about to attack another Secret Service agent.
Jill wasn't the only Biden handler for the day. Our president needed to be saved by the Easter Bunny.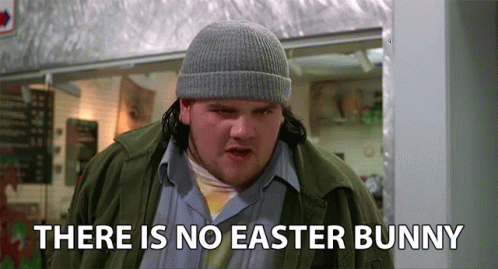 Okay, so it was someone wearing an Easter Bunny suit. Joe Biden accidentally started to answer unapproved questions from the press. In the middle of an answer about Afghanistan, he needed to be saved and led away by the FREAKING EASTER BUNNY
There is a reason why our enemies are laughing at us. The White House keeps giving them material. The only thing missing was the president falling asleep in public again. Or another "bathroom" incident. I know I'm a partisan kind of cat and don't pretend to be otherwise, but I don't think expecting the President of the United States to be able to last the annual Easter Egg roll without a team of handlers preventing him from embarrassing himself is too much to ask.
I also want to know who was in the bunny suit. I've got a ten spot that says it was Chief of Staff Ron Klain.
The Louder with Crowder Dot Com Website is on Instagram now!Follow us at @lwcnewswire and tell a friend!
CROWDER 911: How to Train your Joe Biden | Louder With Crowderyoutu.be