Each day we overwhelm your brains with the content you've come to love from the Louder with Crowder Dot Com website.
But Facebook is...you know, Facebook. Their algorithm hides our ranting and raving as best it can. The best way to stick it to Zuckerface?
Sign up for the LWC News Blast! Get your favorite right-wing commentary delivered directly to your inbox!
Watch: Joe Biden mumbles his way through a meeting so badly, even the Israeli president is like "Dude, what the hell?"
July 19, 2023
Tuesday was a robust day in the race to the White House. Ron DeSantis scored high marks sparring with Jake Tapper. Tim Scott made the first major ad buy of the primary. And Donald Trump may or may not be getting indicted again. As the Republicans battle it out, let's check in with the current resident of the White House. Joe Biden is having a joint appearance with Israeli President...
Oh, for the love of Rachel Levine. Would someone get the president a bump of cocaine?
Here's the thing. None of us here at the Louder with Crowder Dot Com website are saying Joe Biden fell asleep again. There would be no point. The "independent" "fact" checkers would say the president was just "resting his eyes" and you would never see this post on Facebook. President Biden rests his eyes a lot in public.
Maybe it's a Jewish thing and Biden gets bored around a certain group of people...
As we write this, MSNBC's Mika Brzezinski is on with the White House switchboard demanding to speak to a manager. Remember kids, it is not Joe Biden's fault that he is deteriorating in front of our very eyes. It is his staff's fault for putting him in a position that allows us to see him deteriorating before our very eyes. It's the staff's fault for *check notes* allowing him to sit in a chair next to another world leader and speak to the press for a minute in a highly controlled press event.
Israeli President Isaac Herzog had the same look on his face everyone in America -- particularly those working in Kamala Harris's office -- have watching this. When the other world leader is thinking "Dude, what the hell," it is not a stellar moment in international relations.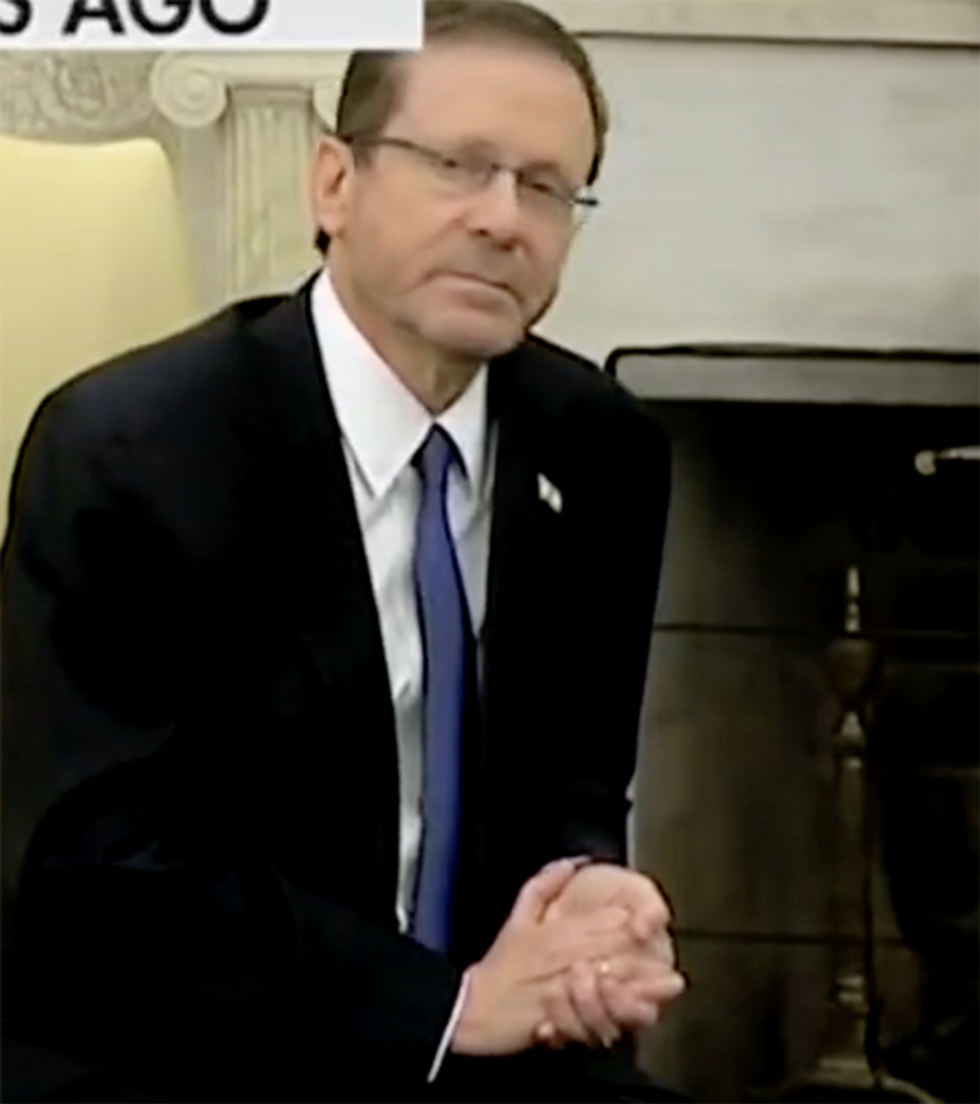 Today, Joe Biden will attempt another public appearance at the White House Congressional Picnic. His staff would be smart to put him down for a nap first.
Or, better yet, DON'T do that. We could use the content.
><><><><><><
Brodigan is Grand Poobah of this here website and when he isn't writing words about things enjoys day drinking, pro-wrestling, and country music. You can find him on the Twitter too.
Facebook doesn't want you reading this post or any others lately. Their algorithm hides our stories and shenanigans as best it can. The best way to stick it to Zuckerface? Sign up for our DAILY EMAIL BLASTS! They can't stop us from delivering our content straight to your inbox. Yet.