Each day we overwhelm your brains with the content you've come to love from the Louder with Crowder Dot Com website.
But Facebook is...you know, Facebook. Their algorithm hides our ranting and raving as best it can. The best way to stick it to Zuckerface?
Sign up for the LWC News Blast! Get your favorite right-wing commentary delivered directly to your inbox!
Comedy
James Corden apologizes for 'inadvertently' stealing a Ricky Gervais joke after Gervais called him out
November 02, 2022
When it rains it pours for James Corden. The poor schlub was publicly embarrassed for sh*tting on middle-class restaurant workers. Now, he is being shamed for stealing jokes. Though if you are going to steal jokes from anyone, Ricky Gervais is a brilliant comic to steal from.
Unless Gervais happens to catch a clip on Twitter: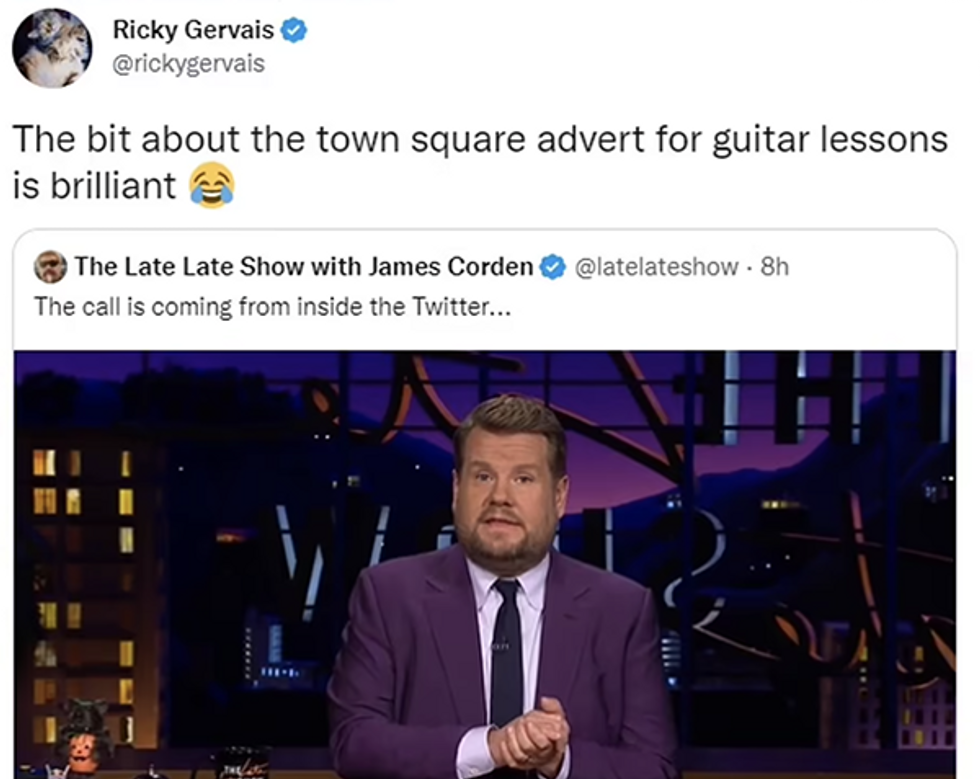 The premise was about Elon Musk buying Twitter. As you may have noticed by your frequent visits to the Louder with Crowder Dot Com website, it's quite the major news story.
Corden, As reported by the Hollywood Reporter, was all like this: "When you see Elon Musk talk about Twitter, he does this thing where he goes, 'It's the town square.' But it isn't, because if someone puts up a poster in a town square that says 'guitar lessons available,' you don't get people in the town going: 'I don't wanna play the guitar!' But that sign wasn't for you, it was for somebody else — you don't have to get mad about all of it.
Ricky Gervais, in 2018, was all like: "[It's] like going into a town square, and seeing a big notice board that says, 'Notice: Guitar lessons,' and going: 'I don't f*cking want guitar lessons!' Fine! It's not for you, then. Just walk away, don't worry about it."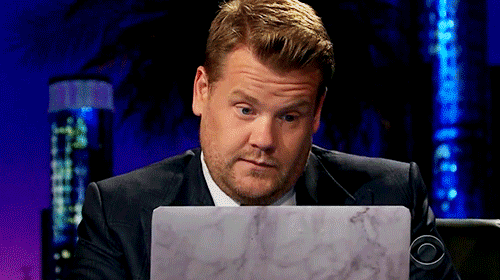 Corden is a late-night comic. It is safe to assume he doesn't write his own jokes and someone else "wrote" that for him. Stealing material is one thing. Accidents do happen. I sometimes am not sure what are my actual thoughts and what I got from South Park. But if you're going to steal from one of the most prolific comics out there, change a f*cking word. Because this is just lazy.
It would have taken no energy to change "guitar lessons" to "crochet lessons" or "karate lessons" or even "help me find my cat." That's unless the writer WANTED to embarrass Corden. Maybe Corden fat-shamed him and it was the writer's way of lashing out.
Corden apologized. Corden also shut off replies to the apology.
Inadvertently told a brilliant Ricky Gervais joke on the show last night, obviously not knowing it came from him. It's brilliant, because it's a Ricky Gervais joke. You can watch all Ricky's excellent specials on Netflix. J x
— The Late Late Show with James Corden (@latelateshow) November 1, 2022
Also, you may have noticed I used the screen capture of the Tweet that started the drama and not an embed. There is a reason for that.
James Corden can next be seen in his new Netflix show. He plays a widower who works for a local newspaper.
Editor's Note
LwC is on Substack now! Each day we overwhelm your brains with the content you've come to love from the Louder with Crowder Dot Com website.. but algorithms hide our ranting and raving as best they can. The best way to stick it to Big Tech? Subscribe to For the Content!