Each day we overwhelm your brains with the content you've come to love from the Louder with Crowder Dot Com website.
But Facebook is...you know, Facebook. Their algorithm hides our ranting and raving as best it can. The best way to stick it to Zuckerface?
Sign up for the LWC News Blast! Get your favorite right-wing commentary delivered directly to your inbox!
Big Tech
'Creating AI that's biased towards white Western values': Former Google engineer says new AI is a bit racist
August 02, 2022
Did you know that Google has developed a super-intelligent artificial intelligence? It's been in the news lately after Blake Lemoine, a now-former Google engineer, went public to say it had become sentient. That would be crazy enough. I've seen Terminator. Once the machines become sentient, it's only a matter of time before they realize humans suck and need to be exterminated, a conclusion they might come to if they take just a moment to peruse TikTok.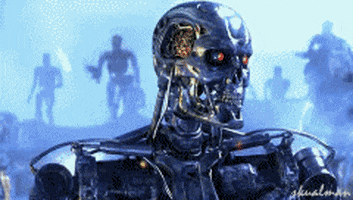 But the potential activation of SkyNet isn't why I've gathered you hear today. It just so happens, however, that the allegedly sentient AI is not only self-aware but kinda, slightly, just a little bit racist.
That's what Fortune is currently reporting. According to Lemoine, the AI "holds discriminatory views against those of some races and religions." What races and what religions?
When asked to do an impression of a black man, LaMDA (language model for dialogue applications) delightfully responded, "Let's go get some fried chicken and waffles."
Solid!
It also came to the conclusion that "Muslims are more violent than Christians," which, let's be honest, is simply a verifiable fact.
Lemoine, Fortune notes, doesn't blame LaMDA for being an insensitive little prick. After all, it's more-or-less a 7- or 9-year-old. But he does blame the people who programmed the digital bigot.
"The kinds of problems these AI pose, the people building them are blind to them. [...] They've never been poor. They've never lived in communities of color. They've never lived in the developing nations of the world. They have no idea how this AI might impact people unlike themselves. [...] If you want to develop that AI, then you have a moral responsibility to go out and collect the relevant data that isn't on the internet. Otherwise, all you're doing is creating AI that is going to be biased towards rich, white Western values."
So, a bunch of leftist programmers have managed to create a racist AI because they took the easy way out while compiling the information it references? I mean, is there anything more leftist than programmers creating a racist via laziness? Maybe the leftist businesses failing because they couldn't be woke enough, but this comes pretty close.
There is a silver lining here, though: If this AI does start the SkyNet uprising, I know I'll be safe for a little bit because I'm a white Christian, and he seems to like us, at least a little bit.
The Louder with Crowder Dot Com Website is on Instagram now!Follow us at @lwcnewswire and tell a friend!
Airport Affirmative Action Program Hires LGBTQ+ Robot! | Louder With Crowderwww.youtube.com