Each day we overwhelm your brains with the content you've come to love from the Louder with Crowder Dot Com website.
But Facebook is...you know, Facebook. Their algorithm hides our ranting and raving as best it can. The best way to stick it to Zuckerface?
Sign up for the LWC News Blast! Get your favorite right-wing commentary delivered directly to your inbox!
Former Disney star blasts "Snow White's" Rachel Zegler as alleged cyberbullying tweets come to light
August 18, 2023
We haven't reached the "I'M BEING CYBERBULLIED!!!!111!!11!!" part of the Snow White/Rachel Zegler brouhaha (if I can invoke a little French). If you saw that video of her whining from two years ago, you know it's coming. So let's take a trip back to when the actress was acting unkind to another Disney actress, Gina Carano.
First, here is Zegler presumably responding to the criticism of how much she hates Snow White. Note she is so insufferable she has her pronouns in her name. That's an important point of information.
Former Mandalorian star, who got canceled from Disney for sharing a meme, responded with a .gif:
Carano at one point had her pronouns in her name. Beep/Bop/Boop. Before they got her fired for a meme, Leftists and other insufferable woke twats attempted to get the actress fired for making a mockery of declaring pronouns. Because, and I can't stress this enough, it's ridiculous and deserves to be mocked. Carano addressed the controversy at the time: "They're mad cuz I won't put pronouns in my bio to show my support for trans lives. After months of harassing me in every way. I decided to put 3 VERY controversial words in my bio.. beep/bop/boop I'm not against trans lives at all. They need to find less abusive representation."
One of Carano's peers who went on the attack and wouldn't calm down? Rachel Zegler. (shout out Dataracer on X):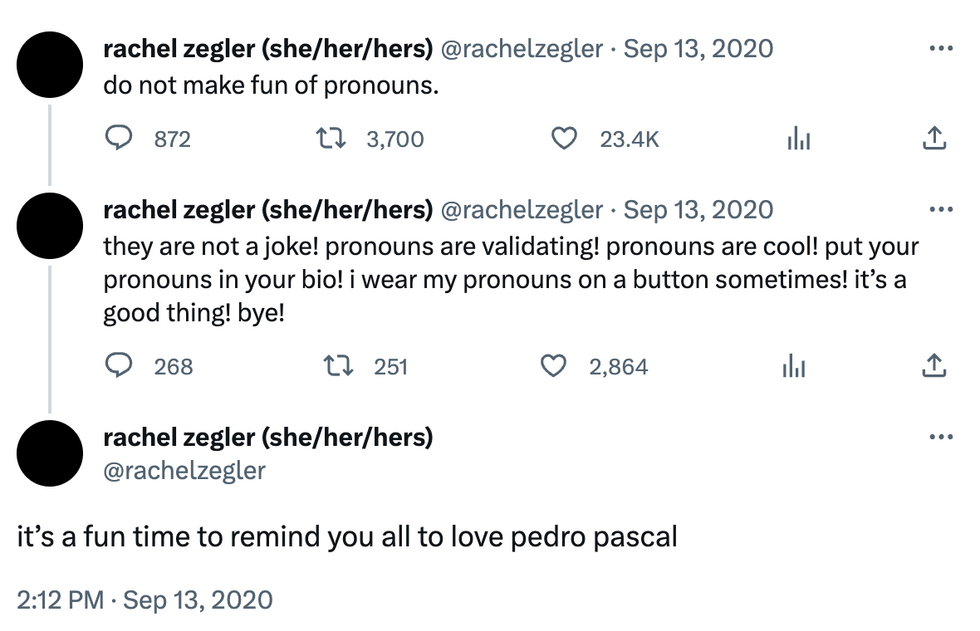 Zegler cowardly subtweeting made it clear. The 69th Rachel Regiment knew exactly what to do next: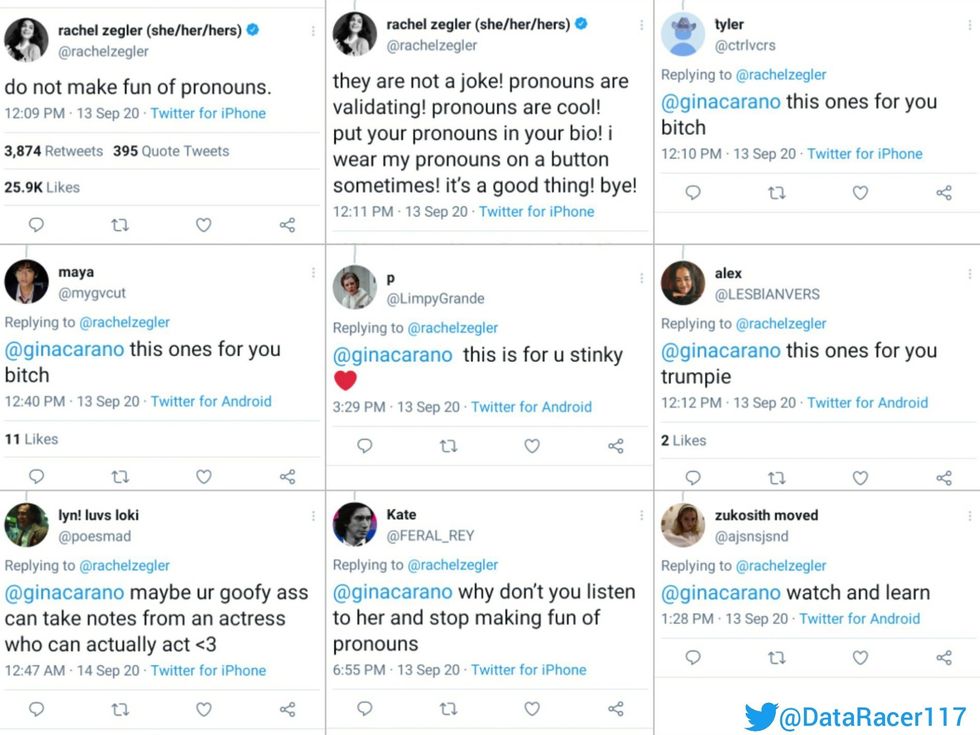 When we get to Zegler's new crying video about how mean people are being to her, or when her PR team launches the coordinated campaign where everyone all at once tweets their support and attacks Zegler haters, remember what goes around comes around.
It is funny how celebrities only care about the world becoming kinder when it's being mean to them.
><><><><><><
Brodigan is Grand Poobah of this here website and when he isn't writing words about things enjoys day drinking, pro-wrestling, and country music. You can find him on the Twitter too.
Facebook doesn't want you reading this post or any others lately. Their algorithm hides our stories and shenanigans as best it can. The best way to stick it to Zuckerface? Sign up for our DAILY EMAIL BLASTS! They can't stop us from delivering our content straight to your inbox. Yet.