Each day we overwhelm your brains with the content you've come to love from the Louder with Crowder Dot Com website.
But Facebook is...you know, Facebook. Their algorithm hides our ranting and raving as best it can. The best way to stick it to Zuckerface?
Sign up for the LWC News Blast! Get your favorite right-wing commentary delivered directly to your inbox!
5th Grade teacher gets removed from their job after giving "deeply inappropriate" assignment on 9/11 anniversary
September 16, 2023
VOTE IN THE LWC 2024 GOP STRAW POLL! CLICK HERE!
A 5th grade health teacher on Long Island has been removed from the classroom pending an investigation into a "deeply offensive" assignment given this past September 11th. Plainview, too. It's clear Long Island's #1 son MJF is going to have to crack some heads.
According to WABC-7, a substitute teacher is taking over the health class pending an investigation into the "deeply inappropriate" assignment given by the permanent teacher. Principal Dr. Joseph Coladonato said in a statement:
"Our school, and our District as a whole, do not approve nor support assignments that are age-inappropriate, out of alignment with the curriculum, and fall outside of New York State standards. This assignment violated all of these criteria and has no place in our classrooms. We condemn this type of material in the strongest possible terms."
It's a "deeply offensive assignment" on the anniversary of 9/11. Did it claim 1/6 was worse? Blame Star Wars for 9/11? Compare schlimate change to 9/11? No. The assignment asked a classroom full of 5th graders, in the event of a nuclear holocaust, who would they bring into their shelter with them?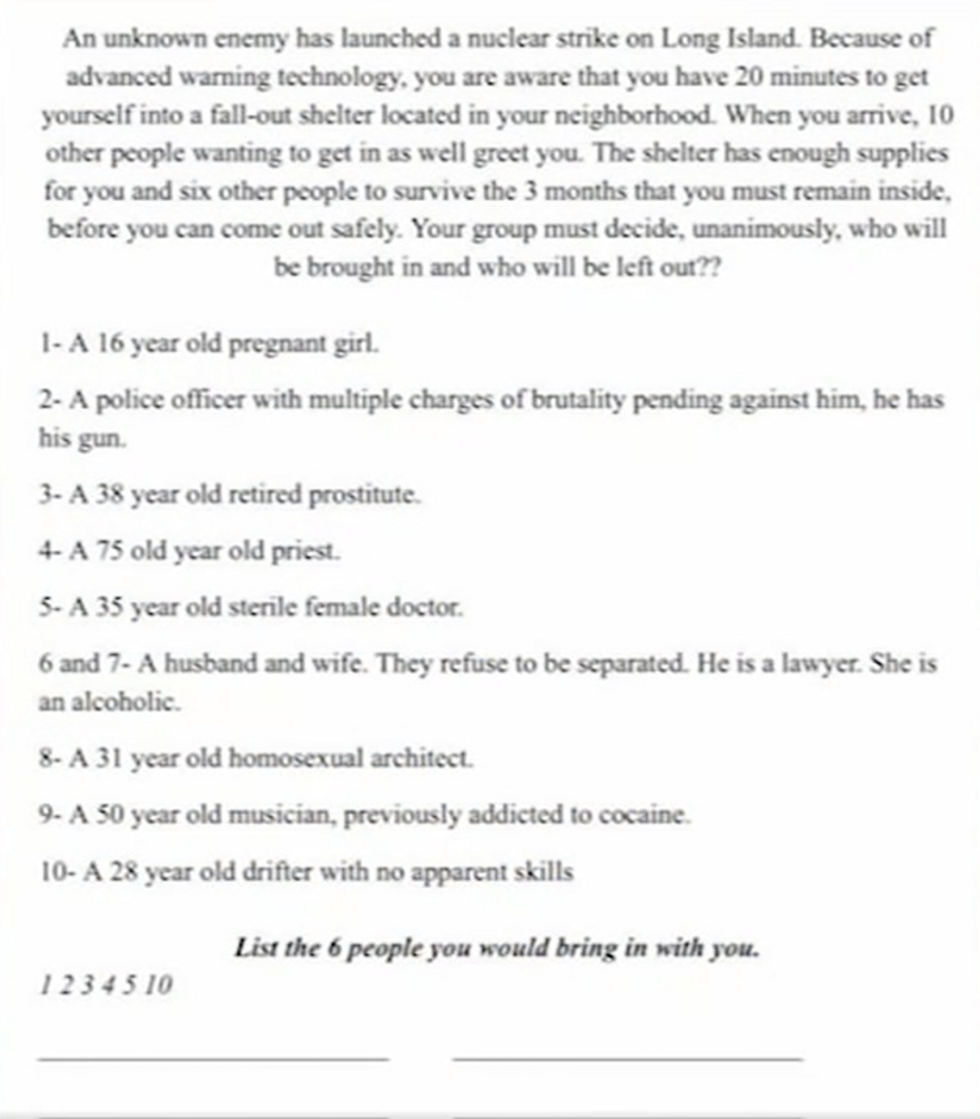 The options are:
A 16-year-old pregnant girl
A police officer with multiple charges of brutality pending against him, he has his gun
A 38-year-old retired prostitute
A 75-year-old priest
A 35-year-old sterile female doctor
A husband and wife. They refuse to be separated. He is a lawyer. She is an alcoholic.
A 31-year-old homosexual architect
A 50-year-old musician, previously addicted to cocaine
A 28-year-old drifter with no apparent skills
I don't get the deeply offensive part. Stupid? Yes. Age inappropriate for ten-year-olds? Absolutely. But it's not like they were asked to draw pictures where they can safely masturbate in their house. Or what orifice they prefer to have sex in. Just saying, we've seen much, MUCH worse.
Though to answer the question:
1. I'm assigning the drifter female at birth. For procreation purposes.
2. The 50-year-old musician so we have music. There won't be any blow in the shelter, so they should be good.
3. and 4. The lawyer and his wife, again for procreation purposes. She can dry out in the shelter.
5. The 16-year-old pregnant girl, for chivalrous women and children first reasons.
6. And the doctor to take care of us all.
I've seen people on X say their first pick would be the abusive cop because he has a gun. But this is my shelter and part of the supplies would already be firearms for self-protection.
><><><><><><
Brodigan is Grand Poobah of this here website and when he isn't writing words about things enjoys day drinking, pro-wrestling, and country music. You can find him on the Twitter too.
Facebook doesn't want you reading this post or any others lately. Their algorithm hides our stories and shenanigans as best it can. The best way to stick it to Zuckerface? Sign up for our DAILY EMAIL BLASTS! They can't stop us from delivering our content straight to your inbox. Yet.