Each day we overwhelm your brains with the content you've come to love from the Louder with Crowder Dot Com website.
But Facebook is...you know, Facebook. Their algorithm hides our ranting and raving as best it can. The best way to stick it to Zuckerface?
Sign up for the LWC News Blast! Get your favorite right-wing commentary delivered directly to your inbox!
Culture Wars
WaPo released their anti-Dave Portnoy hit piece after being called out, one part is unintentionally hilarious
September 23, 2023
The Washington Post released their anti-Dave Portnoy hit piece on Friday, even after being called out for being pathetic hacks. Dave is hosting a pizza festival this weekend and corporate journalismers who hate Dave wanted the small businesses involved to feel bad about participating. Because they hate small businesses too. Basically, they hate anyone outside of Park Slope, Manhattan, or Washington DC by default.
To recap, our greatest living president caught wind that WaPo was calling the sponsors of Pizzafest claiming Portnoy "has a history of misogynistic comments and other problematic behavior."
Portnoy called the reporter to challenge her on it, and she exposed the lack of integrity she and her entire industry of journalsimers hold.
You know, sometimes you have to say something like this is like, you know, it's sort of a reporting tactic. When you want someone to respond, you kind of have to indicate that there might be something negative and then you get them to engage. That's all I was trying to do.
And what happened next will... not surprise you in the slightest.
WaPo released the content they created anyway. Shout out X Community Notes.
Second verse, same as the first. Dave made a joke about skinny jeans and rape over ten years ago. He once dropped a soft g while quoting a rapper. And the Business Insider hit piece. However, for unclear reasons, they also attacked Portnoy for saying as a heterosexual man he was still able to admit another man was attractive in 2016. By 2023 standards, you would think he'd be praised for his open-minded tolerant wokeness seven years ago, not only as a "bro culture" leader, but also as a Patriots fan.
Here's my favorite part of this remarkable bit of journalisming. WaPo based the entire piece on the criticism of three people. J. Kenji López-Alt and the rando blogger Portnoy had already called out. And Joe Rosenthal... a Minnesota-based mathematician who has positioned himself as the conscience of the food and restaurant industries.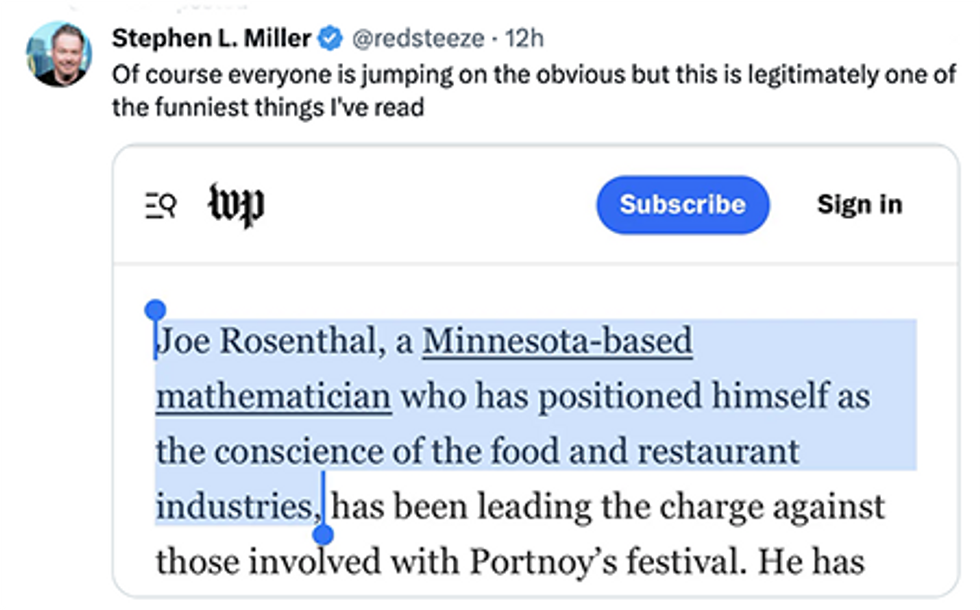 Rosenthal is such a conscience of the food and restaurant industries, he once tried to get a potato roll canceled for donating to a Republican gubernatorial candidate. That's who all these people are and that's what this is all about. It's who the media and progressives have always been. They treat most people like this.
When you have a platform that is not being used to promote the progressive political agenda that corporate media supports, you'll be targeted. Portnoy gets it worse because not only does he have that platform, but he also uses it to occasionally say things that contradict that agenda. Hence hit piece after hit piece after hit piece.
It's also why Portnoy was able to buy the company back for a dollar once Penn Gaming discovered government regulators, those in progressive-run states like Massachusetts and New York, are no different.
Something for a NYC-based media company and "both sides are extreme" independents to consider. If the "far-right" disagrees with something, they say lame sh*t like "Wokestool" and troll you on Twitter. When the far-left, which is basically the mainstream Democrat Party, disagrees with something they will actively try to destroy you.
It doesn't matter if you are a "controversial" social media icon or a small business struggling to get by as those same progressives' policies make it harder for you to do so. To the media, you are all the same enemy.
><><><><><><
Brodigan is Grand Poobah of this here website and when he isn't writing words about things enjoys day drinking, pro-wrestling, and country music. You can find him on the Twitter too.
Facebook doesn't want you reading this post or any others lately. Their algorithm hides our stories and shenanigans as best it can. The best way to stick it to Zuckerface? Sign up for our DAILY EMAIL BLASTS! They can't stop us from delivering our content straight to your inbox. Yet.