Watch: Man makes powerful statement about free speech by ripping a fart into an intercom that echos throughout Costco
March 14, 2023
You wouldn't know this, but it's taken me over half an hour to write this first sentence because I can't stop laughing. I'm not proud. But at the end of the day, the wisdom our fathers and grandfathers have passed down for generations rings true: Farts. Always. Equal. Funny. It's as universal a truth as whoever smelt it dealt it.
Not since the launch of Mug Club (which returns on March 20th) has such a powerful exhibition of free speech been made in a public setting.
Though as hard as I'm laughing, I feel like this video is missing something. After letting one rip and having it echo throughout the Costco as a legion of Karens and Beckys all load up on 172-count boxes of string cheese -- hey, there one is now...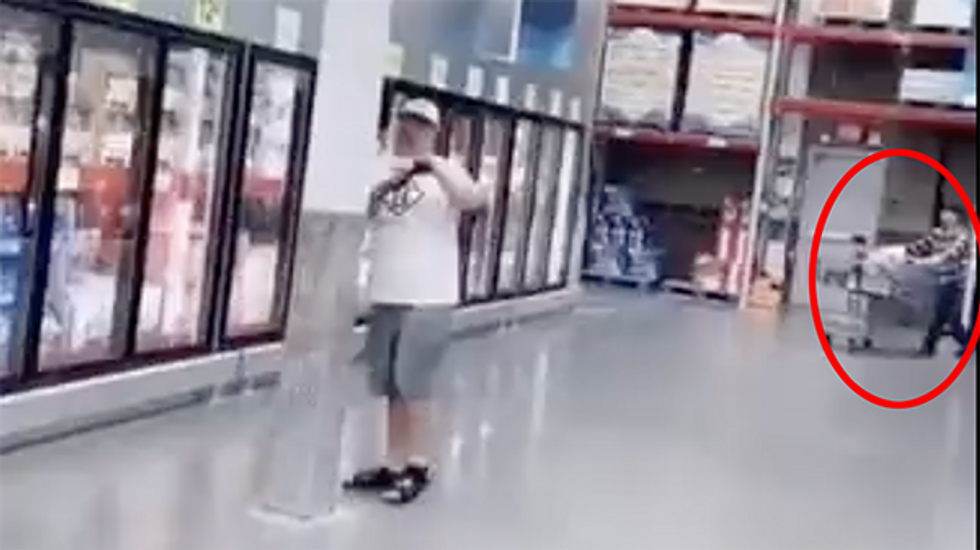 ...he should have screamed into the intercom, "Let's Go Brandon, bitch!" And proceeded to throw up both middle fingers as security slowly started to advance on him. With their shirts pulled up over their noses. Because there is no denying who supplied this one.
As my man here implies, it's popped off at the Waffle House over a lot less.
Imagine if this started (or ended) one of those store fights we've grown to love 🤗
— Ulysses S Rant (@green_geaux) March 14, 2023
The best part is our hero looks like a middle-aged man. He probably had his nephew recording the phone on a dare. That reveals another universal truth. Deep down, we're all thirteen years old at heart.
Commenting on politics and culture can be a lot of "everything sucks," "everything is terrible," "and oh my God, why are you the way you are?" For the sake of all our sanity, it's good to take a mental health break on occasion. Remember to take the time to smell the roses. Or in this case, the White Castle from the night before.
Editor's Note:
It's official. MugClub. Is. Back.
Everyone here at the team is thrilled to inform you that MugClub relaunches on March 20, 2023. It is bigger, it is better, it is more affordable, it will include MORE content than ever AND it's powered by Rumble!
Did I mention that the annual price has been lowered from $99 to $89?