Each day we overwhelm your brains with the content you've come to love from the Louder with Crowder Dot Com website.
But Facebook is...you know, Facebook. Their algorithm hides our ranting and raving as best it can. The best way to stick it to Zuckerface?
Sign up for the LWC News Blast! Get your favorite right-wing commentary delivered directly to your inbox!
crime
Circle K fires 75-year-old employee for shoving shoplifter who pulled a knife on her, so now she's suing
June 19, 2023
Mary Ann Moreno is a 75-year-old widow who had worked for Circle K for over eighteen years. Then she made the mistake of shoving an ARMED shoplifter and was fired. Moreno's suing the store now because, and I'm sure you'll agree with me when I say this, her getting fired over this is complete bullsh*t.
The thug in question, Tyler Wimmer, came into the store with TWO knives. He demanded free cigarettes. Moreno said no, because if she gave him free cigs...wait for it...she would be fired. The armed thug then walked behind the register and grabbed cigarettes anyway,
That's when the shoving incident happened.
When he came around that fast, he was like right there. And I, like, freaked out, you know? And I just went like that. Well, supposedly, I guess I grabbed his arm. I don't remember that, but I push him, and that's when he ran out.
This is what got her fired: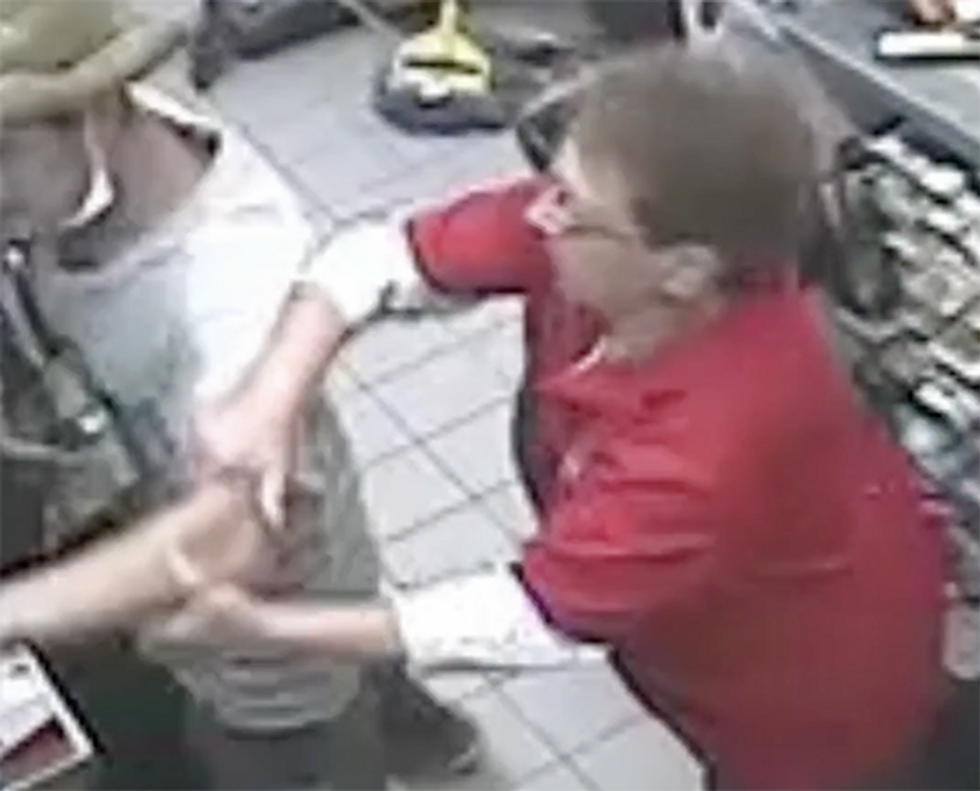 Circle K fired her for violating their zero-tolerance policy about dealing with shoplifters.
Circle K told the Problem Solvers it won't comment on pending litigation, but its employee handbook says its shoplifter/robber policy "is for your protection and for the safety of everyone."
Moreno's attorney Iris Halpern filed the wrongful termination lawsuit, claiming the company isn't distinguishing between "self-defense" and "chasing." Let's make it easy. When an armed thug comes behind the counter and you have nowhere else to go, it's self-defense.
I have to hand it to Circle K. They managed to provide us with a more absurd example than the Lululemon employees who got fired for calling the cops on a shoplifter. The two employees in that story had options, like NOT calling the cops and not following the shoplifters out of the store. Moreno had to make a split-second decision. All the thug had to do is make one quick motion to the left, and Moreno would have been stabbed. You wonder if Circle K has a zero-tolerance policy for their employees being murdered.
Yet another example of why, while I understand the instinct to get involved, it's a corporate chain and is simply not worth it. If you are defending a small, independently owned business, that's one thing and encouraged. But time and again, these companies have made it clear they don't care about you. Start caring less about them.
Facebook doesn't want you reading this post or any others lately. Their algorithm hides our stories and shenanigans as best it can. The best way to stick it to Zuckerface? Bookmark LouderWithCrowder.com and check us out throughout the day!