Each day we overwhelm your brains with the content you've come to love from the Louder with Crowder Dot Com website.
But Facebook is...you know, Facebook. Their algorithm hides our ranting and raving as best it can. The best way to stick it to Zuckerface?
Sign up for the LWC News Blast! Get your favorite right-wing commentary delivered directly to your inbox!
For the Content
Watch: Guy in Josh Allen jersey has more fight in him than the QB, drops violent BOMBS on another fan as the crowd sings along
November 14, 2023
This is the most Buffalo Bills fight ever, but at least the fans are showing life in them because the Bills stink right now. Josh Allen has lost to the Jets, the Patriots, and now the Broncos. Meanwhile, a guy in a Josh Allen jersey is undefeated in beating other fans with his fists.
Football fights are a nice palate cleanser from the usual suck of covering the Middle East, woke cartoons, and Bidenomics. This specific fight lets me rant. It's a win-win.
Unfortunately, the guy recording fumbled the content like he was a Bills running back. The fight had started, and while he remembered to do it for the content, it took him a few seconds before he realized he wasn't recording the fight. He was recording people watching the fight.
It's never a good sign when fans start fighting with each other in the stands. But as our cameraman says, "The Bills make me want to shout too."
Josh Allen Jersey Guy let his hands do the shouting.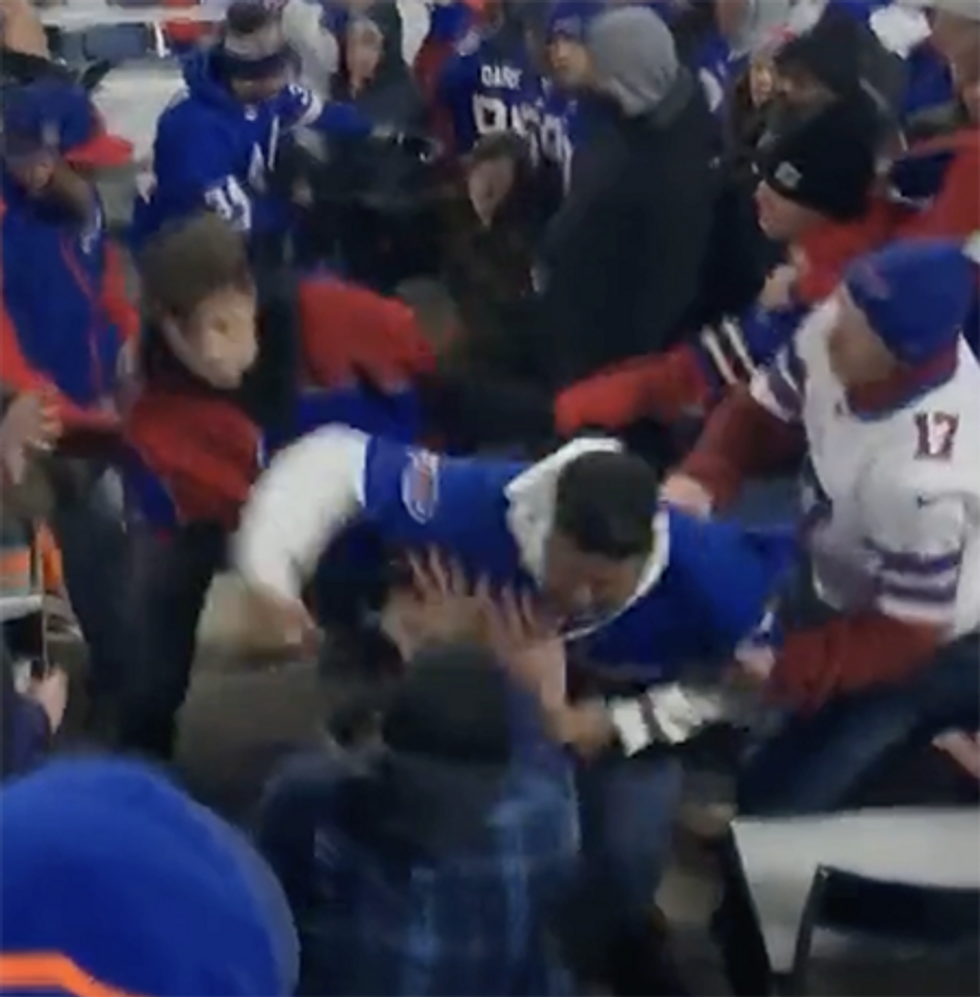 He was dishing out the smoke in all directions.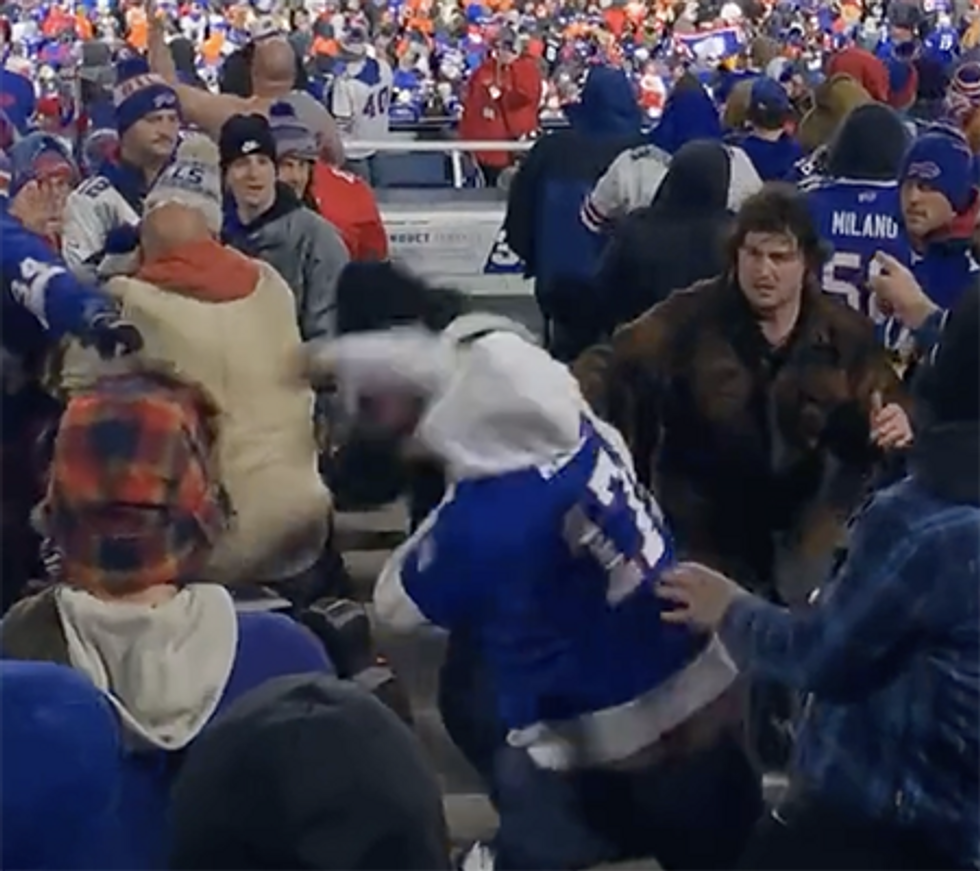 However, what truly makes this the most Buffalo fan fight you will ever see is that while bombs were dropping and hands were being gotten, the stadium was singing The Isley Brothers "Shout."
As for my team, I still have nothing but respect for MY quarterback. But as I was explaining to Louder with Crowder CEO Gerald Morgan last night, Allen is in a timeout with me right now.
Though this is one ceasefire I'm willing to agree to. As I was writing this, news broke:
Let's hope the new guy can fix the problem. I can't handle another loss to the Jets.
If you enjoy fan brawls as much as we here at the Louder with Crowder Dot Com website do and could use a mental break from world events, might we suggest:
Watch: NFL fan doesn't have sense to stay down, gets knocked on his keister THREE times by dude he tried to fight
Watch: Handcuffed football fan (in sick overalls) still manages to knock dude the f*** out with a single headbutt
Watch: Someone's mother might have had too many White Claws at the college tailgate, started to fight EVERYONE
Watch: Insane catfight breaks out at 49ers game, one girl lost her wig while a dude tried not to drop his beer
><><><><><><
Brodigan is Grand Poobah of this here website and when he isn't writing words about things enjoys day drinking, pro-wrestling, and country music. You can find him on the Twitter too.
Facebook doesn't want you reading this post or any others lately. Their algorithm hides our stories and shenanigans as best it can. The best way to stick it to Zuckerface? Sign up for our DAILY EMAIL BLASTS! They can't stop us from delivering our content straight to your inbox. Yet.