Each day we overwhelm your brains with the content you've come to love from the Louder with Crowder Dot Com website.
But Facebook is...you know, Facebook. Their algorithm hides our ranting and raving as best it can. The best way to stick it to Zuckerface?
Sign up for the LWC News Blast! Get your favorite right-wing commentary delivered directly to your inbox!
Watch: Handcuffed football fan (in sick overalls) still manages to knock dude the f*** out with a single headbutt
September 18, 2023
Monday's during the football season are good for two key reasons. The first is bragging about your team winning (go Bills). The second is the lousy amount of football fans getting into brawls content, possibly while drunk, that finds its way to the internet. It's a niche genre and one we appreciate here at the Louder with Crowder Dot Com website, providing a delightful break between GOP primary and "wheels coming off the planet" news.
Today we have a Cincinnati Bengals fan, in siiiick Zubaz overalls, knocking some dude out WITH a headbutt WHILE handcuffed. The key to 10/10 content is to open with an establishing shot that is best captioned, "Yeah, that's me. You're probably wondering how I got into this situation."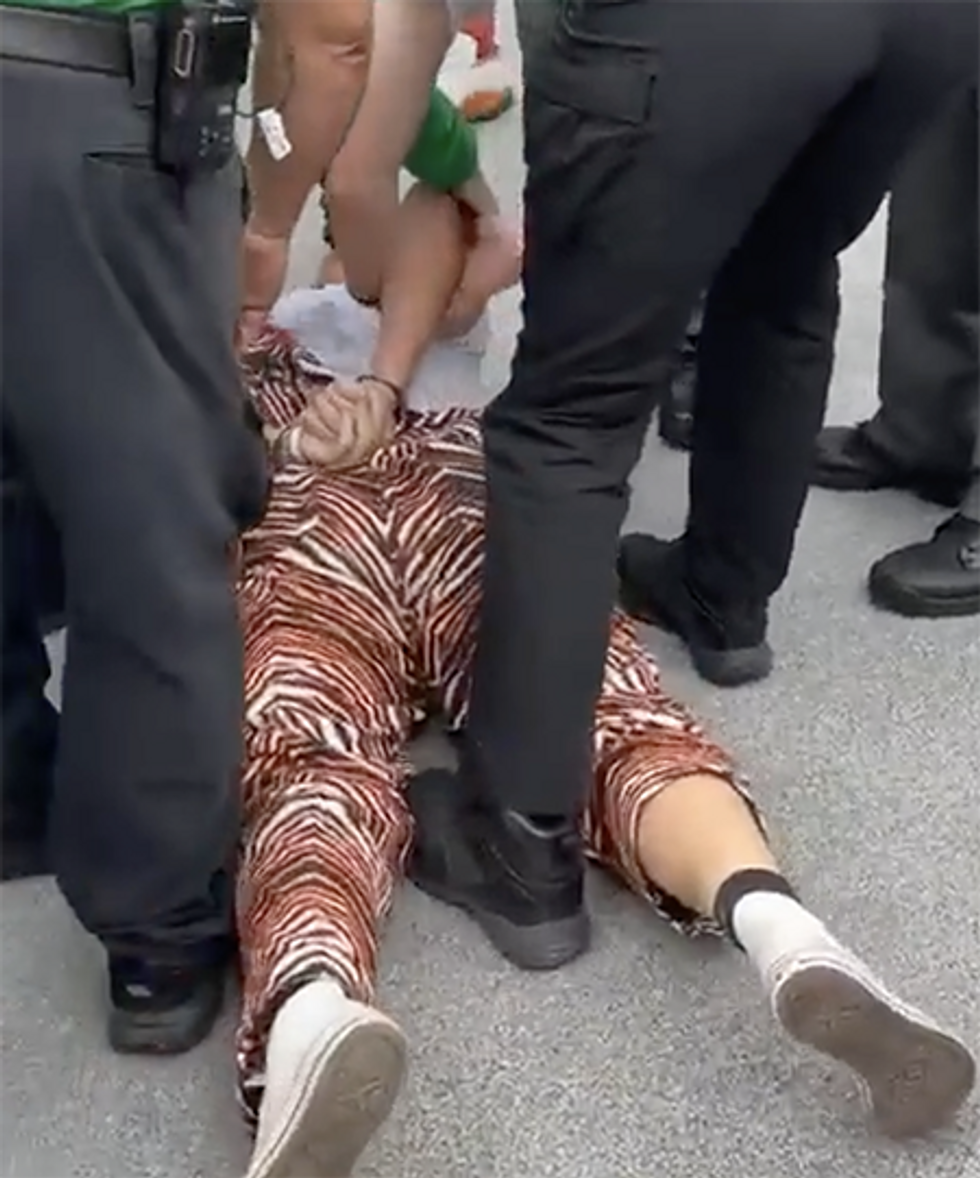 The Cincinnati Bengals are 0-2. Ja'Marr Chase was my first-round draft pick. You can understand this guy's frustration. Regretful decisions get made in the heat of passion. What's unclear is if Sunglasses staring at this guy is the reason Zubaz was getting handcuffed, or if the two incidents are unrelated and Zubaz was looking to fight everybody.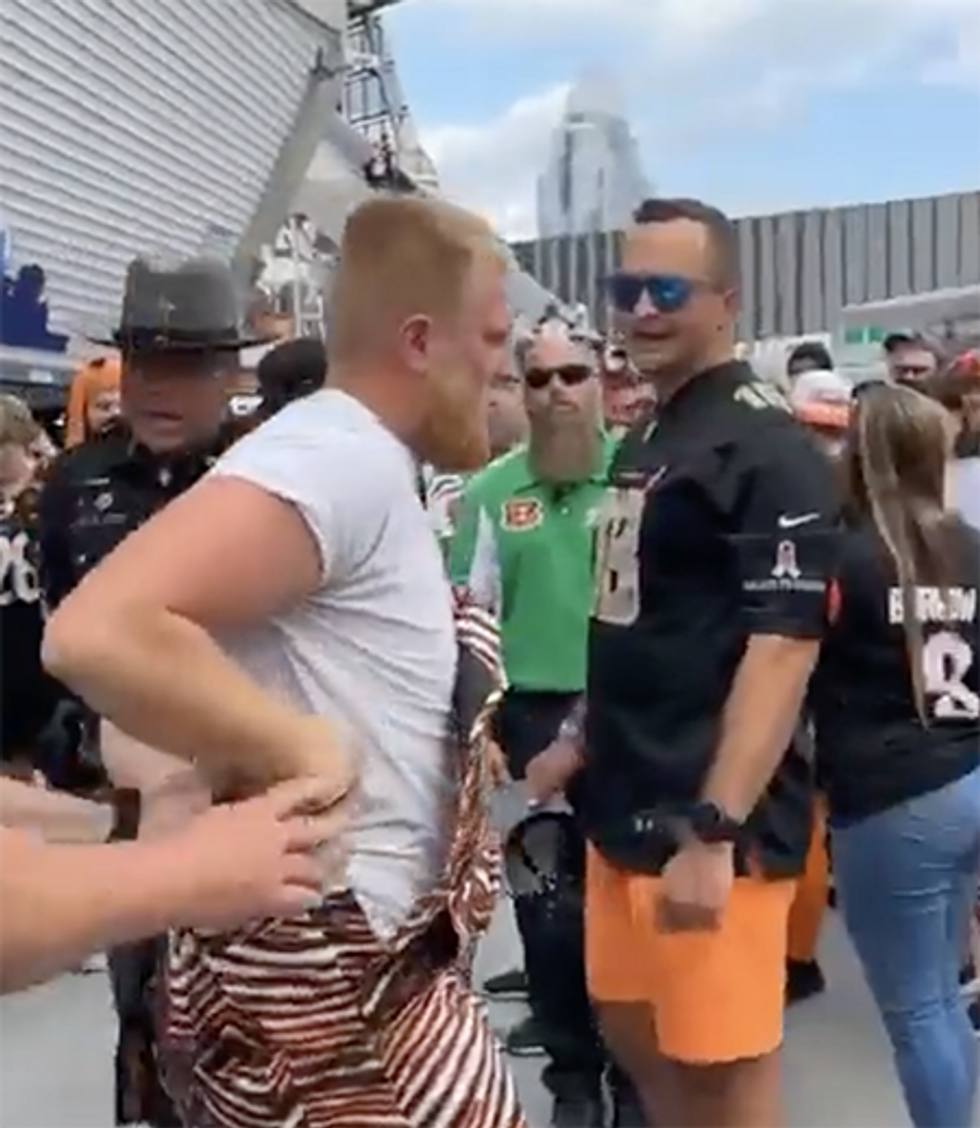 Wait a second... is this about to become a federal crime?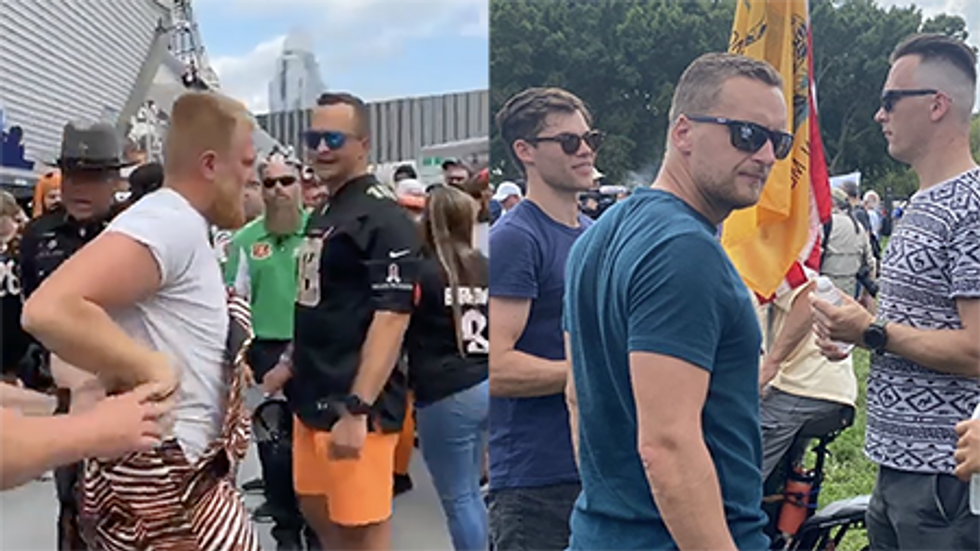 Either way, my man got knocked the f*ck out. All while Zubaz was handcuffed AND being restrained by authorities. An embarrassing moment for all involved outside of Zubaz, who is now a legend.
Also, apropos of nothing, the girl in the Joe Burrows jersey has a nice rump.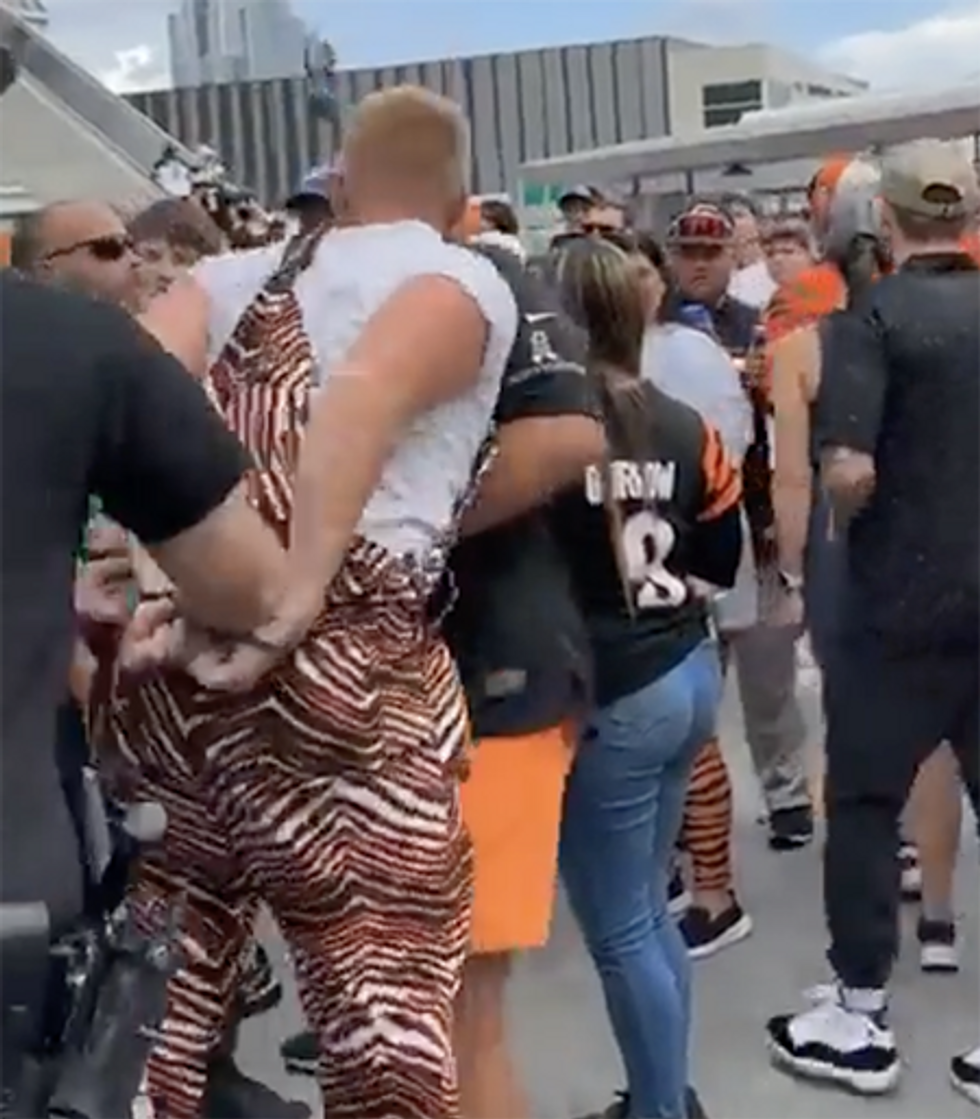 Better to have a nice ass than to be the highest-paid player in NFL history and playing like ass.

It is unclear at this time if Zubaz spent some time in the drunk tank or has already been sentenced to seven years in prison for trespassing. It all depends on... you know.
If we've learned nothing here it's that if you are going to act in an aggressive manager at an NFL team, do it in a group. You'll still get tossed from the stadium. But as long as it's mutual combat, your chances of jail time are limited. Godspeed, Zubaz. Everyone at LWC wishes you well in your future endeavors.
><><><><><><
Brodigan is Grand Poobah of this here website and when he isn't writing words about things enjoys day drinking, pro-wrestling, and country music. You can find him on the Twitter too.
Facebook doesn't want you reading this post or any others lately. Their algorithm hides our stories and shenanigans as best it can. The best way to stick it to Zuckerface? Sign up for our DAILY EMAIL BLASTS! They can't stop us from delivering our content straight to your inbox. Yet.