Each day we overwhelm your brains with the content you've come to love from the Louder with Crowder Dot Com website.
But Facebook is...you know, Facebook. Their algorithm hides our ranting and raving as best it can. The best way to stick it to Zuckerface?
Sign up for the LWC News Blast! Get your favorite right-wing commentary delivered directly to your inbox!
Abortion
Watch: Pro-Choice Protesters Illustrate 'Complexity' of Leftists' Opinion... While Proving Matt Gaetz Right
July 27, 2022
Let's cut right to the chase here: There are no good arguments for the murder of babies. That's it. So, there can only be bad arguments for the murder of babies, but lefties really don't want to start listing off all their bad reasons because then decent people would simply realize just how depraved and indifferent to human life they truly are. Instead, they have resolved to approach the conversation in a different manner.
And after watching this, I am only reminded of the words of the great philosopher Matt Gaetz.
Reporter: Is it safe to say that, based off your comments, you're suggesting that these women at these abortion rallies are ugly and overweight?

Gaetz: Yes. pic.twitter.com/HfqPkriiJC
— Jack Posobiec 🇺🇸 (@JackPosobiec) July 25, 2022
This is the part where every pro-life individual starts the slow clap and congratulates the left on proving once again that not only is their position on dismembering, disemboweling, and throwing out like trash little defenseless babies is irrevocably indefensible, but that Matt Gaetz was entirely correct in his generalization that pro-abortion feminists are, by and large, ugly and overweight. One of those women is literally a sphere with limbs.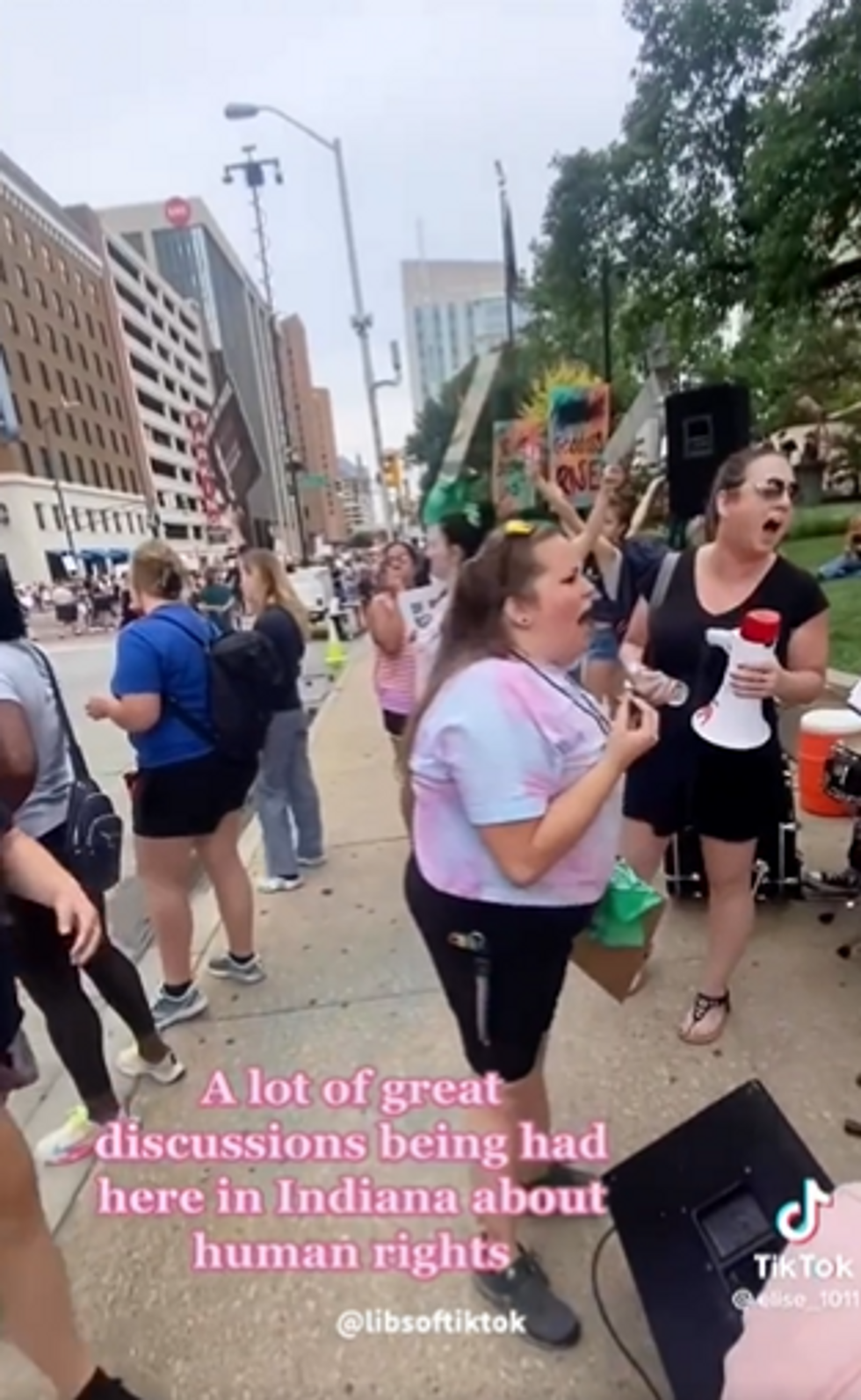 Aside from irking everyone within earshot, what exactly were these women attempting to achieve? I'm sure nothing. Very often these protests and counter-protests don't seem to have any point except to demonstrate just how unhinged they are, as if to say, "Look at us! We're so insane that we know we are advocating baby sacrifices and we don't care!"
Well, just another day in America. Indiana--where this event took place--recently succeeded in advancing abortion restrictions out of committee to go to a Senate vote where it is expected to pass. That'll give these crazies something to really scream about, won't it?
The Louder with Crowder Dot Com Website is on Instagram now!Follow us at @lwcnewswire and tell a friend!
DISTURBED Protesters Go Crazy Over Roe v. Wade Leak! | Louder With Crowderwww.youtube.com