Each day we overwhelm your brains with the content you've come to love from the Louder with Crowder Dot Com website.
But Facebook is...you know, Facebook. Their algorithm hides our ranting and raving as best it can. The best way to stick it to Zuckerface?
Sign up for the LWC News Blast! Get your favorite right-wing commentary delivered directly to your inbox!
Videos
Footage Clears USC Student of Rape Charges. Could STILL be Expelled...
August 04, 2017
The college system is becoming a rather uninviting place for men. The manliness of male students has suffered a constant barrage of attacks from feminists (see Equality? Male Students FORCED to Undergo 'Toxic Masculinity' Programs). We've seen schools ravaged by feminism, leaving behind sniveling beta males and vilified, silenced men in its wake.
Just take a look at what's happening with this male student below. He was accused of rape, cleared of rape, and now he may still be held accountable for rape. Which he didn't do. Yep, it makes no sense.
Security video from outside a local nightclub has cleared a USC student of rape, CBS Los Angeles reports.

Armaan Premjee was accused of sexually assaulting a 19-year-old student in her dorm room but video from the Banditos club near campus tells a different story.

The security video shows the woman leading Premjee out of the club and shows her making a sexual gesture to her friend behind Premjee's back. She's then caught on video signing them into her dorm.

Prosecutors charged Premjee with rape, claiming the woman was too drunk to give consent. After seeing the video, the judge dismissed the case saying, "I believe there was consent. There is a very strong indication that the alleged victim in this case was the initiator."

USC is reportedly conducting its own investigation. Premjee could still be expelled.
There you have it. No struggle cuddle took place. Yet here we are anyway...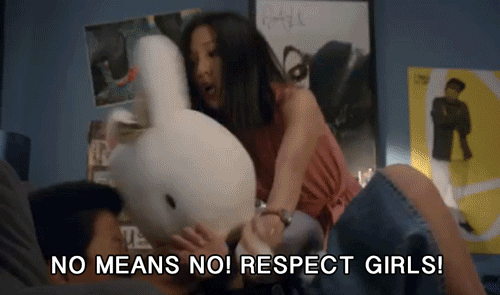 You would think the USC investigation would conclude when the real investigation did. But, logic isn't exactly a university strong suit when it comes to rape (see Justice? College Withholds Degree of Student ACQUITTED of Rape and New #SJW College Posters Say Nearly All Men Guilty of… Rape?). The leftist administrators aren't going to pass up an opportunity to confirm the existence of their so-called "campus rape culture."
School "justice" systems are almost universally malicious to those equipped with the wrong genitals. Otherwise known as men. A man's guilt is assumed the moment he's accused. Even if he's acquitted of charges, his life is practically ruined. Like we're seeing here. If you are unfortunate enough to have an outtie instead of an innie, God help you when the rape accusations start a flyin'.
Universities are where female victimhood reigns supreme. Whether or not said victimhood is actually justified? That matters not. Get used to it, bigot.