Each day we overwhelm your brains with the content you've come to love from the Louder with Crowder Dot Com website.
But Facebook is...you know, Facebook. Their algorithm hides our ranting and raving as best it can. The best way to stick it to Zuckerface?
Sign up for the LWC News Blast! Get your favorite right-wing commentary delivered directly to your inbox!
Politics
Biden's UN Ambassador Brags That United Nations Sent Taliban a 'Strongly Worded' Letter About Women's Rights
August 19, 2021
Joe Biden, the most popular president ever, needed to be guilted to leave vacation to address his gross, negligent incompetence in Afghanistan. He came back from vacation a second time and screwed up what should have been a softball interview, before leaving for an extended weekend away in Delaware. But don't worry. I know the news may seem like all is lost and that everything our veterans and Gold Star families have sacrificed was for naught. But it's all going to be okay. Because the United Nations sent the Taliban a strongly worded letter.
Need further proof that our government is run by nincompoops? The Biden administration thinks this is a strong point.
🇺🇸 Ambassador Linda Thomas-Greenfield says U.S. expressed "in no uncertain terms" at the United Nations through "a very strongly worded press statement" from the Security Council that "we expect the Taliban to respect women's rights" and "to be respectful of humanitarian law." pic.twitter.com/32TEyRFu4O
— Hillel Neuer (@HillelNeuer) August 18, 2021
We have expressed in no uncertain terms here at the United Nations through a very strongly worded press statement from the Security Council that we expect the Taliban to respect human rights, including the rights of women and girls. We have also indicated that they have to be respectful of humanitarian law.
Or what?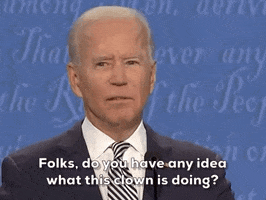 Before I go any further, since the United Nations was mentioned, this Dave Chappelle clip is necessary:
UN sanctions Dave Chappelleyoutu.be
The Taliban has addressed the concern the world has by saying that women in Afghanistan will have all the rights in the world ... that are afforded to them under Sharia law. A law that makes it legal for men to beat their wives, just because YOLO! I know Joe Biden has gotten his days confused, but this interview was broadcast on Tuesday afternoon. On Tuesday, the Biden administration bragged about sending the Taliban a letter that they better respect women's rights or else. On Wednesday, we hear about girls watching their mother beaten to death in the streets because she said she couldn't cook for the Taliban.
I don't think the letter worked, Hoss. But hey, at least Joe Biden gets to go to his favorite ice cream shop in Wilimington.
Get your content free from Big Tech's filter. Bookmark this website and sign up for our newsletter!