Watch: Tucker Carlson breaks silence, addresses media for first time after Fox News ouster. Well, kinda
April 26, 2023
Tucker Carlson has broken his silence and has spoken to the media about his ouster from Fox News. Well, not really. But he did address an intrepid Daily Mail reporter who caught up with the former Fox News personality to find out if he had anything to say to his fans or to his former employers.
Tucker laughed at the reporter as he sped past in a golf cart.
However, the Daily Mail reporter DID get a major scoop on what Tucker Calrson's next plans were. He's taking his wife out to dinner on a weeknight for the first time in years.

"Appetizers plus entree."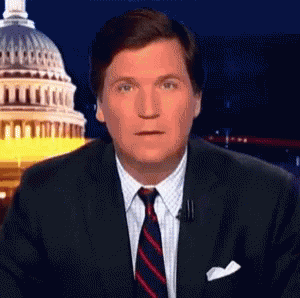 Apropos of nothing...
This is why I can't get with people running to Twitter about how they "stand" with Tucker, or are eulogizing him like he died. And somehow Paul Ryan is the new boogeyman responsible for it because conservatives always have to have a boogeyman. Tucker Carlson is in the Obi-Wan Kenobi position. He was struck down. He will now grow more powerful than you can possibly imagine.

Here are what Tucker Carlson's plans are going to be.
He's going to take his wife out to dinner.
He's going to go fly fishing for a couple of weeks.
He's going to catch up on his TV shows while his lawyer does lawyer things negotiating his exit package from News Corp which will be in AT LEAST the mid-tens of millions
Then he's going to do like Steven Crowder, Megyn Kelly, and James O'Keefe before him. He's going to launch his own media empire.
The last time he got fired, he started the Daily Caller. Now he has more technology at his disposal and Rumble as a platform.
To paraphrase another media mogul, Sergio from "Get Him to the Greek," Tucker gonna be fine. F*ck a Murdoch.
Facebook doesn't want you reading this post or any others lately. Their algorithm hides our stories and shenanigans as best it can. The best way to stick it to Zuckerface? Bookmark LouderWithCrowder.com and check us out throughout the day!