Each day we overwhelm your brains with the content you've come to love from the Louder with Crowder Dot Com website.
But Facebook is...you know, Facebook. Their algorithm hides our ranting and raving as best it can. The best way to stick it to Zuckerface?
Sign up for the LWC News Blast! Get your favorite right-wing commentary delivered directly to your inbox!
Vast Majority of Americans oppose biological males competing in women's sports... and polling numbers are UP
September 17, 2023
VOTE IN THE LWC 2024 GOP STRAW POLL! CLICK HERE!
The debate over girls' sports has grown contentious in recent years. One side of the debate, the side that believes in biology, feels that because boys are born with certain biological advantages in strength and athletics, it is unfair for them to compete against girls. Effectively robbing girls of opportunities like scholarships and being able to discover themselves as they learn, grow, and develop.
The other side of the debate is anti-science, votes Democrat, and thinks you're a transphobe. And there is new data that shows those Democrats are once again on the wrong side of history.
A new Gallup poll says 69 percent...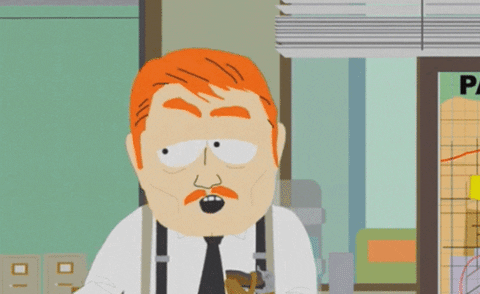 ...of Americans feel athletes should only play on teams that match their birth gender. But here's the thing. Traditionally, when it has come to culture war issues, polls tend to move to the left because people grow tired of being badgered by Leftists. The exact OPPOSITE has happened. People opposing boys competing against girls is UP seven points since 2021.
People who supported letting boys steal opportunities from your daughters are down eight points over that same time period.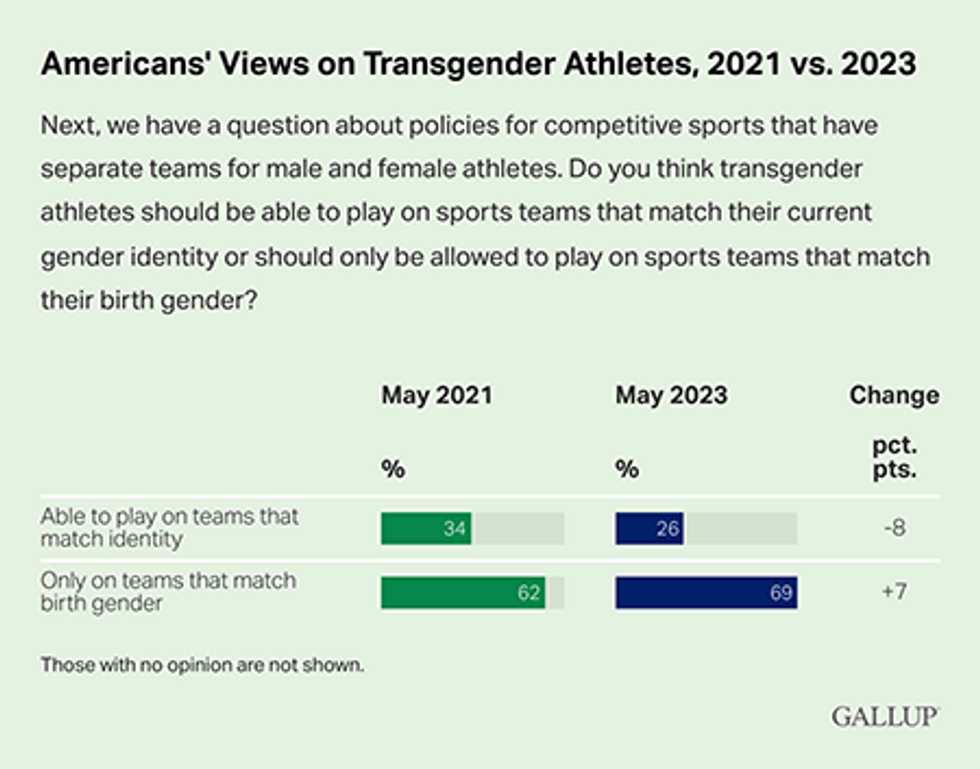 This poll comes after the entire Democrat Party voted against protecting girls' sports. Democrats have declared themselves the party of watching girls having their hopes and dreams -- and bones, and brains -- crushed by boys who went through male puberty. It makes sense. These same Democrats also think girls won't amount to much in sports anyway.
Democrats have also become the party of exposing your daughters to weiners. Just so long as it's a female rocking out in the locker room with her cock out. As Riley Gaines said in a Congressional testimony, the Left's workaround is not letting girls have their own locker rooms anymore.
No one asked for our consent. We did not give our consent to undress in front of a male. ... I went up to one of the officials on the pool deck, and I said, 'How is this allowed to happen?" He looks at me, and, word for word, he says, "Oh, we actually got around this by making the locker rooms unisex. So, it's not a big deal."
That's the Democrat position on the issue. When it comes to girls' sports, Republicans are the party that believes in fairness, science, and biology.
><><><><><><
Brodigan is Grand Poobah of this here website and when he isn't writing words about things enjoys day drinking, pro-wrestling, and country music. You can find him on the Twitter too.
Facebook doesn't want you reading this post or any others lately. Their algorithm hides our stories and shenanigans as best it can. The best way to stick it to Zuckerface? Sign up for our DAILY EMAIL BLASTS! They can't stop us from delivering our content straight to your inbox. Yet.