Each day we overwhelm your brains with the content you've come to love from the Louder with Crowder Dot Com website.
But Facebook is...you know, Facebook. Their algorithm hides our ranting and raving as best it can. The best way to stick it to Zuckerface?
Sign up for the LWC News Blast! Get your favorite right-wing commentary delivered directly to your inbox!
Gavin Newsom
SHOW NOTES: "Nursing Shortage" LIE Explained! Donald Trump Jr. Guests
September 09, 2021
The woke lefties are at it again, and this time they ATTACKED Larry Elder ahead of the Newsom recall election. Plus, Donald Trump Jr. guests! And are the hospitals REALLY being overwhelmed, or is it just more media fearmongering?
Is This WOKEISM?? Larry Elder ATTACKED Ahead of Newsom Recall! Donald Trump Jr. Guestsyoutu.be
JIMMY KIMMEL IS A HACK
Jimmy Kimmel returned from his summer break and immediately began spouting Mainstream Media COVID talking points. SOURCE: LouderWithCrowder.com
THE REAL REASON FOR THE HOSPITAL BED PROBLEM/STAFFING SHORTAGES
The media says hospitals have no free beds and are over capacity. The truth is hospitals operate close to capacity as a business model anyway. Dr. Mark Boom, the CEO of Houston Methodist Hospital, explained this in an August Zoom call with other Texas doctors. SOURCE: YouTube, KGW, Twitter, Facebook
The nurses are all burnt out and overwhelmed, which is causing the shortage! SOURCES: YouTube, YouTube, YouTube, YouTube, YouTube

TRUTH: Many hospitals were forced to pause all "elective procedures" in 2020 and some are again due to the surging Delta variant. SOURCES: CMS.gov, BeckersHospitalReview, Advisory.com

Some "elective procedures" paused during 2020 included: SOURCES: EuroIntervention, PainReports BreastCancerOrg, Endourology

Heart stents, heart valve surgery, and other cardiovascular procedures
Mammography and prophylactic mastectomy (for BRCA1 and BRCA2 gene carriers)
Kidney stone removal (lithotripsy)
Hip and knee replacements

Notably, in April 2020, abortions were only paused in 8 states! Even though abortion clinics used vast quantities of PPE. SOURCE: TheGuardian

TRUTH: For a long time hospitals were largely empty, not performing "elective" procedures, and so a record number of nurses were either laid off, furloughed, or had their hours cut. In April 2020, 1.4M health care workers were laid off or had their hours cut. SOURCE: Newsweek
TRUTH: Many of the "field hospitals" constructed never had any patients! SOURCES: USNavalInstitute, CNN, NPR

77 total patients for the Mercy (LA)
182 total patients for the Comfort (NY)
$155M spent on tents at Stony Brook University, 0 patients
This was the grand total in six weeks, many of whom were NOT treated for COVID; each ship has 1,000-bed capacity.

Nurses are quitting because of the burdens that come with treating COVID patients. SOURCES: YouTube, YouTube, YouTube, YouTube

TRUTH: Many hospital workers are refusing to get vaccines due to mandates, and so there is a demand for nurses that can't be filled. SOURCES: MSN, YahooNews, Bloomberg

At least 153 employees were fired from Houston Methodist for refusing the vaccine.
⅓ of nurses at the University of Cincinnati Medical Center said they'd rather quit than take the vaccine.

TRUTH: More shortages could be coming as more mandates take effect.

In NY, for example, 21% of hospital workers are still not vaccinated. SOURCE: NYDOH
As of June 4, 42% of Florida hospital workers weren't vaccinated. SOURCE: TampaBay10
Nationally, 1 in 4 hospital workers have not gotten vaccinated, according to a WebMD and Medscape Medical News analysis of data collected by the DHHS in June. SOURCE: WebMD

TRUTH: Some hospitals are giving nurses MASSIVE sign-on bonuses and paying upwards of $100/hour.

Miami area hospitals are paying $87-$105/hour and $1,200/week in travel expenses.
Baylor Scott & White is offering a $15K sign-on bonus.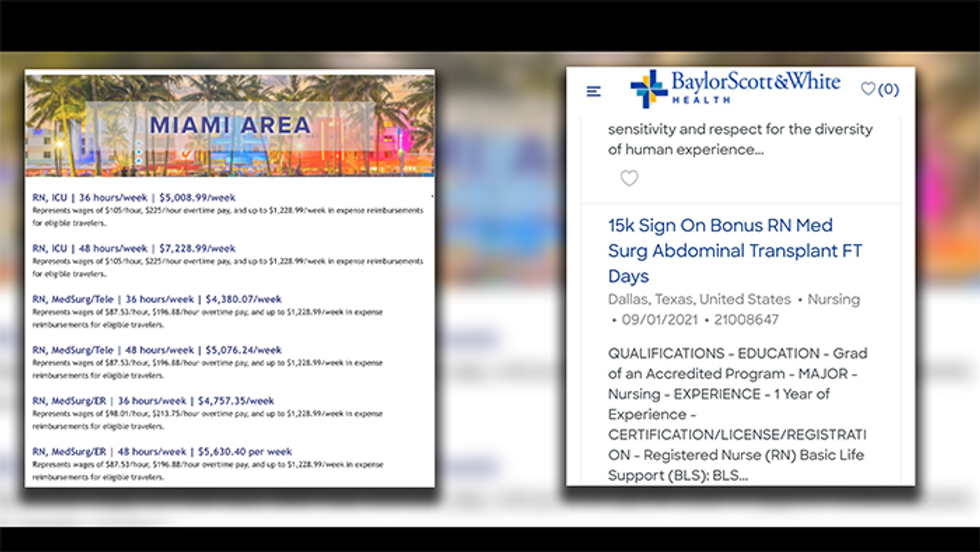 Get your content free from Big Tech's filter. Bookmark this website and sign up for our newsletter!