SHOW NOTES: I'M BACK! The Fight Against Big Tech Continues as Fauci's Emails Drop
June 03, 2021
Crowder is BACK on YouTube, and Big Tech doesn't know what's coming for it. We take another look at Fauci's emails. These managed to be worse than the day before. Also, we expose the TRUTH on why Democrats want to abolish the filibuster. All while we kick off CULTURAL APPROPRIATION MONTH by saluting Japan!
I'M BACK! The Fight Against Big Tech Continues as Fauci's Emails Drop | Louder with Crowderwww.youtube.com
MORE FAUCI EMAILS

Rand Paul is now calling for Fauci to be FIRED over the lies revealed by his emails and said Fauci is morally culpable for the pandemic. SOURCE: Daily Beast
FAUCI CLAIM: There is no way the virus could have been engineered in a lab. SOURCE: National Geographic

On January 31, 2020, Fauci went back and forth with two medical researchers about the need to investigate whether or not COVID was man-made.
Fauci forwarded a Science Magazine article titled "Mining Coronavirus Genomes for Clues to the Outbreak's Origins" to immunologist Kristian Anderson and British medical researcher Jeremy Farrar.
Fauci wrote, "This just came out today. You may have seen it. If not, it is of interest to the current discussion."

The reply from Anderson to Fauci read:

"On a phylogenetic tree the virus looks totally normal and the close clustering with bats suggests that bats serve as the reservoir."
"The unusual features of the virus make up a really small part of the genome (<0.1%) so one has to look really closely at all the sequences to see that some of the features (potentially) look engineered."
"We have a good team lined up to look very critically at this, so we should know much more at the end of the weekend."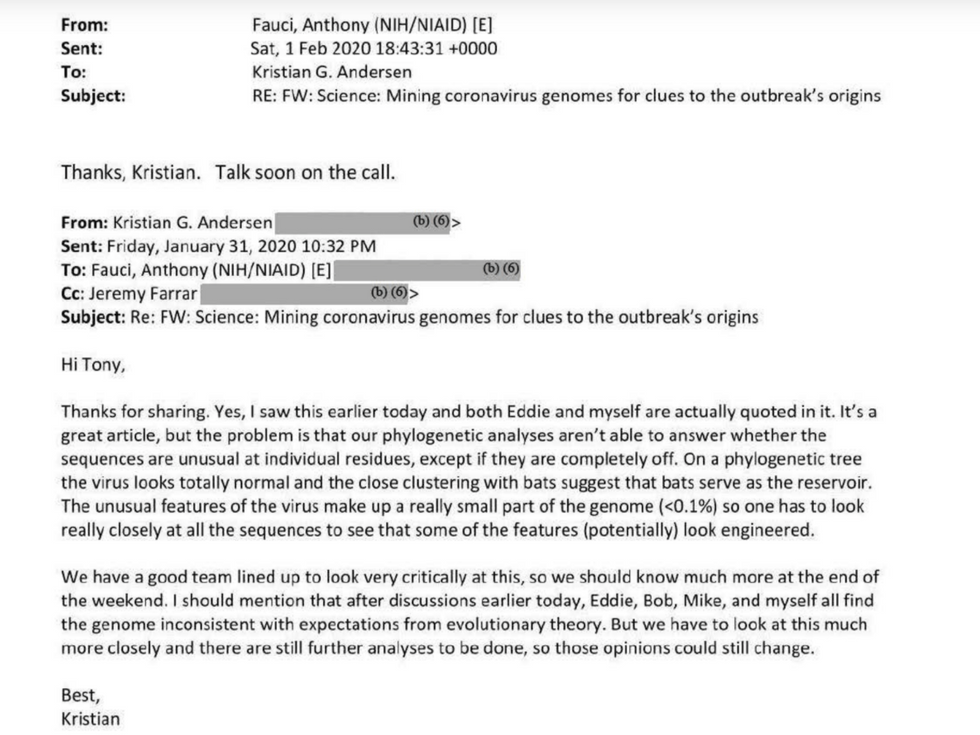 FAUCI CLAIM: Fauci claimed masks were effective at blocking even larger COVID particles. SOURCE: CNBC

TRUTH: On February 5, 2020, Fauci wrote to American University President Sylvia Burwell:

"Masks are really for infected people to prevent them from spreading infection to people who are not infected rather than protecting uninfected people from acquiring infection."
"The typical mask you buy in the drug store is not really effective in keeping out virus, which is small enough to pass through the material."
"It might, however, provide some slight benefit in keep out gross droplets if someone coughs or sneezes on you. I do not recommend that you wear a mask, particularly since you are going to a very low risk location."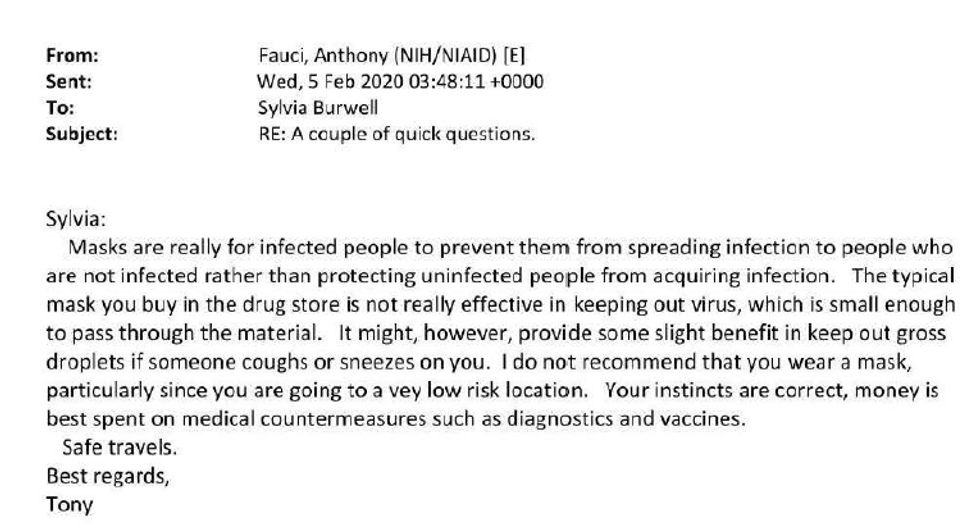 Fauci was also informed on March 31, 2020, of data showing masks don't work.The email from Dr. Andrea Lerner, which included a study on mask efficacy, read: "Bottom line: generally there were not differences in Influenza Like Illness, Upper Respiratory Infection, or flu rates when masks were used, although when early use and compliance was taken into account, a few times a difference was seen."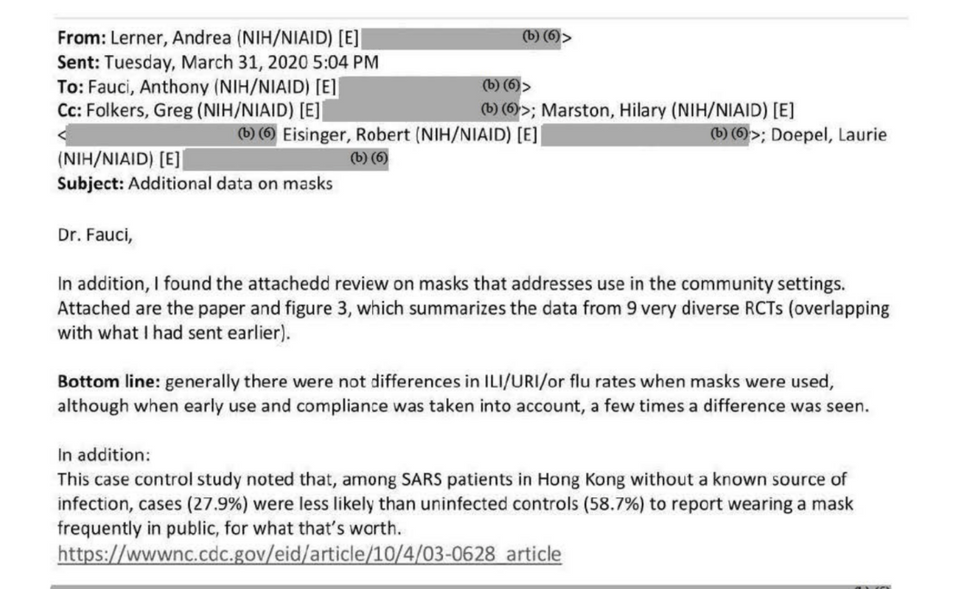 FAUCI CLAIM: Fauci claimed the initial mask guidance changed because the science changed. SOURCE: YouTube

The March 16, 2020, email was sent from Michael Liu and included advice from Dr. Zhang, the director of the Infectious Disease Department at Huashan Hospital in Shanghai.
The email read, "I strongly suggest American people should wear masks like Chinese, South Korean people, etc., because even China's highest leader, Mr. Jinping Xi, wears masks."
To which Fauci replied, "Thank you for your note. We indeed have learned much from our Chinese colleagues. I appreciate you bringing these issues to our attention."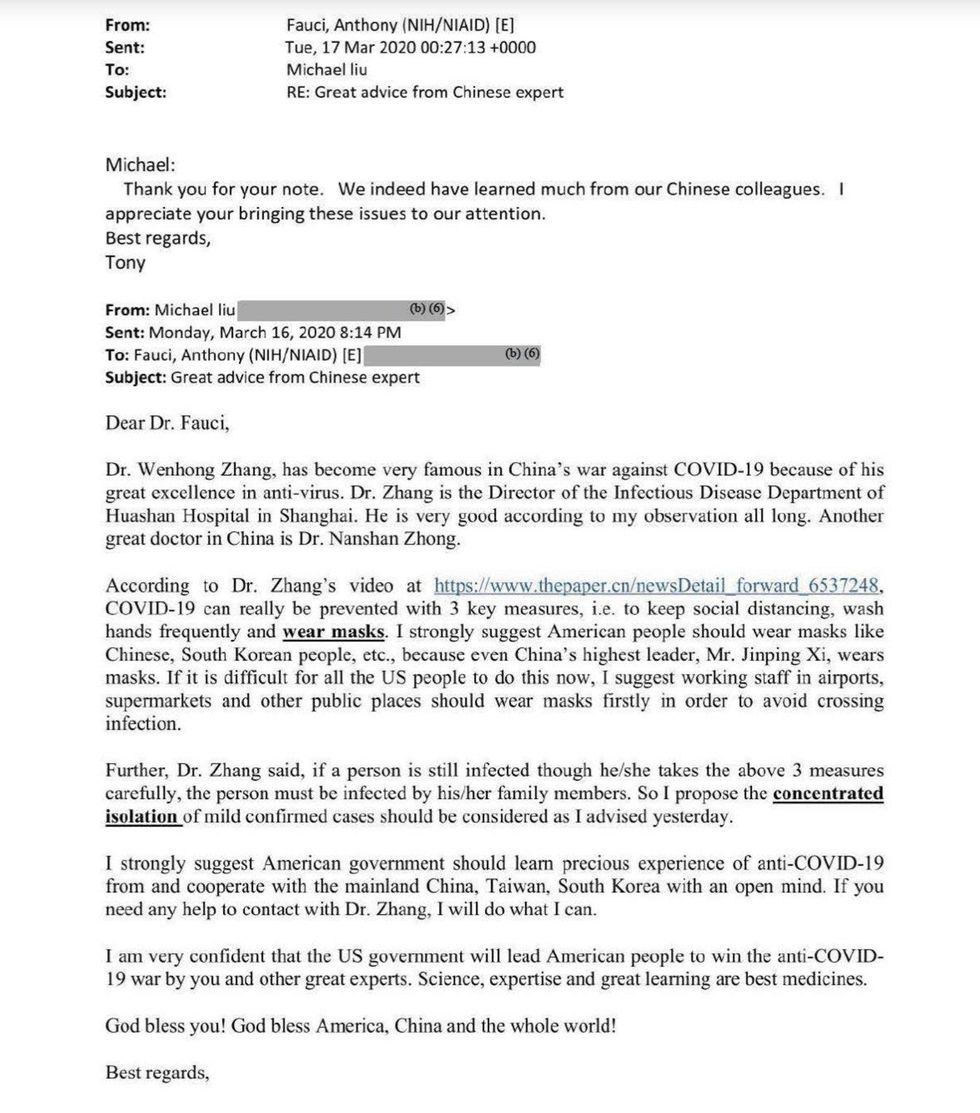 FAUCI CLAIM: Fauci in April of 2020 denied the possibility that the virus could have come out of a lab. SOURCE: YouTube

On February 22, 2020, Dr. Michael Jacobs emailed Fauci expressing his concern that the virus came from a lab.
The email read, "We think that there is a possibility that the virus was released from a lab in Wuhan, the biotech area of china. We also think that the virus might be complexed with another organism, such as a yeast or fungus, to make it more sticky. We would like to discuss this with you further. We feel that immediate action must be taken by United States scientists to try to neutralize this threat."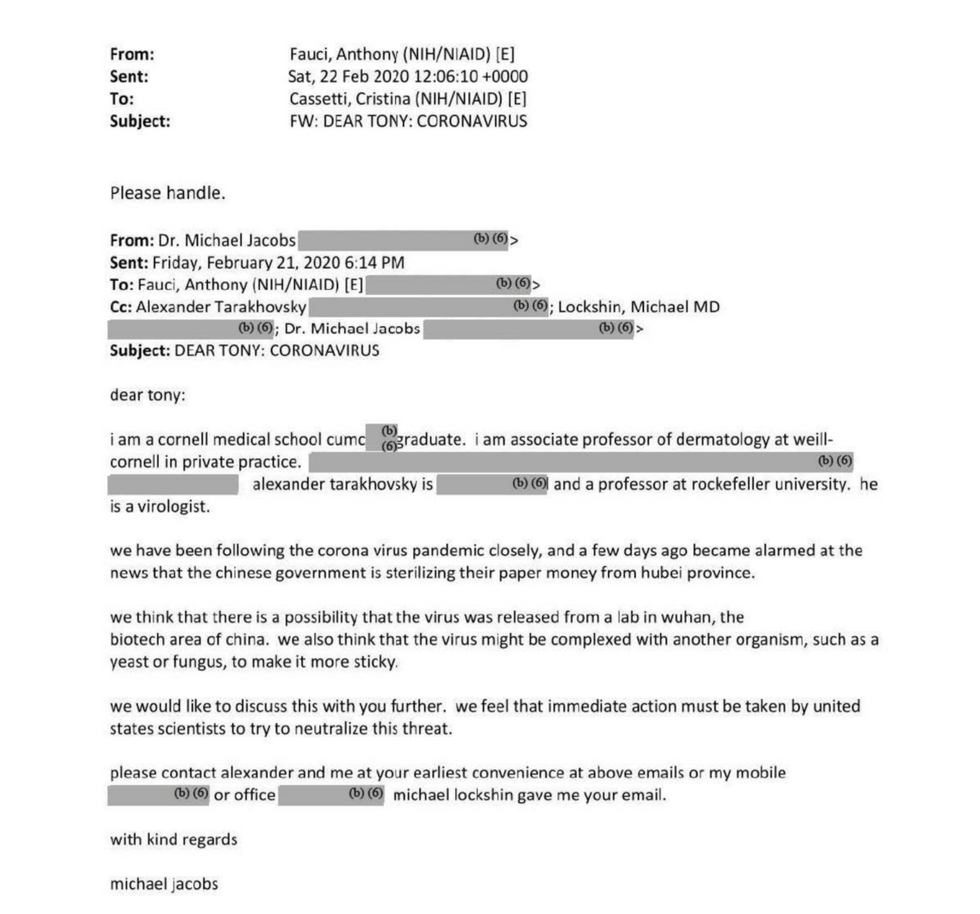 On April 19, 2020, Peter Daszak emailed Fauci thanking him for dismissing the lab-leak theory.
Daszak is the president of EcoHealth Alliance, the recipient of the $3.7M National Institute of Health grant for research on bat coronaviruses, $600K of which went to the Wuhan Institute of Virology. SOURCE: FactCheck
Daszak is also on the team leading the investigation into the WHO and origins of COVID! SOURCE: WSJ
The email from Daszak to Fauci read:

"I just wanted to say a personal thank you on behalf of our staff and collaborators, for publicly standing up and stating that the scientific evidence supports a natural origin for Covid-19 from a bat-to-human spillover, not a lab release from the Wuhan Institute of Virology."
"From my perspective, your comments are brave, and coming from your trusted voice, will help dispel the myths being spun around the virus' origins."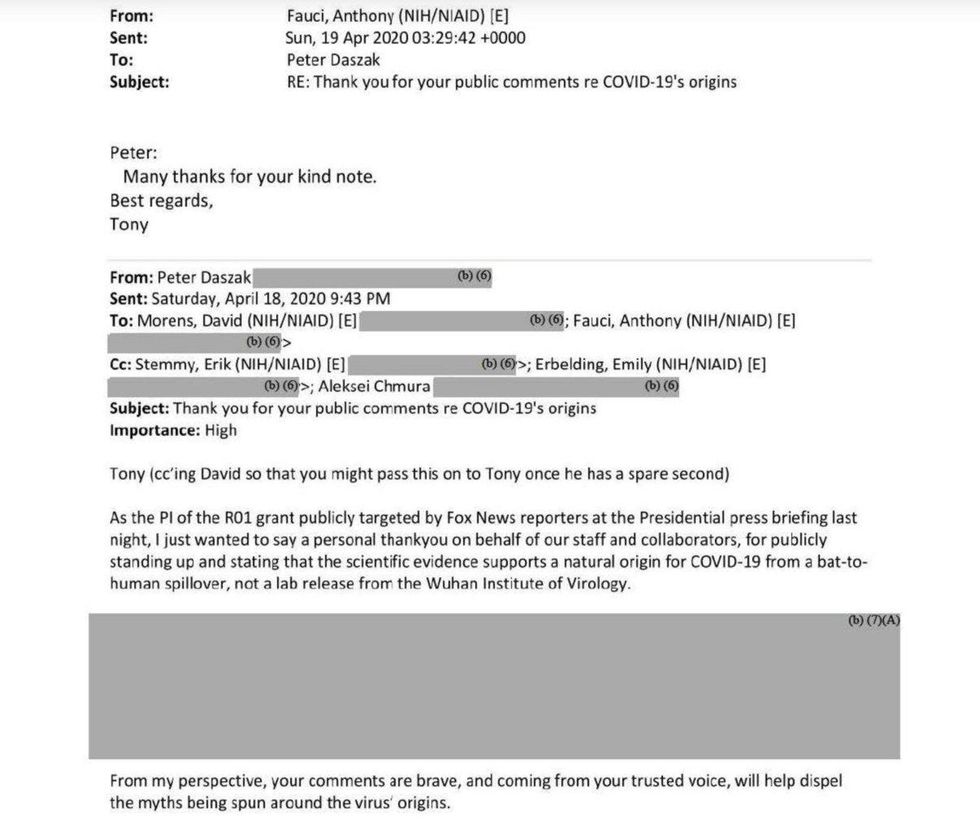 To which Fauci responded, "Many thanks for your kind note."

FAUCI CLAIM: Remember how Fauci and the media constantly claimed Trump was "muzzling" Fauci, and Fauci said he felt so much freer under Biden? SOURCES: CNN, CNN, CNN

In various emails from early March 2020, Fauci repeatedly denied media reports that he was muzzled and said he was free to talk to the press.
On March 1, 2020, Fauci wrote, "Please stay silent since I have not been muzzled. I will be on multiple TV shows and was on Fox this AM. No one is censoring me."

On March 2, 2020, Fauci wrote, "I have been very explicit in stating publicly that I have not been censored or muzzled. I say exactly what I want to say based on scientific evidence. I have stated this on multiple TV programs the past few days including at a major press conference with many, many reporters. including several TV cameras. I could not possibly be more public about this. No censor. No muzzle. Free to speak out."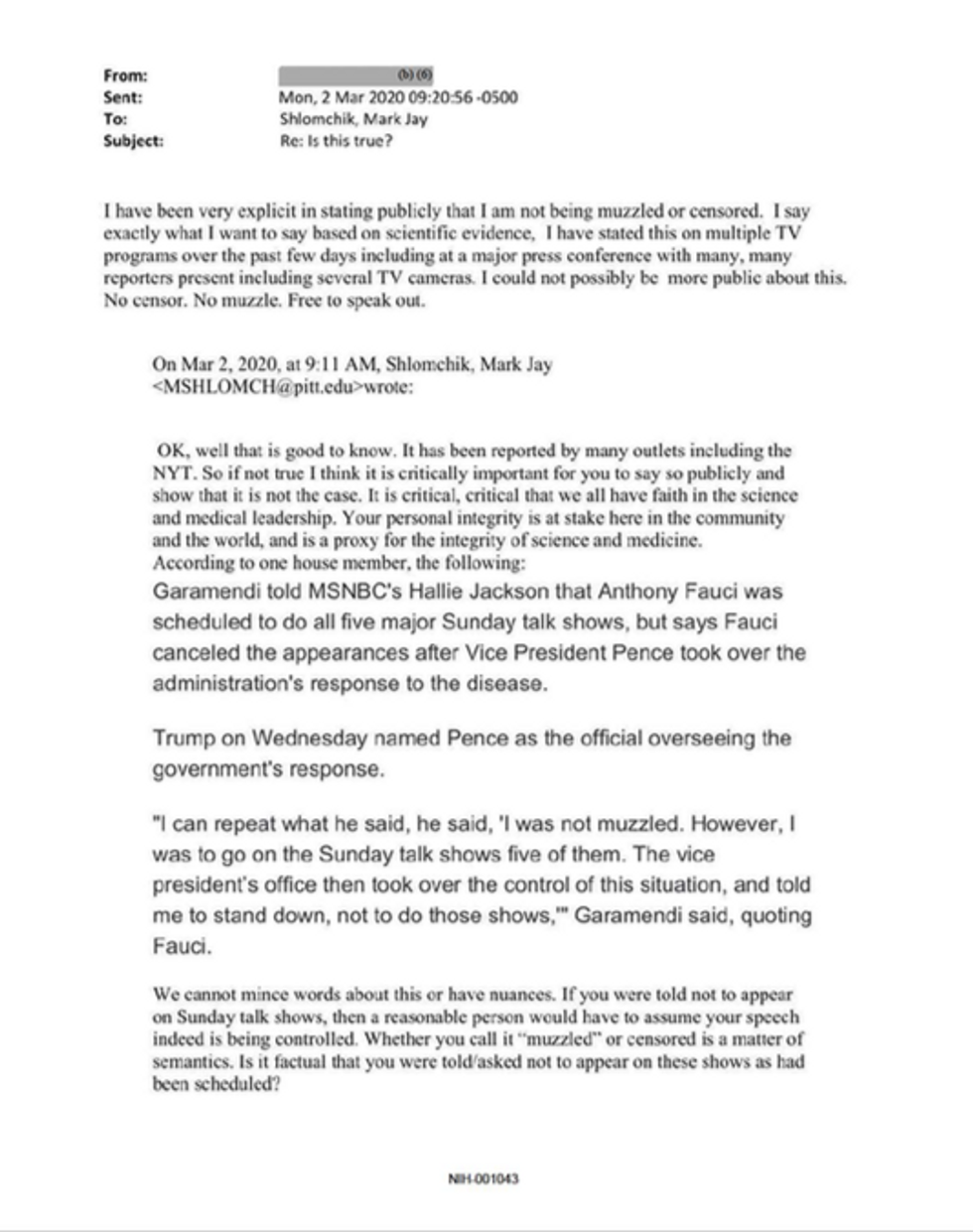 Also on March 2, Fauci wrote: "The story is not true. I am not being muzzled or censored."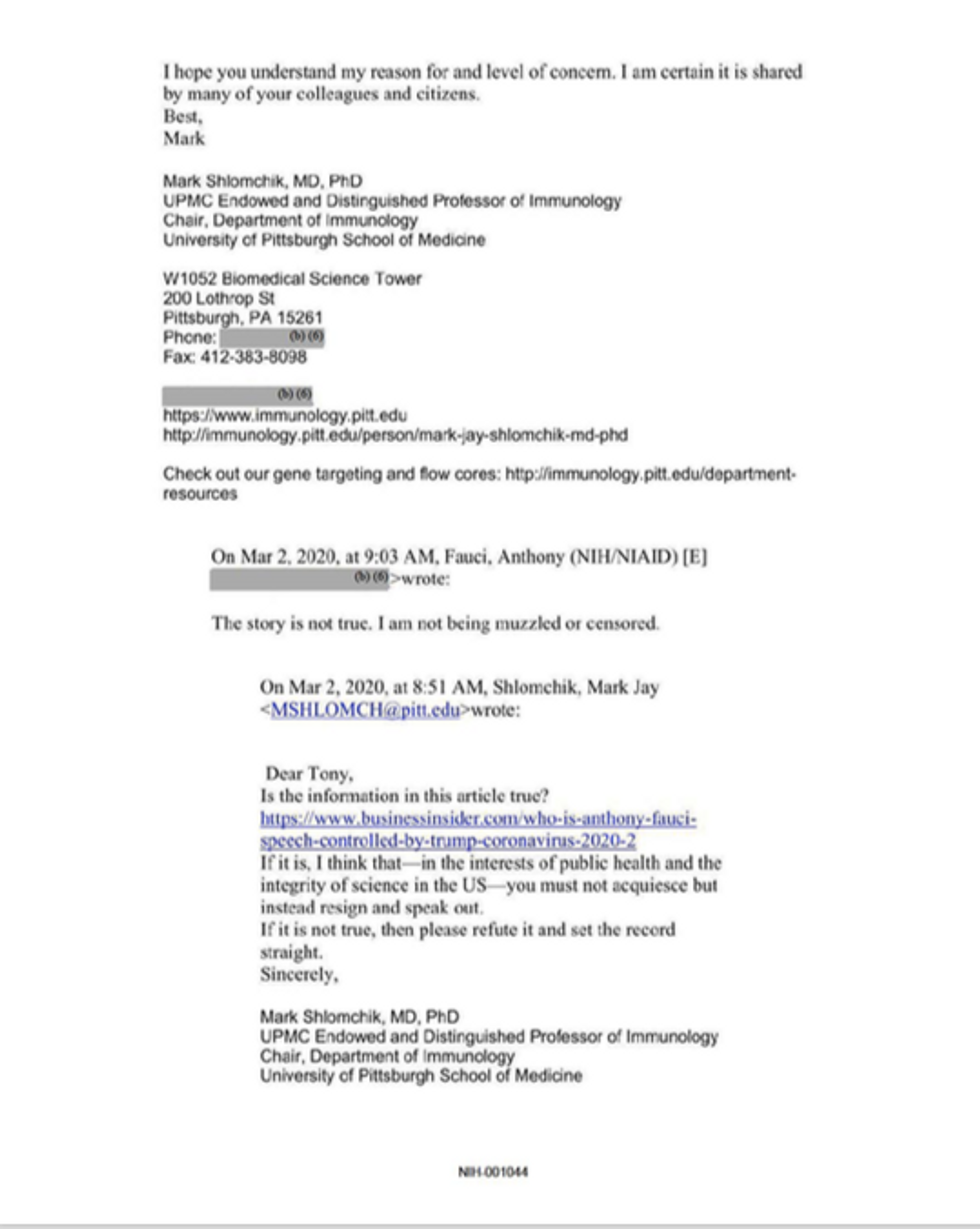 On March 5, 2020, Mark Zuckerberg emailed Fauci, thanking him for his service and offering to help "get the message out."
The email read, "I wanted to send a note of thanks for your leadership and everything you're doing to make our country's response to this outbreak as effective as possible. I also wanted to share a few ideas of ways we could help you get your message out, but I understand you're incredibly busy, so don't feel a need to reply unless these seem interesting."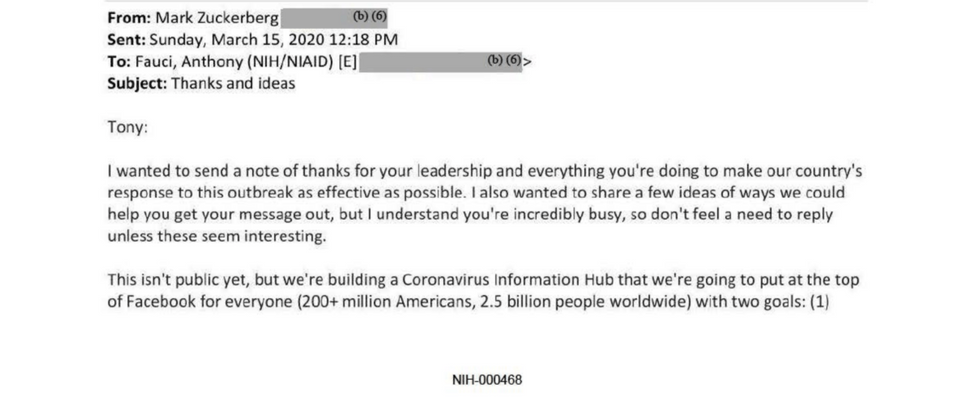 The result of this was new Big Tech policies.

YOUTUBE: "YouTube doesn't allow content that spreads medical misinformation that contradicts local health authorities' or the WHO's medical information about COVID-19."
FACEBOOK: "We remove content that repeats other false health information, primarily about vaccines, that are widely debunked by leading health organizations such as the WHO and CDC.
DEMOCRATS WANT TO ABOLISH THE FILIBUSTER
Calls from the left to abolish the filibuster have really been ramping up lately. But the latest justification to abolish the filibuster coming from the left is ... a little bizarre
But what is the filibuster? "When a bill is brought to the Senate floor, any senator can bring things to a halt by speaking for as long as they wish, effectively delaying a vote to end debate on a bill. The Senate can vote to end debate by invoking cloture … with a three-fifths majority, or 60 of 100 senators." SOURCE: Washington Post
Another recent argument to kill the filibuster stems from Republicans blocking the vote on the January 6 commission. SOURCE: Vox
Progressive Democrats immediately jumped on the filibuster narrative. SOURCES: Twitter, Twitter, Twitter

Ilhan Omar tweeted, "Stop negotiating with a losing insurrectionist party who are trying to sabotage our democracy, pass the infrastructure package through reconciliation and abolish the filibuster."
Bernie Sanders tweeted, "If 10 Republican Senators cannot even vote for a bipartisan commission to investigate the January 6th insurrection, 10 Republican Senators will not vote for anything meaningful to improve the lives of the American people. We must abolish the filibuster & act now."
Beto tweeted, "It's the filibuster or democracy."

Democrats just want to get rid of the filibuster so they can jam through all their unconstitutional bills. SOURCE: Twitter
Democrats have loved the filibuster in the past.
Compare to issues filibustered by Republicans.

In 2013, Rand Paul filibustered CIA nominee John Brennan's confirmation hearing for nearly 13 hours over drone-strike concerns. SOURCE: Politico
In 2013, Ted Cruz filibustered a measure that removed a provision in a House bill that defunded Obamacare. SOURCES: NPR, NYPost
In 2010, Senate Republicans used the filibuster to block Obama's "Dream Act," a bill that would've given amnesty to some 12M children of illegal immigrants. SOURCE: CBS
Looking for a fashionable way to support Louder with Crowder? Get your swag at Crowdershop today!